Maryland's Governor Larry Hogan, a Republican, suggested on Sunday that he would have voted to convict former President Donald Trump if he had been serving as a juror in the Senate, while also urging the GOP to leave the "cult" of the former commander in chief.
Hogan has frequently criticized and clashed with Trump. The Maryland governor called on Trump to resign or be removed from office following the violent insurrection by the then president's supporters against the U.S. Capitol on January 6. Although Trump was impeached a week later by the House of Representatives, he remained in the White House until the end of his term on January 20. The Senate on Saturday voted to acquit Trump, but seven Republicans voted with all 50 members of the Democratic Caucus to convict.
"I'm not in the Senate, but, you know, I think I probably would have voted with, with some of my colleagues that were on the, on the losing side, so there were—I was very proud of some of the folks who stood up and did the right thing. It's not always easy," Hogan said during a Sunday interview with NBC News' Meet the Press.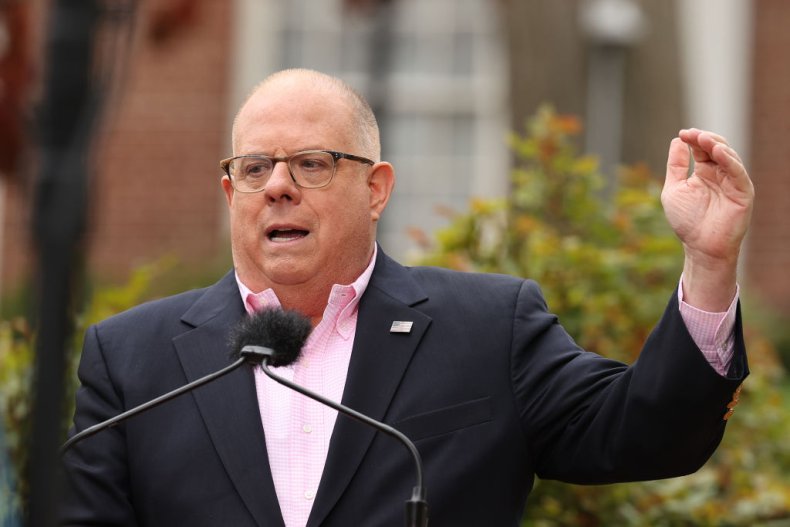 The Republican governor described Trump and his movement as "a hostile takeover" of the GOP. Hogan said that Republicans should work to remove Trump from their party and focus on the party's core values.
"I think we've got to move on from the cult of Donald Trump and return to the basic principles that the party has always stood for," the Maryland governor said. Hogan said that he does not believe the Republican Party can successfully come back and win if Trump remains at the center.
Newsweek reached out to spokespeople for Trump for comment but they did not immediately respond.
While Hogan and a number of other prominent Republicans want the party to move past Trump, polls show that the vast majority of GOP voters continue to support the former president. Additionally, Trump has signaled his plans to remain involved in politics, and House Minority Leader Kevin McCarthy has already met with the former president to secure his support for GOP House candidates in the 2022 midterm elections.
A poll released last week by CBS News/YouGov showed that 70 percent of Republicans would join or consider joining a new political party if Trump formed one. Additionally, 71 percent of GOP voters said they view Republicans backing Trump's impeachment and conviction in the Senate as "disloyal."
In a statement after the acquittal on Saturday, Trump dismissed the trial and hinted at future political plans.
"This has been yet another phase of the greatest witch hunt in the history of our Country," the former president complained.
"In the months ahead I have much to share with you, and I look forward to continuing our incredible journey together to achieve American greatness for all of our people," he added.