As tensions continue to simmer within the Republican Party, GOP Representative Adam Kinzinger called out House Minority Leader Kevin McCarthy's strategy of keeping the party aligned with former President Donald Trump.
Kinzinger, who represents Illinois, was one of 10 House Republicans to side with Democrats and vote to impeach Trump a week after Trump's supporters violently attacked the U.S. Capitol as lawmakers convened to certify President Joe Biden's win. The congressman, as well as the other nine GOP lawmakers to vote against Trump, have faced significant internal party backlash for condemning the former president's actions amid what analysts have dubbed a civil war within the party.
Although McCarthy, a California Republican, initially blamed Trump for the violence caused by the mob of his supporters, he did not vote for impeachment. The GOP House leader then traveled to Florida in late January to patch things up with Trump and get the former president to promise to campaign for Republican candidates in the 2022 midterm elections.
During a CNN interview Tuesday, Kinzinger was asked if he believed McCarthy had the politics right.
"Not really, no. I don't," Kinzinger responded. "Now, it's possible we could still win the majority on this track because, you know, you never underestimate the Democrats' ability to self-destruct, like we have the ability to self-destruct," he said.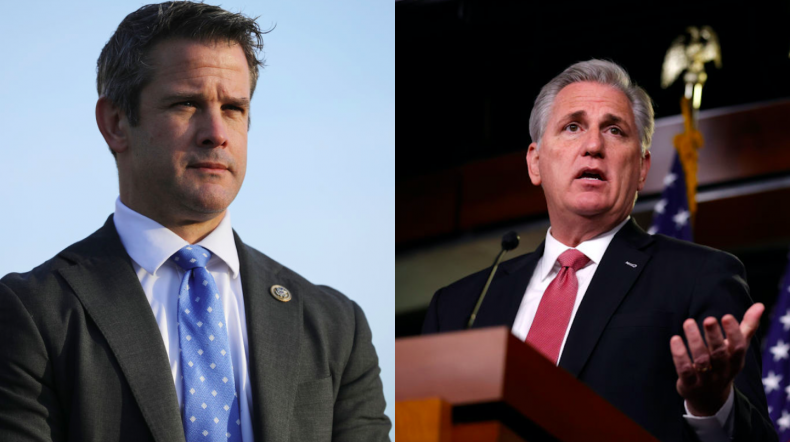 "But I don't think it's a long-term path to success. I think winning blue-collar voters, which we've been doing, and making gains in minority communities is great. The problem is, the message has been feeding fear. It's been feeding division," Kinzinger added.
The congressman said his party should focus on trying to "inspire people again" and "talk about how great this country is and how great it could be." He said this would unleash "innovation" and "excitement" among voters, regardless of their demographics.
Newsweek reached out to McCarthy's press secretary for comment but did not immediately receive a response.
Kinzinger launched a new PAC last week in an effort to counter Trump's faction of the Republican Party. Last year, other conservative organizations—including the Lincoln Project, Republican Voters Against Trump and Republicans for the Rule of Law—campaigned heavily against Trump to keep him from winning reelection. But it appears that these Republicans are the minority within their party. Trump actually garnered 11 million more votes in the 2020 election than he did in 2016.
Multiple recent polls show that Trump remains highly favored among Republicans, despite his actions ahead of the January 6 assault on the Capitol. Polling published by CBS News/YouGov showed that 70 percent of GOP voters would join or consider joining a new political party if Trump formed one. Furthermore, 71 percent of Republicans said they viewed GOP lawmakers that support Trump's impeachment or conviction in the Senate as "disloyal."
Despite widespread support for Trump, Representative Liz Cheney, who serves as the No. 3–ranking House Republican in her role as House Republican Conference chair, has argued that Trump should not be leading the GOP now. Like Kinzinger, Cheney voted to impeach Trump along with House Democrats. She has since been censured by her state's GOP.
"The notion that the election had been stolen or that the election was rigged was a lie, and people need to understand that," Cheney said during an interview with Fox News Sunday this past weekend. "We need to make sure that we as Republicans are the party of truth, and that we are being honest about what really did happen in 2020 so we actually have a chance to win in 2022 and win the White House back in 2024."
Cheney also said that Trump "does not have a role as a leader of our party going forward."