GOP Rep. Biggs Calls for GOP Rep. Cheney to Step Down for Supporting Impeachment as Party Rift Widens
Representative Andy Biggs, an Arizona Republican, called on GOP Representative Liz Cheney of Wyoming to step down from her role as chair of the House Republican caucus after she voiced her support for impeaching President Donald Trump
Cheney, the number three Republican in the House of Representatives' leadership, became the second Republican in Congress to back impeachment on Tuesday. In her statement announcing her decision, she said that there's "never been a greater betrayal by a President of the United States of his office and his oath to the Constitution" than Trump's incitement of a violent insurrection against the U.S. Capitol last week.
Now the GOP lawmaker is facing backlash from some colleagues.
"I don't think she should be the chair of the Republican conference anymore," Biggs, who leads the conservative House Freedom Caucus, told Fox News. "The reality is, she's not representing the conference. She's not representing the Republican ideals."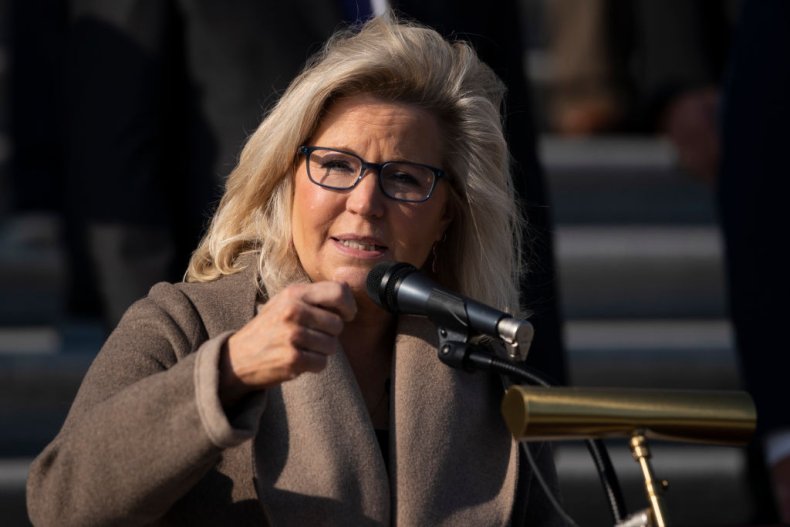 Representative Matt Rosendale, a Montana Republican, shared similar views in an official statement posted to Twitter after Cheney's announcement.
"When Representative Cheney came out in favor of impeachment today, she failed to consult with the Conference, failed to abide by the spirit of the rules of the Republican Conference, and ignored the preferences of Republican voters," Rosendale said. "She is weakening our conference at a key moment for personal political gain and is unfit to lead. She must step down as Conference Chair."
Newsweek reached out to Cheney for comment but did not receive a response before publication. In her Tuesday statement, Cheney blasted Trump and the insurrection she and many others say he directly incited on January 6 as Congress met to certify President-elect Joe Biden's victory.
"Much more will become clear in coming days and weeks, but what we know now is enough. The President of the United States summoned this mob, assembled the mob, and lit the flame of this attack. Everything that followed was his doing. None of this would have happened without the President," she said.
"The President could have immediately and forcefully intervened to stop the violence. He did not. There has never been a greater betrayal by a President of the United States of his office and his oath to the Constitution," Cheney said. "I will vote to impeach the President."
At least four other Republicans have publicly backed impeachment, with as many as 10 to 20 reportedly expected to support the Democrat-led effort. Representatives John Katko of New York, Adam Kinzinger of Illinois, Fred Upton of Michigan and Jaime Herrera Beutler of Washington state said Tuesday they will support impeaching the president. The vote will be held on Wednesday and is widely expected to succeed.
Freshman Representative Nancy Mace, a South Carolina Republican, who has strongly criticized Trump since the attack on the Capitol last week, said she expects at least several more colleagues to vote against Trump.
"l think you'll see probably a dozen or so if I had to guess right now, Republicans, that will vote to impeach later today," Mace told Fox News.
Last Wednesday, as Congress convened to count the Electoral College votes, Trump attended a large rally of his supporters near the White House at the Ellipse. The president had been urging his supporters to come to the Capitol for a "wild" protest against the election results, which he baselessly claims are fraudulent.
Trump told the demonstrators that they needed to "fight much harder," directing them to march on the Capitol. His personal lawyer Rudy Giuliani said he wanted to see "trial by combat," and GOP Congressman Mo Brooks of Alabama asked the president's supporters if they were willing to give up their "blood" and "lives" in support of the effort to overturn the election results.
A violent riot ensued, with hundreds of Trump's supporters storming the Capitol and threatening to hang Vice President Mike Pence. Five people died as a result of the rioting.
During the insurrection, Trump released a video telling his supporters that he loved them, describing them as "very special." He also urged them to be peaceful. But on Tuesday when he was asked by reporters about the riot, he denied having any responsibility for the actions of his supporters.
"People thought what I said [ahead of the riot] was totally appropriate," Trump insisted.