GOP Congressman Calls on Christian Leaders to 'Admit Their Mistakes' in Pushing Trump's Conspiracies
Representative Adam Kinzinger, an Illinois Republican, called on Christian leaders who have pushed President Donald Trump's baseless claims of widespread voter fraud to "admit their mistakes," suggesting this was necessary to lead their followers to the truth.
Hundreds of Trump's supporters stormed the U.S. Capitol last Wednesday as Congress convened to certify the election victory of President-elect Joe Biden. At a rally earlier in the day, Trump had urged the rioters to march to the Capitol and "fight" as he continued to push unfounded claims of widespread voter fraud. These baseless allegations have been thoroughly litigated, with more than 50 lawsuits brought by Trump and his supporters failing in state and federal courts.
Kinzinger has been one of the few prominent Republicans to rebuke the president's claims of voter fraud since election day in November. The GOP congressman has used his social media platforms and television interviews to refute the conspiracy theories pushed by Trump and his loyalist supporters. In a Tuesday Twitter post, Kinzinger urged Christian leaders to correct the misinformation they'd spread in support of the president.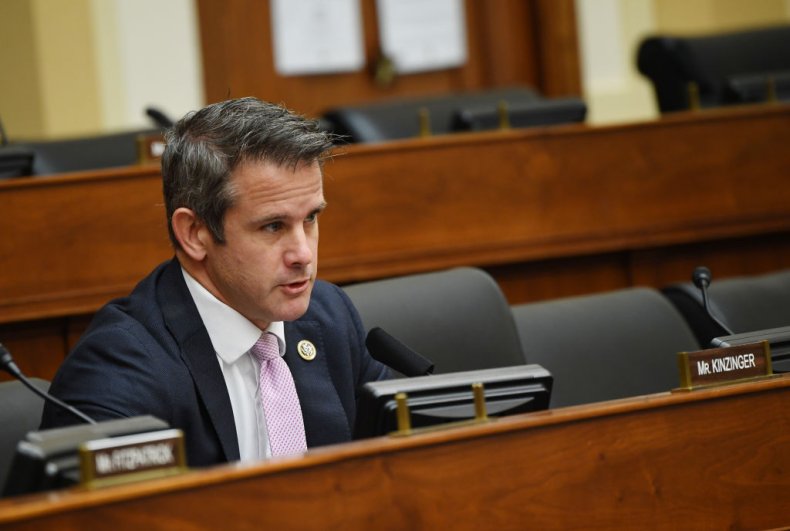 "I believe there's a huge burden now on pastors and clergy who openly spread the conspiracies of a stolen election, like @robertjeffress @BeholdIsrael @Franklin_Graham among many others, to admit their mistakes and lead their flocks out of darkness to truth," Kinzinger tweeted, calling out South Baptist Pastor Robert Jeffress, founder of Behold Israel Amir Tsarfati and evangelical leader Franklin Graham.

Kinzinger later deleted the tweet, after he realized that Jeffress had not pushed the voter fraud claims. "You know sir? You are absolutely correct. You did act honorably, and while my point remains about the Church and the need for pastors to lead, you did not press those stolen election conspiracies. I am sorry for including you in that," the Republican lawmaker wrote after Jeffress called him out on Twitter.
"I believe there is a huge burden now on Christian leaders, especially those who entertained the conspiracies, to lead the flock back into the truth," Kinzinger wrote in an edited follow-up post.
Jeffress told Newsweek in an emailed statement that Kinzinger was lying before the congressman corrected his remarks. "Representative Kinzinger should get his facts straight. I've never once claimed the election was 'stolen.' Adam needs to admit his own 'mistake' of lying to the American people about me," the pastor said.
The Christian pastor publicly accepted Kinzinger's apology, writing on Twitter: "Apology accepted and appreciated! We are praying for you and for all our elected officials."
In November, Jeffress published a column with Fox News referring to Biden as the president-elect. "When Joe Biden becomes president, we should commend him for the things he does right," Jeffress wrote. "We should condemn the things he does wrong. And above all, we must pray fervently for our president."
He has also condemned the violence at the nation's Capitol. "What the angry mob did by storming into the Capitol was not only a crime, it was a sin against God," the pastor wrote in an op-ed published by Fox News.
Newsweek reached out to Tsarfati and Graham for comment but they did not immediately respond.
Tsarfati responded directly to Kinzinger's Tuesday tweet, writing: "There is no burden here! I haven't changed my mind and close to 80 million Americans haven't either. By censoring us you only make us even more convinced of your shenanigans!"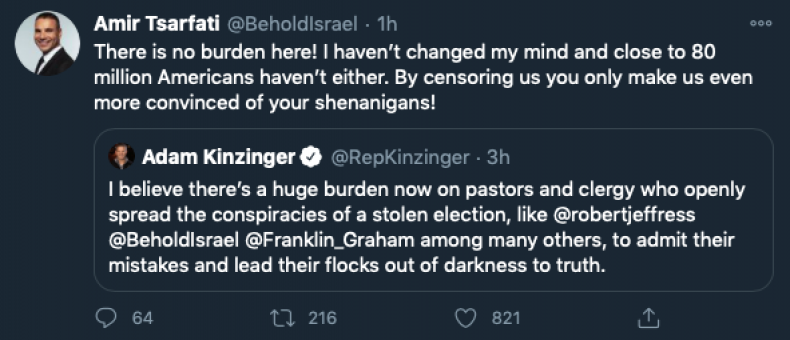 Following the violence in the Capitol, Graham tweeted on Thursday calling on Christians to unite and support the incoming Biden administration.
"The division in our country is as great as any time since the Civil War. I am calling on Christians to unite our hearts together in prayer for President-elect @JoeBiden and Vice President-elect @KamalaHarris, and for the leadership in both parties," he wrote. But he blamed "both parties" for the problems in the country.
"Pray that they will come together and work together for the good of all of the American people," Graham added. The evangelical leader previously voiced support for Republican lawmakers planning to object to Biden's win in multiple battleground states.
Trump's claims of widespread voter fraud are not backed by evidence. Even judges appointed by the president and other Republicans have explained in their rulings that lawyers for Trump and his supporters have not provided evidence to support the claims. Former Attorney General William Barr, who was widely seen as one of Trump's most loyal and effective Cabinet officials, said in December that there was "no evidence" of fraud that would change the election results. Barr resigned a few weeks later.
Christians, and particularly white evangelicals, have been a strong base of support for Trump since his election in 2016. Exit polls during the 2016 presidential election showed that some 80 percent of white evangelical Christians backed Trump while just 16 percent supported Clinton. In 2020, exit polls showed a similar level of support for Trump—with a range of 76 percent to 81 percent of white evangelicals saying they backed the president over Biden.