Trump Could Face Prosecution for Inciting Capitol Riot After Leaving Office, D.C. AG Suggests
Washington, D.C., Attorney General Karl Racine suggested that President Donald Trump and others who spoke at a January 6 rally before storming of the U.S. Capitol could be prosecuted, although Trump could not face charges until after he leaves office on January 20.
The Justice Department has given mixed messages over whether speakers at the protest event held at the Ellipse could be held accountable for allegedly inciting the mob that broke into the Capitol as Congress met to certify President-elect Joe Biden's win. Critics of the president—including some prominent Republican lawmakers—have blamed Trump directly for inciting the violence, which left five dead.
During a Monday interview with MSNBC, Racine described the remarks made by Trump and other speakers at the event as "outrageous."
"Clearly, the crowd was hyped up, juiced up, focused on the Capitol, and rather than calm them down or at least emphasize the peaceful nature of what protests need to be, they really did encourage these folks and rile them up," the attorney general said. "Now whether that comes to a legal complaint, I think we've got to really dig in and get all the facts," he added.
"I know that I'm looking at a charge under the D.C. code of inciting violence, and that would apply where there is a clear recognition that one's incitement could lead to foreseeable violence," Racine said.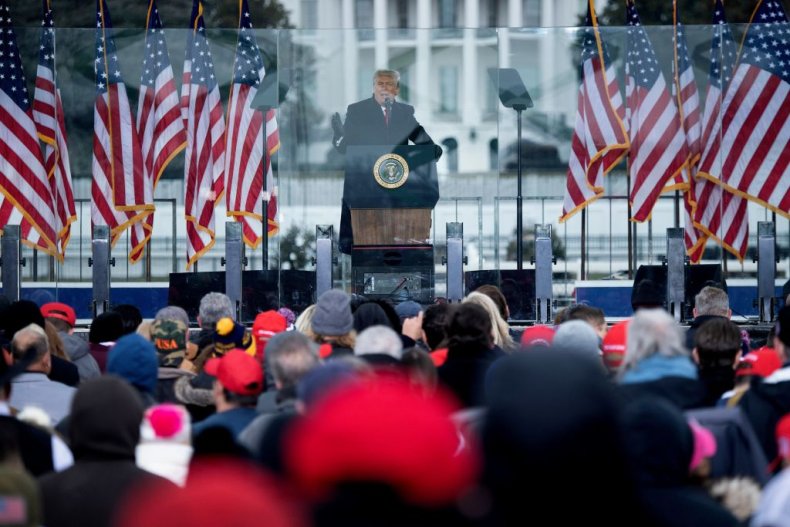 The attorney general pointed out that the Justice Department's Office of Legal Counsel does not permit prosecution of a sitting U.S. president, but that does not necessarily prevent Trump from facing charges after he leaves office in just over a week.
"As it turns out, the president has about nine more days of office, and, of course, the investigation is going to go on much beyond those nine days," Racine said.
Although the attorney general noted that it would be "another legal question" whether Trump could face charges for his actions after he left office, he said he believed it was possible.
Newsweek reached out to the Justice Department for further comment but did not receive a response in time for publication.
This past Friday, a Justice Department prosecutor dismissed the idea of charges against speakers at the event who might have incited the riot. "We don't expect any charges of that nature," Ken Kohl, acting principal assistant U.S. Attorney in D.C., told reporters.
In a statement to The Washington Post later on Friday, a Justice Department spokesperson said: "Our focus is on the events at the Capitol. As of now, we have not charged anyone with incitement or insurrection. This is an extremely complex and ongoing investigation, and we will continue to follow the facts and the law."
At the rally before the attack on the Capitol, Trump told members of the crowd that they needed to "fight harder" and urged them to march to the legislative building. The president's personal lawyer Rudy Giuliani said he wanted "trial by combat."
Representative Mo Brooks, an Alabama Republican, spoke ahead of the president and Giuliani, suggesting that Trump's supporters should be willing to sacrifice their lives.
"Now, our ancestors sacrificed their blood, their sweat, their tears, their fortunes and sometimes their lives to give us—their descendants—an America that is the greatest nation in the world's history," the GOP congressman told the crowd. "So I have a question for you: Are you willing to do the same? My answer is yes!"
Trump, Giuliani and Brooks have all condemned the violence that ensued. But many, including prominent Republicans, blame the president and his allies for the actions of his supporters in the Capitol siege.
"What happened here today was an insurrection, incited by the president of the United States," Senator Mitt Romney, a Utah Republican, said in a statement after the Capitol assault.