Wyoming Republican Party Censures Liz Cheney as GOP Civil War Intensifies
The Wyoming Republican Party has voted to censure Congresswoman Liz Cheney for voting to impeach former President Donald Trump amid an intensifying GOP civil war between Trump loyalists and those impatient to end the chaos of the past four years.
On Saturday, the 74-member Wyoming GOP passed a resolution to censure Cheney, with just eight members opposing the move. The approved document alleges that Cheney joined House Democrats to impeach Trump without "due process," and makes clear that the state party will stop efforts to raise money for the lawmaker. The censure resolution also asks Cheney to return donations that they provided to her 2020 campaign.
"I'm honored to represent the people of Wyoming in Congress and will always fight for the issues that matter most to our state," Cheney said in a statement defending her "vote of conscience" to impeach Trump. "Foremost among these is the defense of our Constitution and the freedoms it guarantees."
Cheney and nine other Republicans in the lower chamber crossed party lines on January 13 to vote for impeaching Trump on a charge of inciting the deadly insurrection in the U.S. Capitol on January 6.
The Wyoming vote to censure Cheney came just days after House Republicans voted 145-61 to allow the No. 3 Republican in the lower chamber—and daughter of former Vice President Dick Cheney—to keep her leadership position.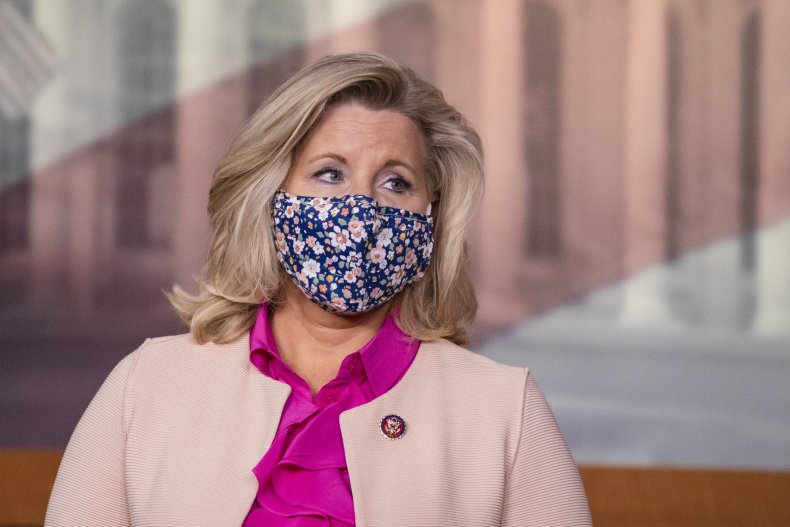 The secret ballot vote in support of Cheney has further fueled the political war within the GOP as Trump loyalists vowed to fight harder to oust her as payback. Others say that a fraught House Republican meeting before the vote highlighted that some members have remained deeply loyal to Trump, despite his election defeat to President Joe Biden.
On Wednesday night, Congressman Matt Gaetz of Florida told Fox News that the House Republican caucus' decision to keep Cheney in her post as GOP conference chair "only encourages me to go out in America" to further spread my agenda.
Other Republicans, including Congressman Adam Kinzinger of Illinois and Cindy McCain, have also been censured by their state and local GOP committees in recent weeks for breaking with Trump.
The GOP intra-party feud is expected to ramp up as Trump's Senate impeachment trial begins on Tuesday and politicians prepare for the 2022 congressional elections. Trump allies, including Reps. Kim Jordan of Ohio and Andy Biggs of Arizona, plan to support primary challengers that will contest Cheney's seat, as well as the nine other GOP lawmakers who voted to impeach.
Gaetz flew to Cheney's home state to campaign against her in a rally held outside the Wyoming State Capitol in January, where he called on voters to defeat her in the next election cycle.
"We are in a battle for the soul of the Republican party, and I intend to win it," he told a crowd of Trump supporters and counter protesters. "You can help me break a corrupt system. You can send a representative who actually represents you, and you can send Liz Cheney home—back home to Washington, D.C."
Several senior Republicans have defended Cheney, including former President George W. Bush, Senator Lindsey Graham and Senate Minority Leader Mitch McConnell, who called her "a leader with deep convictions and the courage to act on them."
Meanwhile, only 11 of the 211 House Republicans voted with Democrats to remove Congresswoman Marjorie Taylor Green from two committees for her past espousal of conspiracy theories and posts that appeared to encourage violence against progressives. The vote suggests that the GOP rift continues to take center stage as the party grapples with its future under Biden.
"The vast majority of Republican voters, volunteers and donors are no longer loyal to the GOP," Greene said last month. "Their loyalty now lies with Donald J. Trump."
Newsweek reached out to Cheney's office for further comment.