Adam Kinzinger Censured by His Illinois District's GOP Committee Over Comments on Trump
Republican Representative Adam Kinzinger was censured Wednesday by a GOP committee in the Illinois district that he represents for voting to impeach former President Donald Trump.
With overwhelming support, the La Salle County Republican Central Committee passed a resolution to rebuke Kinzinger for "acting contrary" to its values, according to a statement released by GOP Chair Larry Smith.
Smith said that the censure resolution passed with 88 percent approval among committee members in a process that first began on Tuesday.
"The LaSalle County Republicans have received hundreds upon hundreds of emails, text messages, and phone calls from our county and beyond expressing their frustration and a lot more with Congressman Kinzinger's actions and statements the past few months," the statement read.
"Congressman Kinzinger's actions and statements against former President Trump have opened a Pandora's Box of criticism."
The committee also cited concerns that Kinzinger hadn't met with county Republicans in over six years, and said that many constituents "have been very direct that their support for the Republican Party is over if Congressman Kinzinger's behavior isn't addressed."
LaSalle County is located Southwest of Chicago and is one of nine counties that Kinzinger represents in his16th Congressional District.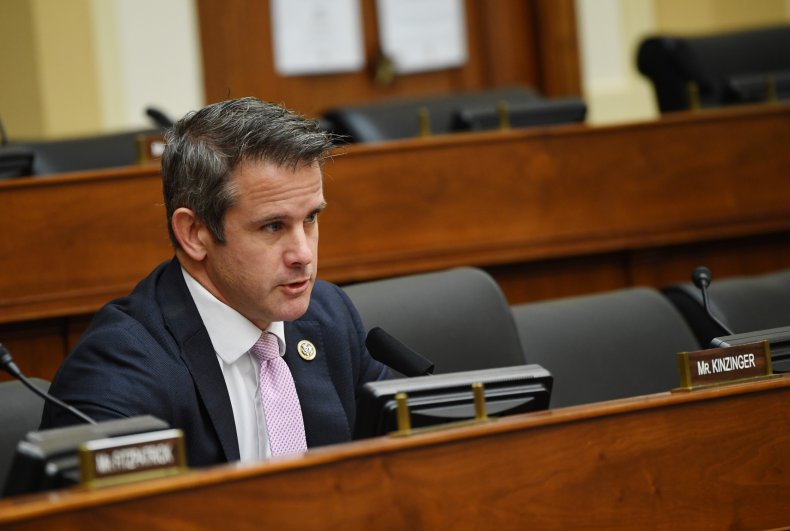 Kinzinger was one of just 10 Republicans who voted in line with House Democrats to impeach Trump for his role in inciting violence at the U.S Capitol on January 6.
Despite facing backlash from his Republican colleagues, the Illinois representative has repeatedly defended his decision and criticized members of the GOP who continue to support Trump.
"The Republican Party has lost its way," Kinzinger said in a video message on Sunday, while announcing a new political action committee (PAC) meant to challenge those who support Trump.
"Today's Republican Party is not the one I joined. The GOP I signed up for was built on a foundation of principle."
"But in recent years, we've forgotten our principles," Kinzinger continued. "They've been replaced by poisonous conspiracies and lies. This is not the Republican road, and now we know exactly where this new and dangerous road leads: to insurrection and an armed attack on Congress."
On Wednesday, Kinzinger voted to keep Wyoming Representative Liz Cheney as the Number 3 Republican, after she faced criticism from colleagues over her decision to impeach Trump as well.
"Representative Liz Cheney voted her conscience and leads with conviction—and as a result, she won big last night, which shows me that there is hope for our party," Kinzinger said. "We need leadership like Liz Cheney, and we need to tell the truth to the American people."
Though GOP officials in LaSalle County voted to symbolically reprimand Kinzinger, the Illinois Republican Party has not made any clear indication that they would do so.
Kinzinger spokeswoman Maura Gillespie criticized the county's decision by pointing out that it came on the same day that Capitol Hill Police officer Brian Sicknick, who was killed during the January 6 insurrection, was honored.
"While Capitol Police Officer Sicknick was being honored in state for his ultimate sacrifice — defending our democracy — the LaSalle County GOP was condemning Congressman Kinzinger for trying to hold the president accountable for the actions that led to his death," she told Newsweek on Thursday.