'Let's Take Back Our Party': Adam Kinzinger Launches PAC to Challenge Trump Wing of GOP
Representative Adam Kinzinger of Illinois announced a new political action committee (PAC) on Sunday to challenge the GOP wing that supports former President Donald Trump.
During an appearance on NBC's Meet the Press, Kinzinger unveiled his Country First PAC with a six-minute video about the committee.
"The Republican Party has lost its way," Kinzinger said in the video. "Today's Republican Party is not the one I joined. The GOP I signed up for was built on a foundation of principle."
"But in recent years, we've forgotten our principles," Kinzinger continued. "They've been replaced by poisonous conspiracies and lies. This is not the Republican road, and now we know exactly where this new and dangerous road leads: to insurrection and an armed attack on Congress."
Kinzinger was one of 10 House Republicans who voted to impeach former President Donald Trump earlier this month.
"Republicans must say enough is enough. It's time to unplug the outrage machine, reject the politics of personality, and cast aside the conspiracy theories and the rage," Kinzinger said in the launch video.
The congressman concluded the video by saying, "Let's take back our party."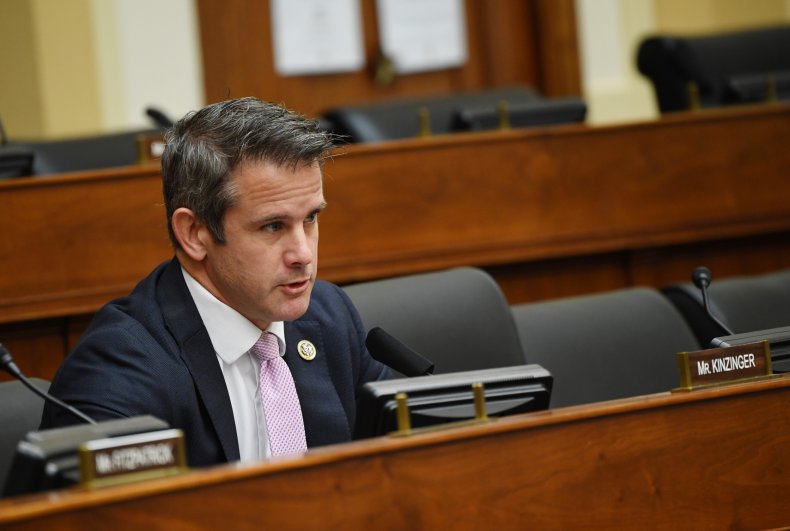 "The reality is this, this is a time to choose," Kinzinger said during his NBC appearance. "And my goal in launching Country1st.com is just to say, look, let's take a look at the last four years, how far we have come in a bad way, how backward-looking we are, how much we peddle darkness and division."
Country First is supported financially by the Future First Leadership PAC.
Kinzinger previewed the PAC's launch during a Saturday interview with reporters on a Zoom call, according to The Washington Post.
During the call, The Post noted Kinzinger took aim at Representative Marjorie Taylor Greene of Georgia, whose QAnon conspiracy theories have recently gained attention, and House Minority Leader Kevin McCarthy.
Kinzinger said that in the days following the Capitol riot on January 6, he felt optimistic as McCarthy said Trump was responsible for encouraging the mob to attack Congress. McCarthy, however, has since changed his tone and praised the former president.
"That's a heck of a move in about three weeks. It's hard to square that circle," Kinzinger told the reporters on the call.
He then suggested McCarthy is no longer the most powerful member of the Republican caucus anymore and instead said that distinction goes to Representative Jim Jordan of Ohio, who's working with nearly 30 other far-right conservatives.
"They're political terrorists," Kinzinger said of Jordan and his allies during the call, according to The Post.
At another point in the interview Kinzinger said Trump is "desperate to continue to look like he's leading the party."

Newsweek reached out to Kinzinger's office, but didn't hear back in time for publication.