Marjorie Taylor Greene Ridiculed by Kate McKinnon in SNL Cold Open
Saturday Night Live's first episode of 2021 opened with a question—what still works in America?
In the episode's cold open, Kate McKinnon hosts a show—"What Still Works?"— that explores which aspects of American society still work.
"It's a new year and we have a new president so some things should work, but do they?" McKinnon says. "Our first topic is government and already I have my doubts," she added.
McKinnon then brought out Republican congresswoman Marjorie Taylor Greene, who is facing a backlash after past social media posts revealed that she had liked and engaged with conspiracy theories and calls for violence against Democrats.
Greene, portrayed by Cecily Strong, sits down next to McKinnon and immediately offers her a gun.
"So, Congresswoman Greene... hard to say those words together. What are some of the theories you believe in and have been promoting?" McKinnon asks.
"How much time you got?" Strong's Greene replied. "Okay, first off, I believe the Parkland shooting was a hoax. The teachers were actors and the children were dolls. I believe 9/11 was a hoax. Did anyone actually see it happen?"
Strong's Greene adds that she told her supporters to "physically murder Nancy Pelosi."
"She's this lady I work with," she added. "Oh, and this is a new one that just came out... I think that the California wildfires were caused by Jewish space lasers."
McKinnon then asks if Greene really believes those theories and if she's really a U.S. representative. "You represent the US? People can Google you and it'll say she's a real member of the US government?" McKinnon asked.
"That might not be the first thing that comes up, but yeah," Strong's Greene replied.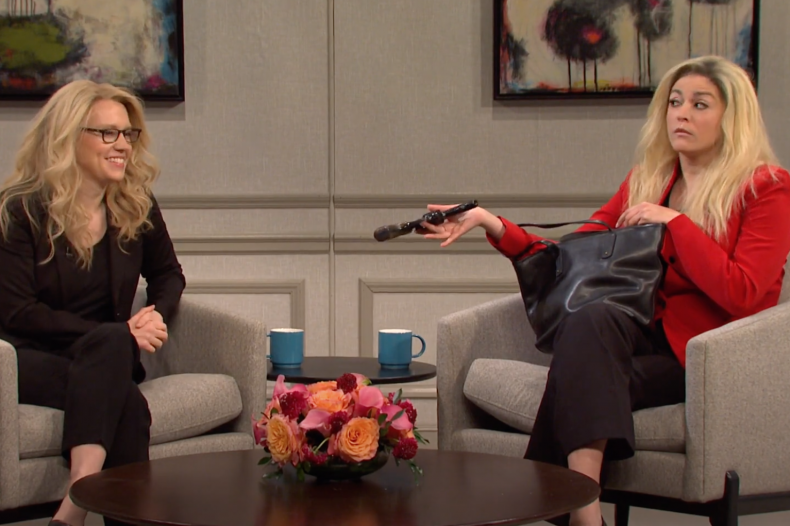 "And when your colleagues found out about all these hateful and psychic things you said, what did they do?" McKinnon then asks.
"I was promoted to the education committee," Strong's Greene responds.
McKinnon then thanks Greene for coming. "So government doesn't work, and honestly, I regret not taking that gun," she adds.
After finding the stock market, social media and the COVID-19 vaccine rollout also don't work, McKinnon brings out Tampa Bay Buccaneers quarterback Tom Brady, played by host John Krasinski.
"Now Tom, this is your 10th Super Bowl," McKinnon tells him.
"You still work. You're supposed to win football games and you just keep winning football games. You might the only thing in America that still works... So I guess everyone must be rooting for you, right?"
"Almost no one," Krasinski's Brady responded.
McKinnon said she'd be rooting for him because the country can still rely on him.
"It's not like you're a weird Trump guy or anything, right?" McKinnon adds.
"Thanks for having me," Krasinski's Brady replied, before immediately getting up and leaving.
McKinnon then turns to the camera and thanks viewers for watching.
"I've been Kate McKinnon, as myself, slowly losing my mind along with all you," she says, before adding the show's signature catchphrase: "Live from New York, it's Saturday night!"