John Krasinski kicked off the first Saturday Night Live episode of 2021 by kissing Pete Davidson, who was standing in for The Office's Pam.
Krasinski had opened his monologue by sharing his delight at making his SNL hosting debut. However, the actor spent the rest of it fielding questions about The Office.
Several cast members in the audience posed as fans of the hit sitcom, repeatedly disrupting Krasinski's monologue to ask him about his character, Jim Halpert, and his on-screen relationship with Pam Beesly, who was portrayed by Jenna Fischer.
"Do The Office," Alex Moffat said. "Hey, where's Pam?" Moffat later added.
"Pam is a fictional character and that is where she is, but I am here and I am so excited to be here with all of you," Krasinski replied, shortly before he was interrupted again, this time by Ego Nwodim.
"Hey Jim! You look different," Nwodim said.
After Krasinski revealed that he has been working out to portray Jack Ryan in the television series, Nwodim tells him he needs to "stop it."
"Jim is soft," she explained. "Jim sits all day... when you touch Jim, your hand goes in like memory foam."
Moments later, Kenan Thompson interjects and asks Krasinski to "kiss Pam."
He adds: "I need you to kiss Pam, that is what I need to see today."
Krasinski again attempts to explain that Pam is a fictional character. "Guys, here's the deal... Pam's not real," he says. "She's played by Jenna Fischer. We are friends and we are married to other people."
After establishing that Krasinski's wife, actress Emily Blunt, is in the UK, Thompson again urges Krasinski to "kiss Pam."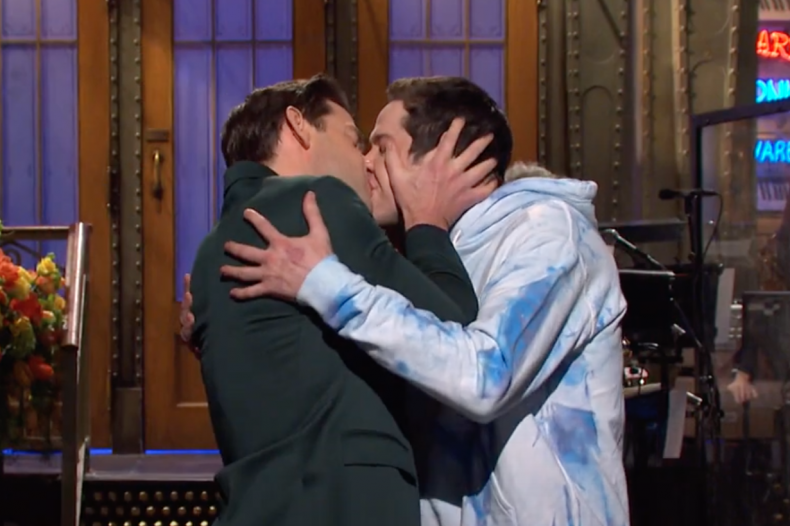 At this point, Davidson arrives on stage and explains that although The Office ended after nine reasons in 2013, millions of Americans have been streaming the show while at home during the coronavirus pandemic.
"Everyone's been stuck inside for a year watching The Office non-stop. So Jim and Pam are like, really real for them," Davidson says.
"I think they really need for someone to be Pam... I think we got to give them what they want, Jim. Jim, you gotta kiss Pam."
After the audience chants "kiss Pam," Krasinski looks into the camera, shrugs and proceeds to kiss Davidson, to delighted cheers from the audience.
"That did feel really good. Wow, thank you Pam," Krasinski tells Davidson.