How Many Super Bowls Has Tom Brady Won? A Look Back at the QB's Past Triumphs
Tom Brady will enter a stratosphere no other NFL team, let alone player, has ever reached should the Tampa Bay Buccaneers beat the Kansas City Chiefs in Super Bowl LV.
Already the most successful quarterback in NFL history with six Super Bowl rings, a seventh Vince Lombardi Trophy would make Brady more successful than any franchise in NFL history.
Super Bowl LV on February 7 will be Brady's 10th career appearance in the NFL title game, more than any NFL franchise bar the New England Patriots.
Nine of the Patriots' trips to the Super Bowl came with Brady under center, during two decades of unprecedented success.
Next month, the 43-year-old will also become only the fourth quarterback to appear in the NFL title game with two different franchise. Ahead of his first Super Bowl as a Tampa Bay Buccaneer, here's a breakdown of Brady's six previous triumphs.
Super Bowl XXXVI—February 3, 2002
New England Patriots vs. Los Angeles Rams 20-17
In his second season in New England, Brady reached his first Super Bowl but the Patriots were a prohibitive 14-point underdogs against "The Greatest Show on Turf."
New England's defense stifled Kurt Warner, but the Rams still managed to erase a 17-3 deficit to tie the game with 1:30 left in the fourth quarter. There looked to be only one winner but Brady, who had replaced Drew Bledsoe as starter in Week 2, had other ideas and let the Patriots down the field with no timeouts to set up a 48-yard field goal.
Adam Vinatieri drilled the field goal as time expired, giving the Patriots their first Vince Lombardi Trophy while Brady, who completed 16 of 27 passes for 145 yards and one touchdown, was named Super Bowl MVP.
Super Bowl XXXVIII—February 1, 2004
New England Patriots vs. Carolina Panthers 32-29
Having missed the postseason in 2002, the Patriots roared back into the playoffs on the back of a 14-2 season the following year. In a rollercoaster game that featured two scoreless quarters but saw both teams rack up a combined 868 yards of offense and combine for a then-Super Bowl record 37 points in the fourth quarter, Brady got the ball back at the Patriots' 40-yard line with 1:08 left.
As he had done two years earlier, Brady marched New England down the field on a drive that included two 13-yard throws to Troy Brown and a 17-yard pass to Deion Branch to set up a 41-yard field goal attempt, which Vinatieri kicked with four seconds left.
Brady finished 32-for-48 for 354 yards, three touchdowns and one interception and claimed a second Super Bowl MVP award.
Super Bowl XXXIX—February 6, 2005
New England Patriots vs. Philadelphia Eagles 24-21
For the second consecutive season, the Patriots arrived into the postseason on the back of a 14-2 regular season record and became only the second time in NFL history to win three Super Bowl in four years—they remain the last team to win back-to-back Super Bowls.
Up 24-14 ahead with 8:43 left in the fourth quarter following Vinatieri's field goal, the Patriots intercepted Eagles quarterback Donovan McNabb on the following possession but were then forced to punt.
McNabb's 30-yard touchdown pass to Greg Lewis cut the gap to 21-17, but he was then picked off again as Rodney Harrison's interception sealed the game with 17 seconds left.
Brady finished 23-of-33 passes for 236 yards and two touchdowns, but missed out on a third Super Bowl MVP crown, with the accolade going to Patriots wideout Deion Branch, who tied a then-Super Bowl record with 11 catches.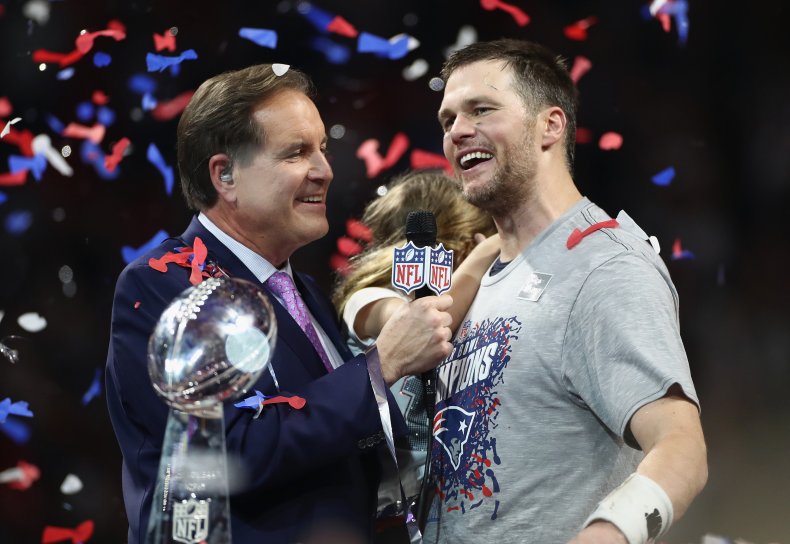 Super Bowl XLIX—February 1, 2015
New England Patriots vs. Seattle Seahawks 28-24
Ten years on since their last Super Bowl triumph, Brady and the Patriots found themselves down by 10 points in the fourth quarter against the reigning Super Bowl champions.
Despite being kept scoreless in the first and third quarter, New England rallied behind Brady, who threw touchdown passes to Danny Amendola and Julian Edelman to give the Patriots a 28-24 lead.
Brady's heroics looked to be to no avail as the Seahawks set up stall at New England's one-yard line with 26 seconds left. Inexplicably, however, instead of handing the ball to star running back Marshawn Lynch, Russell Wilson attempted a pass to Ricardo Lockette.
Patriots cornerback Malcolm Butler intercepted it and the second half of New England's dynasty had begun.
Brady completed 37 of his 50 passes for 328 yards, four touchdowns and two interceptions as he claimed a third Super Bowl MVP crown.
Super Bowl LI—February 5, 2017
New England Patriots vs. Atlanta Falcons 34-28 (OT)
If the comeback against the Seahawks was memorable for Patriots fans, Brady's heroics in Super Bowl LI represented arguably the greatest turnaround in Super Bowl history.
Down 28-3 late in the third quarter, New England's hopes of a fifth ring looked dead and buried. As ever, Brady refused to follow the script and engineered five straight scoring drives, which included touchdown passes to James White and Danny Amendola.
The Patriots outscored the Falcons 19-0 in the fourth quarter and by the time they won the toss in overtime, the outcome never seemed in doubt.
Brady led an eight-play, 75-yard drive that culminated with White's third touchdown of the game to New England's fifth Lombardi Trophy.
Brady won his fourth Super Bowl MVP crown after completing 43 of his 66 passes for 466 yards, two touchdowns and one interception.
Super Bowl LIII—February 3, 2019
New England Patriots vs. Los Angeles Rams 13-3
Perhaps more than the previous five, Brady's final Super Bowl win with New England perfectly encapsulated Belichick's "do your job" mantra. There was no heroic comeback worthy of its 30 for 30 documentary and Brady's stat sheet read 21-of-35 passes for 262 yards, no touchdowns and one interception.
As it had been the case 17 years earlier, the Patriots again crossed paths with the Rams, who were again riding a high-octane offense. Just as in 2002, however, the Patriots shut the Rams down as Brady secured a record sixth ring.