Tom Brady's Incredible NFL Records Ahead of Super Bowl 2021
Tom Brady could become the most successful franchise in NFL history should the Tampa Bay Buccaneers defeat the Kansas City Chiefs in Super Bowl LV.
Yes, that is not a typo. Such is the Brady's statistical brilliance over the last 21 seasons that comparing his achievements to those of his peers no longer makes much sense.
Should the Bucs win Super Bowl LV on February 7 in Tampa, Brady will win the seventh Super Bowl ring of his career.
To put that figure into context, the Pittsburgh Steelers and the New England Patriots are the most successful franchises in the NFL and each have six Super Bowls—all of the Patriots' win came with Brady under center.
Come February 7, Brady will have played in more Super Bowls than any other NFL franchise bar the Patriots and more than the Baltimore Ravens, Chicago Bears, New Orleans Saints, Detroit Lions, Cleveland Browns, New York Jets, Jacksonville Jaguars, Tennessee Titans and Los Angeles Chargers have in their combined history.
In the 18 years since the Bucs last reached the Super Bowl up until last week, the veteran quarterback has won five rings, three of which have come in the 13 years since Tampa Bay last made the playoffs in the 2007 season.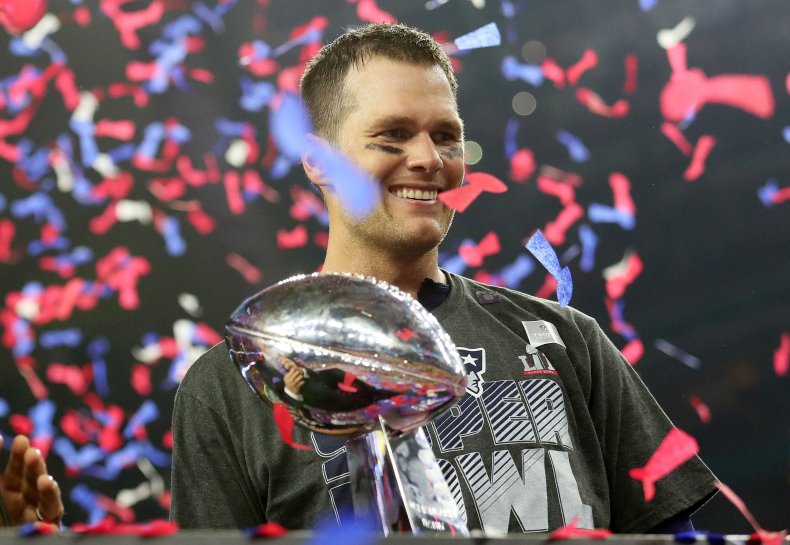 Tampa Bay's 31-26 win over the Green Bay Packers in the NFC Championship Game on Sunday was the 263rd of Brady's career including both regular season and playoff games.
Despite being founded a year before he was born in 1977, the Bucs have won a combined 287 games. To put it another way, if he was a franchise, Brady would rank fourth in playoff wins in the Super Bowl era.
Comparing the 43-year-old with his peers is a futile exercise.
His 10th Super Bowl appearance is four times more than the next players on the list—former Buffalo Bills and Denver Broncos defensive lineman Mike Lodish and Brady's former Patriots teammate Stephen Gostkowski have six each—and twice as many as the next quarterback—former Broncos star John Elway played in five Super Bowls.
Since Brady won his first ring in 2002, 10 quarterbacks have won a Super Bowl for the first time and only three of them—Peyton Manning, Eli Manning and Ben Roethlisberger—have won multiple rings over the period.
Brady already has seven more playoff wins and two more rings than three of them combined and Super Bowl LV will see him move one clear of the trio in terms of Super Bowl appearances.
He will also be only the fourth quarterback alongside the elder Manning, Kurt Warner and Craig Morton to have played for the Vince Lombardi Trophy with two different teams.
For most of Brady's two decades in the NFL, Drew Brees and Aaron Rodgers have both been elite quarterbacks and are all but guaranteed a place in the Hall of Fame.
Both Brees and Rodgers are among the 10 quarterbacks to have won a ring since 2002, but by the time the Bucs face the Chiefs next month Brady will have one more Super Bowl appearance than Brees has playoff wins.
He will also have as many Super Bowl starts in his 40s as Brees, Rodgers and Dan Marino have in their combined careers.
Such is the six-time Super Bowl champion's incredible longevity that the second-most successful player in postseason history in the NFL behind Brady's 33 wins is Brady himself, with 17 wins after turning 35.
That is one more than Joe Montana and two more than Terry Bradshaw, who have won eight Super Bowls between them.
Beyond the NFL's traditional boundaries, a seventh ring would move Brady one clear of Michael Jordan's six NBA titles with the Chicago Bulls, three clear of Wayne Gretzky's four Stanley Cups and level with Babe Ruth's seven World Series titles—incidentally, the latter also played in ten title series during his extraordinary career.
When Brady played in his first Super Bowl, Michael Phelps was yet to win the first of his 13 Olympic gold medals and four-time NBA champion LeBron James was 16 months away from being drafted with the first overall pick by the Cleveland Cavaliers.
Incredibly, Super Bowl LV will mark Brady's fourth Super Bowl under a different president. The world has changed; Brady hasn't.