Adam Kinzinger Says Trump Is 'Desperate' to Look Like He's Still Leading GOP
Representative Adam Kinzinger, an Illinois Republican, described former President Donald Trump as "desperate," saying the ex-commander in chief wants to appear as the continued leader of the GOP.
Kinzinger, one of 10 Republican House lawmakers to vote to impeach Trump alongside Democrats earlier this month, made the remark during a Sunday interview with NBC News' Meet the Press. The GOP congressman was commenting on the photo released by Trump after a Thursday meeting with House Minority Leader Kevin McCarthy, a California Republican, at the former president's Mar-a-Lago private club.
"It shows that the former president is desperate to continue to look like he's leading the party. And the problem is until we push back and say, you know, 'This is not a Trump-first party. This is a country-first party,'" Kinzinger told Meet the Press about the photo. "In some cases you may support Donald Trump in that effort, but in my case, I believe that that's a whole new movement. Until we all kind of stand up and say that, we're going to be kind of chasing our tail here in this situation," he said.
During the interview, Kinzinger also criticized pro-Trump Republican Representative Marjorie Taylor Greene of Georgia, saying he would "certainly" support removing her from her congressional committee assignments. However, he pushed back against Democratic calls to expel her from Congress entirely.
"I'd certainly vote her off committee. In terms of eviction, I'm not sure because kind of in the middle. I think a district has every right to put who they want there," the Republican lawmaker said. "But we have every right to take a stand and say, 'You don't get a committee.' And we definitely need to do that," he added.
Newsweek reached out to press representatives for Trump and Greene for comment, but did not immediately receive responses.
McCarthy's meeting with Trump came after he previously enraged the former president by blaming him directly for the violent January 6 insurrection against the U.S. Capitol. Five people died in the violence, and Trump was impeached by the House a week later for helping to incite the riot.
"The president bears responsibility for Wednesday's attack on Congress by mob rioters," McCarthy said a week after the attack. The Republican leader did not vote in support of the impeachment, although he reportedly lobbied Democratic leaders to censure Trump instead.
But McCarthy and Trump appear to have mended their relationship last Thursday. The Republican leader and the former president released a photo together, as Trump promised to help the GOP take back control of Congress in the 2022 midterms.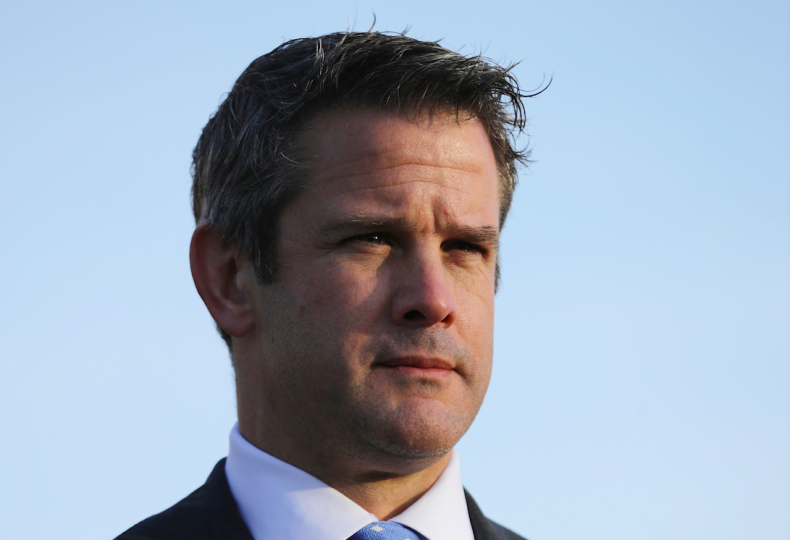 Greene has drawn substantial criticism, as old social media posts of her expressing support for executing Democratic leaders and promoting unfounded conspiracy theories have been widely reported in recent days. A growing number of Democrats have called for her expulsion, but a two-thirds majority vote would be required to remove Greene or any other lawmaker from Congress. As Democrats hold only a narrow majority, the possibility of an expulsion succeeding appears remote.
Some other prominent Republicans besides Kinzinger have criticized Greene as well. Senator Mitt Romney, a Utah Republican and staunch Trump critic, rebuked the freshmen congresswoman on Saturday.
"Lies of a feather flock together: Marjorie Taylor Greene's nonsense and the 'big lie' of a stolen election," Romney wrote on Twitter, retweeting a post reporting that Greene had spoken with Trump earlier in the day and has his support.