Marjorie Taylor Greene Says She Won't Step Down, 'More MAGA Reinforcements Are on the Way'
Republican Georgia Representative Marjorie Taylor Greene said in a Friday statement that she would remain in office despite calls for her to be removed. Greene also confirmed her support for former President Donald Trump, telling fellow supporters that "MAGA reinforcements" were on the way.
Greene's time in office has been controversial. Greene has come under fire for social media posts in which she espoused conspiracy theories about school shootings and climate change. Some of Greene's social media posts indicate her support for the execution of some Democrats. Some lawmakers have denounced her views and called for her removal from Congress. On Friday, Greene said she would never "back down."
Greene warned that if Republicans "cower to the mob, and let the Democrats and the Fake News media take me out, they're opening the door to come after every single Republican until there's none left."
"President Trump taught us how to defend America First values," Greene added. "That's why Democrats have the smallest majority in the House since WWII. I will lead the charge for the Silent Majority."
"More MAGA reinforcements are on the way," Greene wrote. "Let's win BIG for Republicans in 2022!"
"Save America. Stop Socialism. Defeat the Democrats! Let's make America great again!" Greene concluded.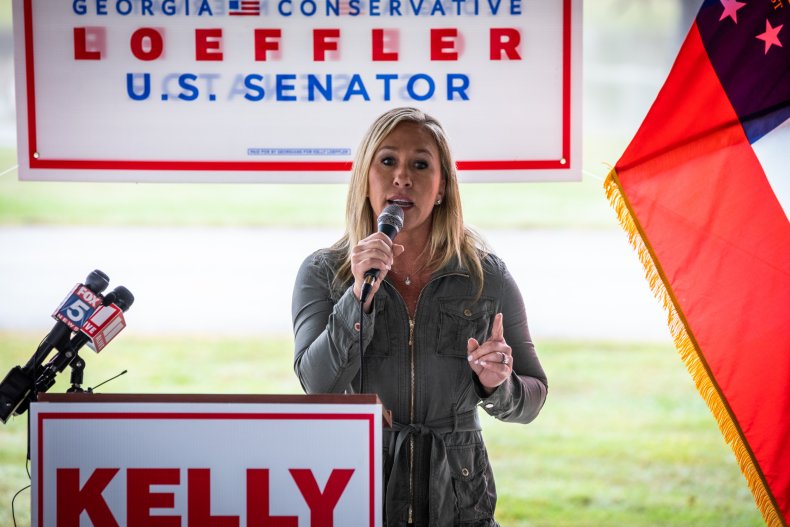 Democratic House Speaker Nancy Pelosi said Thursday that Republican leaders should be acting to rebuke Greene for her statements.
"What I'm concerned about is the Republican leadership in the House of Representatives, who is willing to overlook, ignore those statements," Pelosi said during her weekly press conference. Newsweek reached out to Pelosi's office for further comment.
Greene's announced placement on the House Committee on Education and Labor caused Connecticut Representative Jahana Hayes to send a letter asking for Greene to be replaced. A resolution drafted by California Representative Jimmy Gomez called for Greene's expulsion from the House. On Friday, an interaction between Missouri Representative Cori Bush and Greene took place as Greene was filming a video. Greene posted footage of the confrontation on her Twitter page.
In a Friday statement, Bush described her perspective of the incident. Bush wrote that Greene was "ranting loudly into her phone while not wearing a mask." Bush said she called for Greene to put her mask on, causing Greene and her staff to begin "berating me."
"In the context of Taylor Greene's repeated endorsements of executing Democratic politicians before taking office," Bush wrote, "Taylor Greene's renewed, repeated antagonization of the movement for Black lives in the last month directed towards me personally is cause for serious concern." Bush added that she was relocating her office away from Greene's "for the safety of my team."
In response, Greene tweeted that Bush started the confrontation. "Rep. @CoriBush is the leader of the St. Louis Black Lives Matter terrorist mob who trespassed into a gated neighborhood to threaten the lives of the McCloskey's," Greene wrote. "She is lying to you. She berated me. Maybe Rep. Bush didn't realize I was live on video, but I have the receipts."