Rep. Jimmy Gomez to Introduce Resolution to Expel Marjorie Taylor Greene From Congress
Democratic California Representative Jimmy Gomez is introducing a resolution to expel Republican Georgia Representative Marjorie Taylor Greene from Congress for her past social media posts calling for violence against Democratic politicians and promotion of allegedly extremist conspiracy theories.
"Congresswoman Marjorie Taylor Greene has previously supported social media posts calling for political violence against the Speaker of the House members of Congress, and former President Barack Obama," Gomez said in a statement on Wednesday.
Gomez said Greene's "advocacy for extremism and sedition" merits an immediate expulsion from Congress as well as strong and clear condemnation from Republican House Minority Leader Kevin McCarthy, Republican Senate Minority Leader Mitch McConnell and her other GOP colleagues.
"Her very presence in office represents a direct threat against the elected officials and staff who serve our government," Gomez continued, "and it is with their safety in mind as well as the security of institutions and public servants across our country, that I call on my House colleagues to support my resolution to immediately remove Congressman Marjorie Taylor Greene from this legislative body."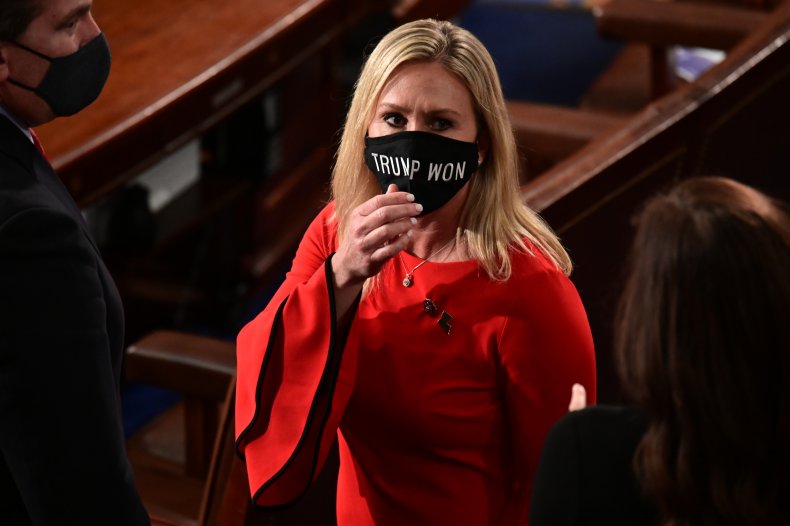 In addition to liking social media posts supporting the Satanic cannibal pedophile conspiracy theory known as QAnon and claiming that Parkland and other school shootings were staged events to help ban guns nationwide, Greene has also liked a comment which said "a bullet to the head would be quicker" than removing Democratic House Speaker Nancy Pelosi of California.
Greene also liked and commented on a social media user who claimed that Clinton sexually assaulted a child, cut off the child's face and wore it as a mask before drinking her blood, a right-wing conspiracy theory known as "Frazzledrip." Greene's comment said that the mainstream media keeps people from knowing about such things.
Greene also liked a post that claimed that Obama had only approved Deferred Action for Childhood Arrivals, a program to help foreign-born people who were brought to the U.S. as children get U.S. citizenship, in order to sell kids into sex slavery and harvest their organs.
Greene has called media reports on her past Facebook activity "a hit piece on me focused on my time before running for political office." But even while running for political office, Facebook removed a post of hers showing an assault rifle next to progressive female House members of color known as "the Squad."
"Over the years, I've had teams of people manage my pages," Greene has claimed. "Many posts have been liked. Many posts have been shared. Some did not represent my views."
Greene was recently appointed to the House Education and Labor Committee by top-ranking House Republicans.
On Wednesday, WRCB reporter Meredith Aldis accused Greene of refusing to answer any questions from the media. When Aldis tried to ask one, Aldis said she was threatened to be arrested by Whitfield County Sheriff's Deputies and then was escorted out.
Patrick Filbin, a reporter with the Times Free Press, backed up Aldis' story and said he too would be removed if he tried to ask Greene any questions. In a follow-up tweet, Filbin wrote, "Greene criticizes the media for reporting stories about her controversial posts and comments. Says the media doesn't cover her other posts about Bible verses, congratulating friends on social media, etc."
Newsweek contacted Greene's office for comment.