At a rally in Tampa, Florida, Tuesday evening in support of Representative Ron DeSantis, President Donald Trump hit on familiar themes, boasting of being America's most popular Republican ever, attacking the "fake media" and drawing chants of "Build the wall."
Sharp-eyed viewers may have noticed a plethora of signs held aloft by members of the crowd not emblazoned with the customary Trump slogans but with "We Are Q" or "QAnon."
Others wore a T-shirt with a large Q encircling a YouTube logo. Slogans also referred to Seth Rich, a Democratic Party staffer whose death last year became the focus of baseless right-wing conspiracy theories.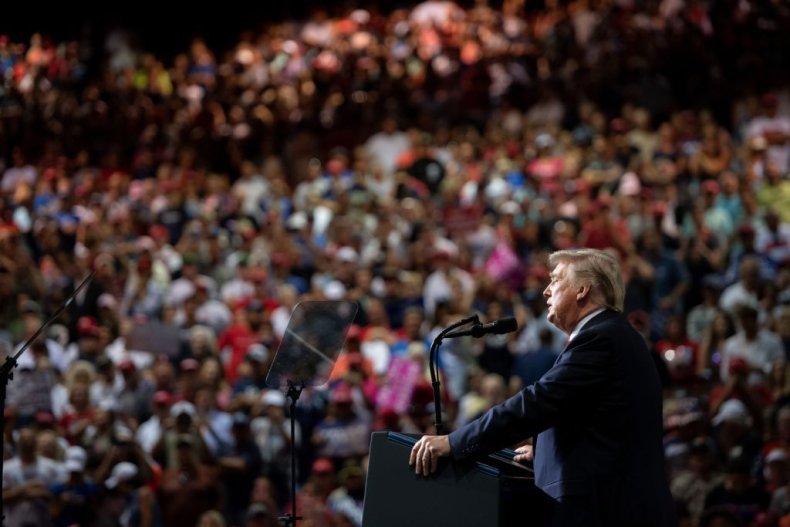 What Is QAnon?
The signs and T-shirts allude to QAnon, a sprawling right wing conspiracy theory that alleges, among other things, the existence of a top-secret child sex trafficking network run by senior Democrats.
It emerged last year on the 4Chan messaging board, when an anonymous commentator, known as "Q," began posting cryptic messages.
Q claimed to be a government insider with knowledge of secret "deep state" plots by key Democrats and officials, which Trump is fighting against.
The person posts clues followers know as "breadcrumbs," with YouTube channels and online forums devoted to unravelling them.
The conspiracy theory has received a boost from celebrity Republicans, such as Roseanne Barr, who tweeted a series of messages alluding to it in the months before her infamous firing by ABC for racially abusing former Obama official Valerie Jarrett.
Former Major League Baseball star and Breitbart podcast host Curt Schilling is another adherent of the theory.
Writing on the Daily Beast, Will Sommer, who monitors right wing media in the U.S., explained the core of the theory.
"The general story," he writes, "is that every president before Trump was a 'criminal president' in league with all the nefarious groups of conspiracy theories past: the global banking elite, death squads operating on orders from Hillary Clinton, deep-state intelligence operatives, and Pizzagate-style pedophile rings. In an effort to break this cabal's grip, according to Q, the military convinced Trump to run for president."
Adherents believe that when Trump in a speech last October referred to the "calm before the storm," he was alluding to a coming purge of criminal elites: "The Storm."
Joseph Uscinski, a University of Miami professor and expert on conspiracy theories, told The Guardian that QAnon supporters are a tiny "fringe," mainly made up of Trump-supporting evangelicals.
Support for Q Anon hasn't just manifested itself in signs held up at Trump rallies.
YouTube is flooded with videos by QAnon followers, with NBC News reporting Monday that the top search results for several Hollywood celebrities on the site were videos by conspiracy theorists baselessly alleging their involvement in "deep state"-linked child abuse rings.
In April QAnon supporters rallied in Washington, demanding the truth, while QAnon followers were involved in a search by a veterans charity for child sex traffickers in the Arizona desert in June.
But support for "deep state" conspiracies can also have violent consequences.
In 2016 a man burst into a popular Washington pizzeria and fired several shots with an automatic weapon. He told investigators he acted after reading online conspiracy theories linking the establishment to a child sex ring run by Hillary Clinton—the so-called "Pizzagate" conspiracy.
He was sentenced to four years in prison in June 2017.