David Hogg Says Marjorie Taylor Greene Triggered Parkland Survivors' PTSD, Demands GOP Act
David Hogg has said that the video of Rep. Marjorie Taylor Greene harassing him in Washington, D.C. has triggered the trauma of surviving the worst high school shooting in U.S. history and has called on the Republican Party to take action against its newly elected lawmaker.
"We need the Republican party, Mitch McConnell, Lindsey Graham and others to stand up and hold her accountable and say 'No'," he told Newsweek.
Hogg has fought for tougher gun laws after 17 students and staff at Marjory Stoneman Douglas High School in Parkland, Florida, were killed on February 14, 2018 and helped found the political action committee Never Again MSD.
Two videos emerged this week of Greene challenging Hogg in the U.S. Capitol on March 25, 2019 before she was elected as representative for Georgia's 14th congressional district. In the first clip, she follows him outside the building, calls him a "coward" and demands to know how he was able to get an audience with lawmakers.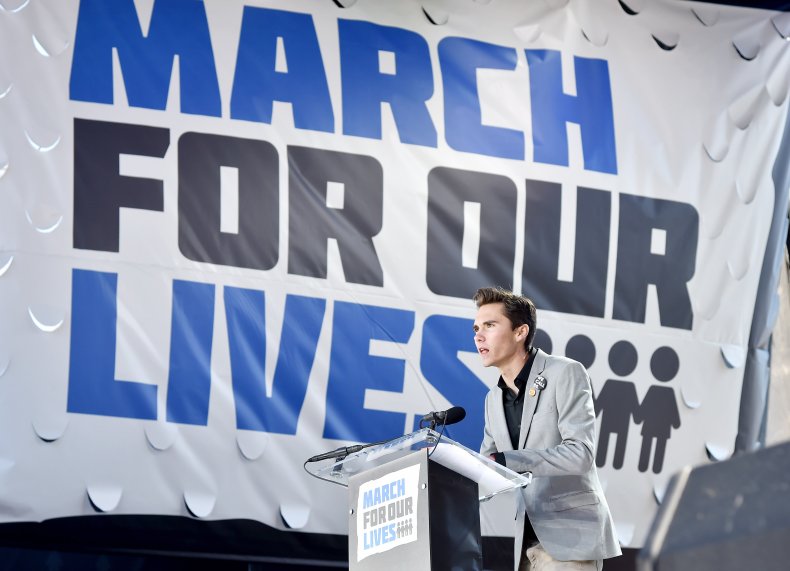 She also repeated wild claims that the shooting was a "false flag" event and that Hogg and his group were funded by the billionaire philanthropist George Soros, a common trope among conspiracy theorists.
In a second clip that Hogg retweeted, Greene is seen yelling at him and his supporters as they walk through a corridor in the Capitol building. When they stop and wait to enter an office, she says to them: "You are born into this country with all these freedoms and you don't even appreciate what you have."
Hogg described the video as "hard to watch" as it brought back memories of her actions that day, which included saying she had a gun. "I think for some of the people there, it is good that it is getting attention, but it is kind of triggering for them.
"She was trying to ask triggering questions for our PTSD, like 'name the shooter at our high school' and trying to get a rise out of us. I don't care if you're Democrat or Republican, that's just wrong.
"A lot of the PTSD comes from the gun violence but it also comes from the aggression and death threats that we get.
"When she says we were funded by billionaires—there is no amount of money you could pay me to do this. Frankly, I hate that I have to do this work, that anybody does. I would much rather be a college student right now.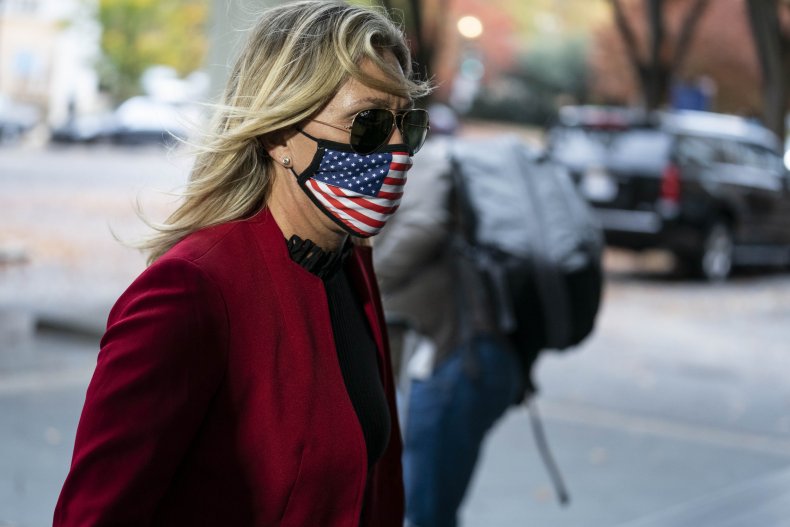 "This work has to be done and it shouldn't have to be. It is so traumatizing for a lot of the young people that do it because of people like her. It is disgusting that it is on me and the survivors of gun violence to end gun violence when we elect people to do this work for us."
Greene has been criticized for embracing conspiracy theories such as QAnon. CNN reported that she posted on Facebook in 2018 and 2019 that she supported executing Democrats.
Democratic California Representative Jimmy Gomez has introduced a resolution to expel her from Congress and there have been concerns about her conduct expressed by some Republicans.
The youth gun violence prevention advocacy group March for Our Lives which was founded by students from Parkland, has also set up a petition calling for Greene to resign. Hogg is also promoting a petition on Twitter which says: "Sign the petition to call for @RepMTG to resign text 'Resign' to 954-954."
Hogg believed that the House Minority Leader Kevin McCarthy should not allow her to take up an appointed position on the house education and labor committee, saying that the GOP should "take away her committee assignments and call for her resignation."
"It is sad that we are at this point. We don't have to be a country that attacks the survivors of school shootings. We can be a country that unites around the fact that we don't want this to happen again ever," Hogg said.
Newsweek has contacted Greene's office and House Minority Leader Kevin McCarthy for comment.
The graphic below provided by Statista offers a snapshot of U.S. gun violence levels during a period which included when the Parkland mass shooting took place.