Another video of Republican Representative Marjorie Taylor Greene confronting Parkland shooting survivor David Hogg has emerged, following outrage at a previous clip of the same incident that went viral.
This week, video from March 2019 showed Greene following Hogg, who has lobbied for tougher gun laws after he survived the mass shooting that left 17 dead on February 14, 2018 at Marjory Stoneman Douglas High School.
As he went to put his case to lawmakers and walked towards the U.S. Capitol, Greene, who has since been elected to Georgia's 14th congressional district, called him a "coward."
She also said that if schools had security guns "there would be no mass shootings at schools," in the video that was retweeted by Fred Guttenberg, the father of one of the slain students.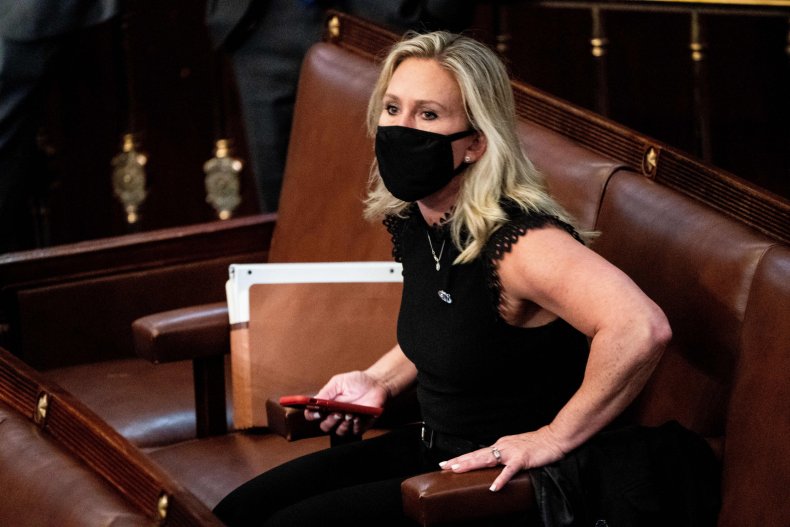 But on Thursday, Hogg retweeted more video of the confrontation. "I didn't realize there was also video of @mtgreenee following us 10 min before the outside interaction too," he wrote with the clip.
In the clip, Greene follows Hogg and his supporters down a corridor, as she yelled at him "what you are doing will not prevent mass shootings, they will find another way, there's bombs—they use machetes to kill people in Nigeria."
As Hogg and his group stopped and waited outside an office door, she continued: "You guys are being used by the left because you're young and you're being tricked into having your Second Amendment slowly chipped away."
Survivors of the Marjory Stoneman Douglas High School shootings have appealed to congressional Republicans to censure Greene for her harassment of Hogg as well as her claims that the massacre was a "false flag" operation.
Hogg is promoting a petition for his followers to sign on Twitter saying: "Sign the petition to call for @RepMTG to resign text "Resign" to 954-954."
Greene has been criticized, including from within her party, for embracing conspiracy theories such as QAnon and for posting on Facebook in 2018 and 2019 that she supported executing Democrats.
Democratic California Representative Jimmy Gomez has introduced a resolution to expel her from Congress. On Thursday, Hogg told CNN that Republican House Minority Leader Kevin McCarthy should not allow her to take up an assigned position on the house education and labor committee.
"Republicans always act as if they're the party of decency and respect but would the party of decency and respect question whether or not school shootings happened," he said.
Newsweek has contacted Greene's office for comment. In a statement to CNN, Greene said that the video from 2019 was taken while she was "going from office to office in the Senate to oppose the radical gun control agenda that David Hogg was pushing."