Marjorie Taylor Greene's 'Jewish Space Lasers' Conspiracy Theory Met With Derision, Jokes
House Republican Marjorie Taylor Greene has faced criticism and ridicule for posting a wide-ranging conspiracy theory tinged with anti-Semitic tropes, leading to the #JewishSpaceLasers hashtag trending on Twitter.
Georgia Rep. Greene has on several occasions drawn criticism for espousing inflammatory views on race, promoting Qanon conspiracy theories, and inciting hatred on rival lawmakers. QAnon peddles the unfounded conspiracy theory that former U.S. President Donald Trump is waging a secret war against elite Satan-worshipping pedophiles in government, business and the media.
Media Matters on Thursday revealed one of Greene's old Facebook posts from 2018, where she made several baseless claims about the cause of California's wildfires. She simultaneously implied that the fires could have been started deliberately or accidentally by a solar power generating satellite, but either way the fires were conveniently along the route of the planned California High-Speed Rail project.
In the post, which has now been deleted, Greene implied that the Rothschilds, a wealthy Jewish banking family frequently referred to in anti-Semitic conspiracy theories, PG&E (Pacific Gas and Electric), space solar power company Solaren, and California officials all had a hand in profiting from the fires.
She specifically mentioned Roger Kimmel on the PG&E board, U.S. Senator for California Dianne Feinstein, her husband Richard Blum, former California governor Jerry Brown, and Michael Peevey who is on the board of Solaren.
"Then oddly there have been all these people who have said they saw what looked like lasers or blue beams of light causing the fires, and pictures and videos," Greene continued on Facebook. "I don't know anything about that but I do find it really curious that PG&E's partnership with Solaren on space generators starting in 2009. They announced the launch into space in March 2018, and maybe even put them up before that."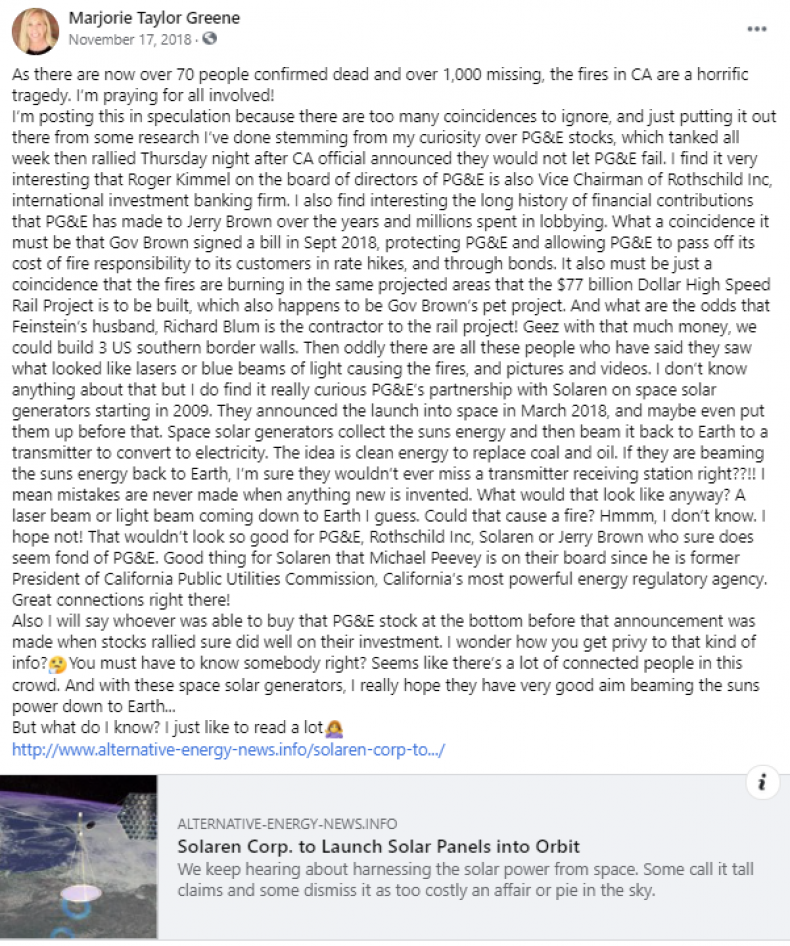 Solaren was planning to launch for PG&E in 2016 but this never came to fruition, Wired reported in 2019.
Greene suggested that if laser beams caused the fires, it could have been a mistake by Solaren when it was trying to transmit the sun's energy back to Earth. "That wouldn't look so good for PG&E, Rothschild Inc, Solaren or Jerry Brown who sure does seem, fond of PG&E. Good thing for Solaren that Michael Peevey is on their board since he is former President of California Public Utilities Commission, California's most powerful energey regulatory agency. Great connections right there!" she wrote.
Following the news of her outburst, the "Jewish Laser Beam" began trending on Twitter as many people on the platform ridiculed Greene's comments.
Marc E. Elias, founder Democracy Docket, a platform for progressive advocacy and information about voting rights, said: "Whoever borrowed my secret Jewish space laser, please return it. I need it for something tomorrow."
Brian Schatz, U.S. Senator for Hawaii, also commented on Greene's conspiracy theories.
"A member of congress thinks there is a Jewish Laser beam to clear space or something for high speed rail and on Sunday TV pundits will ask democrats why they can't find middle ground on Covid relief. All of these otherwise smart people will pretend not to know the answer," he said.
Responding to him, prominent Jewish academic and writer Norman Ornstein said: "I think it is time to start a Jewish Laser Beam Caucus in Congress. Will not be difficult to get a minyan."
Comedian Randy Rainbow wrote: "'Jewish Space Laser' was the theme of my Bar Mitzvah party."
Twitter user Patton Oswalt referenced the popular Beatles song "Paperback Writer."
"S*** I'm gonna be muttering, 'Jewish Space Laser' to the tune of "Paperback Writer" all weekend," he wrote.
Filmmaker Avishai Weinberger said: "Mom says it's my turn on the Jewish Space Laser."
Another user on the social media site, Minerva P Kelley, said: "Apparently Marjorie Taylor Greene (R-GA) thinks that the wildfires in California were started by, and I'm paraphrasing here, a Jewish Space Laser and I gotta say, I feel like I would have been far more inclined to go to hebrew school as a kid if I'd known there'd be a space laser."
Democratic House Speaker Nancy Pelosi on Thursday slammed GOP Congressional leaders for not doing more to condemn Greene's incendiary comments.
"What I'm concerned about is the Republican leadership in the House of Representatives, who is willing to overlook, ignore those statements," she said in her weekly media briefing.
CNN reported on Wednesday that Greene has also indicated her support for executing prominent Democrats, including Pelosi. In a January 2019 Facebook post, Greene liked a comment that said "a bullet to the head would be quicker" to remove Pelosi. Greene also liked comments about executing FBI agents, who she has accused of being part of the "deep state" that had been working to oust former President Donald Trump.
A video posted on Greene's YouTube channel on January 21 shows her confronting David Hogg, who survived a 2018 mass shooting at Marjory Stoneman Douglas High School in Parkland, Florida. Seventeen people were killed in the shooting.
In the video, Greene repeatedly accuses Hogg of supporting Red Flag gun laws, which she says threaten her Second Amendment Rights. After following him as he visited Senators in the U.S. Capitol, Greene calls him a coward for refusing to reply to her and said he was being paid by George Soros, who is often referred to in anti-Semitic conspiracy theories, and other rich liberal figures.
Hogg doesn't respond to Greene in the video but later he tweeted: "As we fight for peace we also face massive amounts of death threats and armed intimidation simply for not wanting our friends to die anymore. This is not the country we should be, and it's not the country we have to be."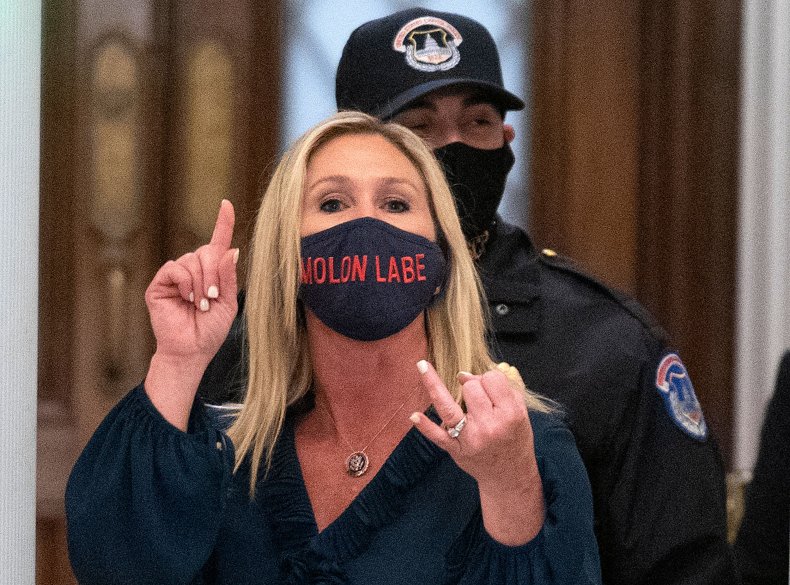 Update 1/29/21, 11:15 a.m. ET: This article was updated to include a screencap of Marjorie Taylor Greene's Facebook post.