70 Percent of Republicans Would Join or Consider Joining Trump Party: Poll
A significant majority of Republicans would either join or consider joining a new political party formed by former President Donald Trump, new polling shows.
While a number of GOP lawmakers and Republican organizations work to distance their party and themselves from Trump, the majority of GOP voters appear to continue to strongly support him. Most Republican lawmakers in Congress also have aligned themselves with Trump, with nearly 150 of them having formally objected to President Joe Biden's victory when the Electoral Votes were certified in January.
The latest poll by CBS News/YouGov, which was conducted from February 5 to 8, shows that 33 percent (one-third) of Republicans said "yes" when asked if they would join a new party formed by Trump. An additional 37 percent said "maybe," meaning 70 percent would join or consider joining a Trump-centered party. Just 30 percent of Republicans said "no."
Additionally, 71 percent of Republicans said that GOP lawmakers who voted to impeach Trump or will support his conviction are "disloyal." Only 29 percent said they viewed these lawmakers as "principled." And just 21 percent of Republicans said they believed Trump encouraged the January 6 violence against the U.S. Capitol, for which he was impeached for a second time a week later on January 13.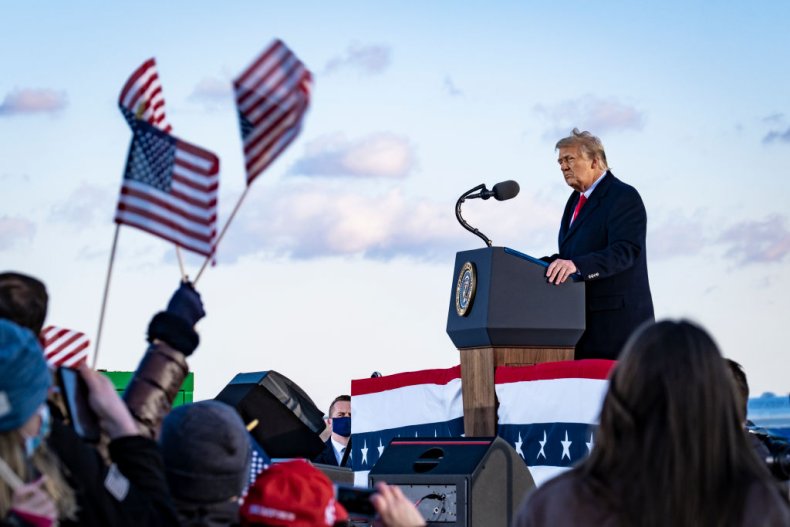 Ten Republicans voted alongside Democrats to impeach Trump last month for helping to incite the violent insurrection carried out by his supporters. Ahead of the attack on the legislative branch, Trump repeatedly urged his followers to come to Washington for "wild" demonstrations. At a morning rally near the Capitol on January 6, Trump told his supporters to march to the legislative building and to "fight like hell" to keep him in power. A mob of Trump's supporters then stormed to the Capitol in a bid to overturn the certification of President Joe Biden's victory. Five people died in the violence.
Representative Liz Cheney, a Wyoming Republican who serves as the chair of the House Republican Conference, voted in favor of impeachment and condemned Trump's actions. Although the high-profile GOP lawmaker has said Trump should not be part of her party moving forward, polls suggest she's out of step with the Republican base.
"The notion that the election had been stolen or that the election was rigged was a lie, and people need to understand that," Cheney told Fox News Sunday this past weekend. "We need to make sure that we as Republicans are the party of truth, and that we are being honest about what really did happen in 2020 so we actually have a chance to win in 2022 and win the White House back in 2024."
Cheney insisted that Trump "does not have a role as a leader of our party going forward."
Cheney was censured by the Wyoming Republican Party as a result of her opposition to Trump. A number of other GOP lawmakers and prominent Republicans have been censured by state and local party chapters due to their criticism of the former president as well.