Former President Donald Trump's second impeachment trial will be historic as it marks the first time that an American president has been impeached twice and the first time a Senate trial is held after a president leaves office. However, it will also be historic as only the fourth presidential impeachment trial to be held in U.S. history.
For the vast majority of U.S. history, presidential impeachment trials were almost unheard of. The first contentious Senate trial took place in 1868, when former President Andrew Johnson was narrowly acquitted. The next such trial would not take place again until 1999 after former President Bill Clinton was impeached by the Republican-controlled House of Representatives for alleged perjury and obstruction. Clinton was then acquitted by the Senate.
Just over 20 years later, Trump was impeached by the Democrat-controlled House of Representatives in December 2019. Although Trump was ultimately acquitted by the GOP-controlled Senate, he is now facing a second impeachment trial—or the fourth in U.S. history—following the violent insurrection against the U.S. Capitol on January 6. Democrats, joined by 10 House Republicans, voted to impeach Trump a week after the events of that day for helping to incite the mob with the aim of overturning President Joe Biden's election victory.
"The most unprecedented element of this second [Trump] impeachment is that it results from the one and only time a U.S. president has engaged in insurrection and an attempted coup against our own country," Dr. Barbara Perry, a professor and director of presidential studies at the University of Virginia's Miller Center, told Newsweek.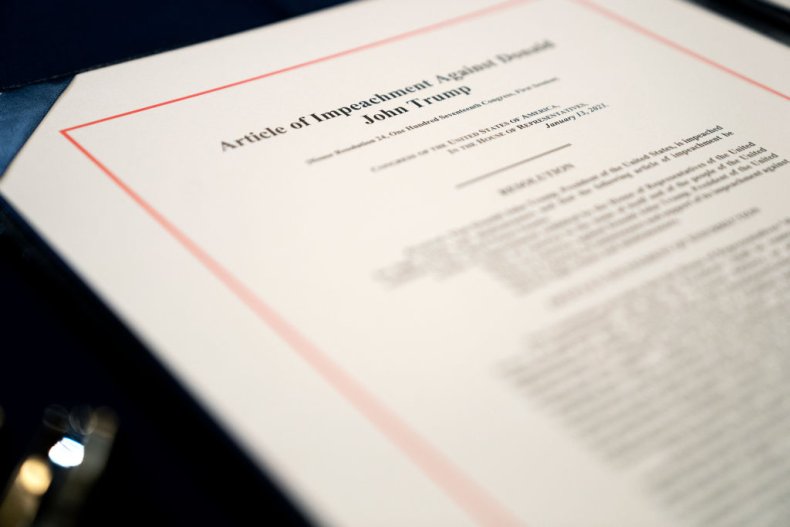 Perry draws a line from the impeachment of Clinton by Republicans to the present-day Trump and GOP efforts to undermine democracy and delegitimize Democratic leaders. "The Clinton impeachment did indeed abuse the power granted to Congress to impeach and try presidents for high crimes and misdemeanors," the academic contended.
"The GOP-led impeachment was part of the [former GOP Speaker of the House Newt] Gingrich revolution to thwart Democratic majorities in Congress and presidential victories. The fact that Clinton's approval ratings actually rose during the failed process to remove him speaks volumes about the Republican overreach," she said.
Perry pointed out that Republicans then attempted to delegitimize former President Barack Obama by pushing conspiracy theories. "The same fascistic and racist fringe, led by the Tea Party, Rush Limbaugh, Fox News and Donald Trump, next combined to proclaim the illegitimacy of Barack Obama due to his alleged birthplace and Muslim roots," she said.
In 2020, after Trump was impeached the first time, Republicans argued that his efforts to pressure Ukraine to announce a baseless investigation into his political rival did not rise to the level of impeachable conduct. They said that voters should be allowed to decide whether or not Trump could serve a second term. However, when it was apparent that Trump lost the election in November, many GOP lawmakers helped push the "Big Lie" that Biden's victory was due to widespread voter fraud.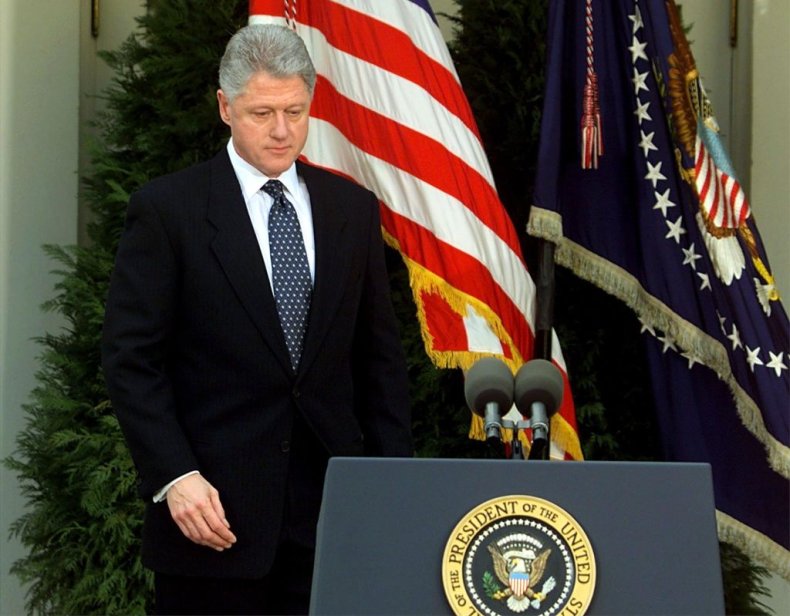 "Therefore, the 46th president is, wait for it, illegitimate," Perry said, emphasizing the Republican argument. "See the pattern?"
Grant Reeher, a professor of political science at Syracuse University, told Newsweek that people should be "wary" of attempting to identify a historical trend from just two cases: Clinton and Trump. However, he said the fact that three of four impeachment trials have happened in just over two decades "is in part a reflection of the deep political polarization the nation has been experiencing."
"Regarding impeachment, polarization has led the two parties to dig in immediately and deeply. Clinton's impeachment is probably a better pure example of its effects," Reeher said. "Trump's behavior has been far more problematic and dangerous to the nation, but I still think that polarization has affected how each party has responded, and it has made impeachment—or defending a president or former president against it—a more likely response," he added.
Although Reeher said that there was obvious historical significance to Trump being the first president to be impeached twice, he believes this fact "will pale somewhat against the historical record of Trump's actions and statements as president."
"What is more striking to me is his complete breaking from the norms of acceptable behavior for a president, his reaction to his loss and the general dysfunction that surrounded his White House," he said.
As things currently stand, it appears highly unlikely that Trump will be convicted at the end of his trial and barred from holding office again in the future. In order for Trump to be convicted, at least two-thirds of the Senate (or 67 senators) would need to find the former president guilty.
With the upper chamber of Congress evenly split, 50 to 50, it was always considered a long shot that 17 Republicans would reject Trump and vote alongside Democrats. But a vote forced by Senator Rand Paul, a Kentucky Republican, at the end of January cast further doubt on the remote possibility of a Trump conviction. That vote put senators on the record as to whether they believed the pending trial would be constitutional, as Trump is no longer in office. Just five Republicans voted alongside Democrats to affirm that the trial would be constitutional.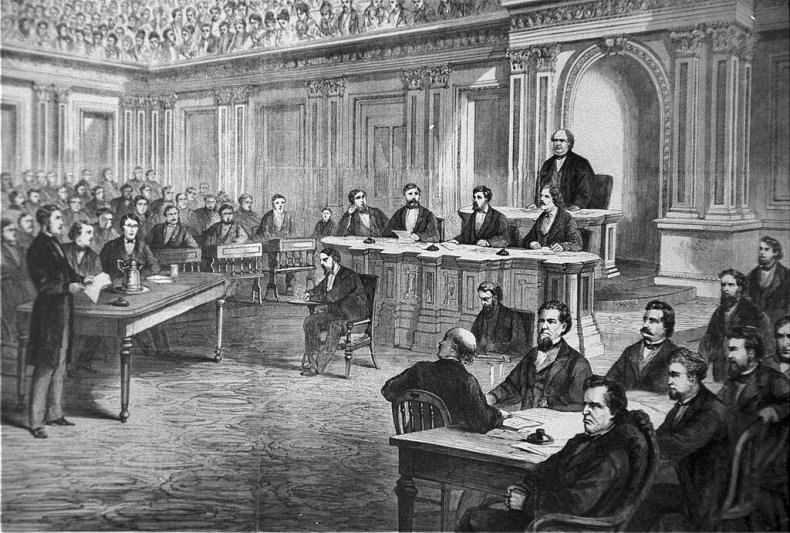 Most legal scholars agree that holding a Senate trial after a president is no longer in office is constitutional. However, Trump's defense team plans to argue that it is not, and most Senate Republicans have already signaled they agree with that view. Regardless, Perry believes that holding the trial is important for the future of the U.S.
"Even with the unlikely conviction of the ex-president, evidence of his obvious role in January 6th's illegal and deadly uprising against our government and Constitution must be submitted to the nation and world to complete his infamous legacy and attempt to restore the United States as a beacon of democracy around the globe," she said.
Reeher believes that Trump's influence over the Republican Party will be diminished moving forward.
"How we view this moment with the benefit of hindsight will also depend on how much Trump is able to influence our political life as an ex-president," he said. "That's an unknown at this point. My personal view is that his influence will fade rapidly, and Republicans will work on ways to pivot away from him and his legacy. 2022 will tell us a little bit, 2024 much more."
This article was updated to note that Professor Barbara Perry is affiliated with The Miller Center at the University of Virginia.