12 Senators Will Serve as Impeachment Trial Jurors for a Third Time
As former President Donald Trump's historic second impeachment trial commences in the Senate on Tuesday, a dozen senators will be in the unique position of serving as jurors during a presidential impeachment trial for the third time.
Presidential impeachments were incredibly rare throughout U.S. history, with the first taking place in 1868 against former President Andrew Johnson. That impeachment resulted in a narrow acquittal in the Senate. The next presidential impeachment trial did not take place until 1999, when former President Clinton was put on trial. Clinton was also acquitted, as was Trump during his first Senate trial on February 5, 2020. There are 12 senators still serving in the upper chamber of Congress just a little more than two decades after first serving as jurors in a presidential impeachment trial who will once again take on the roll this week.
These Senate members include Republican Senators Susan Collins of Maine, Chuck Grassley of Iowa, Jim Inhofe of Oklahoma, Mitch McConnell of Kentucky and Richard Shelby of Alabama. The Democrats include Senators Dick Durbin of Illinois, Dianne Feinstein of California, Patrick Leahy of Vermont, Patty Murray of Washington, Jack Reed of Rhode Island, Chuck Schumer of New York and Ron Wyden of Oregon.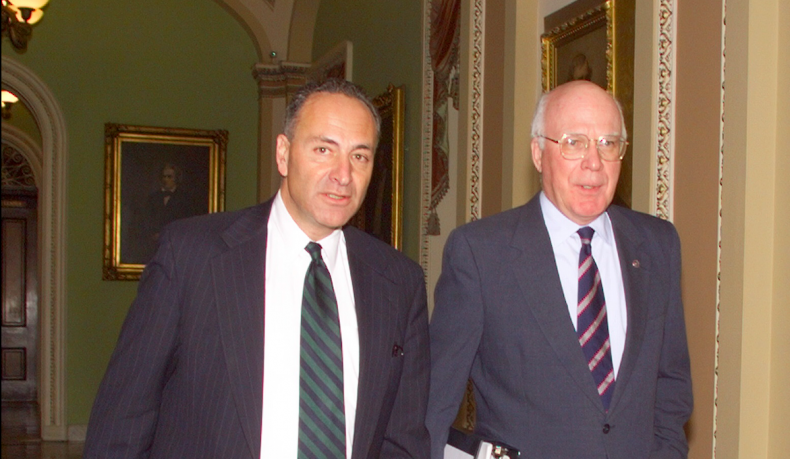 Notably, there are also several senators who were serving in the House of Representatives during Clinton's Senate trial back in 1999. Senator Lindsey Graham, a South Carolina Republican and key Trump ally, was serving in the lower chamber of Congress and was one of 13 House impeachment managers during Clinton's trial.
Here's a closer look at how the 12 senators voted in the previous two impeachments.
Susan Collins
The Maine Republican voted to acquit Clinton and Trump during their respective Senate trials. Collins' decision in 1999 put her in the minority of Senate Republicans. The Republican lawmaker was also critical of Trump ahead of his first impeachment trial and supported calling further witnesses to testify—something opposed by most GOP senators. However, she ultimately voted against convicting Trump.
Ahead of Trump's second impeachment trial, Collins has been critical of the former president. She was also just one of five Senate Republicans to side with Democrats late last month in affirming with her vote that the trial of a former president would be constitutional.
Dick Durbin
Durbin voted to acquit Clinton and to convict Trump. The Illinois Democrat described Clinton's behavior as "clearly wrong" but argued that the impeachment process led by Republicans was "too unfair" and "too suspect." When it comes to Trump's second impeachment trial, Durbin has said that the former president "needs to be held accountable."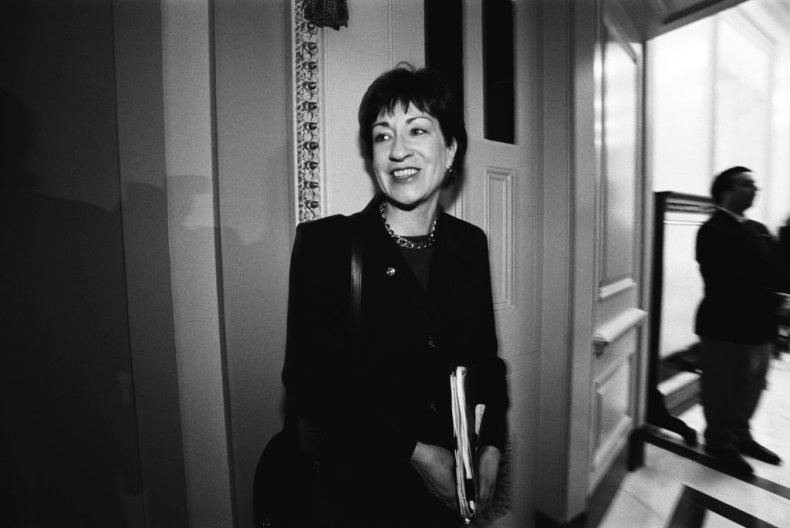 Dianne Feinstein
The California Democrat led an effort to censure Clinton instead of impeaching him, but she ultimately voted to acquit the president of her party. Feinstein went on to vote in favor of convicting Trump during his first Senate trial last year. Following the January 6 insurrection by Trump's supporters, Feinstein joined Democrats—and some Republicans—in calling for Trump to be removed from office.
Chuck Grassley
The Iowa Republican voted to convict Clinton and to acquit Trump last year. Grassley said that Clinton's "breach of trust has eroded the public's faith in the office of the presidency." The GOP lawmaker said in January that Trump "bears some responsibility" for the January 6 riot, but he voted later last month in support of a resolution declaring the pending Senate trial unconstitutional.
James Inhofe
Inhofe voted to convict Clinton but voted with the vast majority of Republicans to acquit Trump in his first Senate trial. Following the events of January 6, Inhofe criticized Trump for not doing more to stop his supporters storming the U.S. Capitol.
"This was really a riot. He should have shown more disdain for the rioters. I don't want to say he should have apologized—that's not exactly accurate—but he should have expressed more disdain," the Oklahoma Republican told The Tulsa World.
Patrick Leahy
The Vermont lawmaker voted to acquit Clinton back in 1999 and to convict Trump in 2020. In his role as President pro tempore of the Senate, Leahy will oversee Trump's second impeachment trial, but will also get a vote as a juror.
"When I preside over the impeachment trial of former President Donald Trump, I will not waver from my constitutional and sworn obligations to administer the trial with fairness, in accordance with the Constitution and the laws," Leahy said in a statement when it was announced late last month that he would oversee the trial.
Mitch McConnell
McConnell backed Clinton's conviction and later voted to acquit Trump, strongly criticizing the Democrats' first impeachment effort against the Republican president. However, McConnell was reportedly open to convicting Trump in his second impeachment trial following the events of January 6. McConnell has publicly blamed Trump directly for the riot, but he voted with the majority of Republicans last month to say that the pending trial would be unconstitutional.
Patty Murray
The Washington Democrat voted to acquit Clinton in 1999, although she strongly criticized his actions. Murray later voted to convict Trump just over two decades later during his first impeachment trial.
"I have to say, as a citizen, as a woman, and as a parent, I cannot begin to describe how deeply disappointed and angry I am with the president," Murray previously said of Clinton.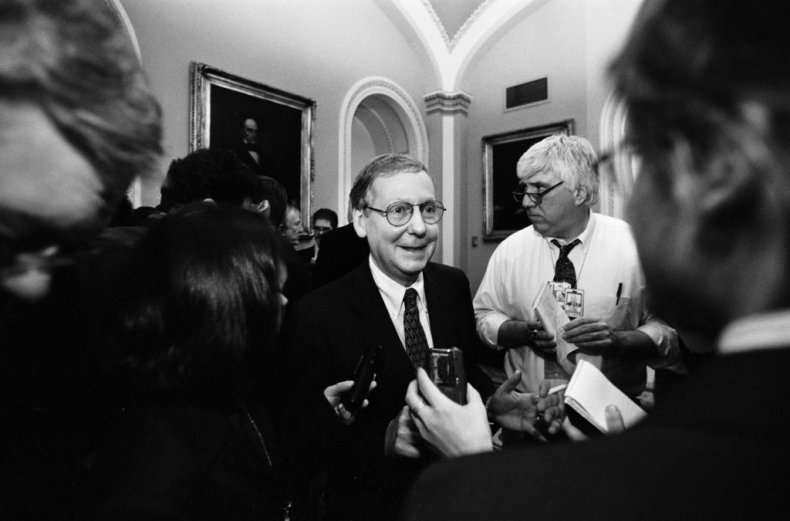 Jack Reed
Reed voted in favor of acquitting Clinton and supported convicting Trump. Following Trump's second impeachment in the House of Representatives—which had the support of 10 Republicans—on January 13, the Rhode Island Democrat expressed his approval.
"In a clear, bipartisan rebuke of Donald Trump, the House impeached him for attempting to incite violence and reverse a free, fair and properly certified election," Reed said.
Chuck Schumer
Schumer, who now serves as the Senate majority leader, had the unique role of serving in the House of Representatives when Clinton was impeached before joining the Senate in 1999 and serving as juror for trial. In the House, Schumer voted against impeachment and went on to vote against Clinton's conviction in the Senate. The New York Democrat voted to convict Trump at his first Senate trial and has condemned the former president's actions in the wake of the January 6 riot.
Richard Shelby
When it came to the charges against Clinton, Shelby voted "not guilty" for the perjury charge but voted to convict on the charge of obstruction. The Alabama Republican voted to acquit Trump in his 2020 Senate trial.
Following the House impeachment vote last month, Shelby said senators "need to wait and hear the evidence" before making a decision on how to vote. But the Republican lawmaker voted with the majority of GOP senators to say that the pending trial for the former president would be unconstitutional. Notably, Shelby announced on Monday his plan to retire and not seek reelection in 2022.
Ron Wyden
The Oregon Democrat voted to acquit Clinton and later supported Trump's conviction in 2020. Wyden expressed concern about Clinton's actions in 1999, but he did not believe they amounted to impeachable offenses.
Newsweek reached out to press representatives for the 12 senators, but most did not immediately respond with comment. A spokesperson for Leahy said that he is not doing any interviews until after the Senate trial.