Patrick Leahy Will Preside Over Trump Impeachment Trial, a First in American History
Vermont Senator Pat Leahy, the president pro tempore of the Senate, will preside over former President Donald Trump's second impeachment trial, not Chief Justice John Roberts, who presided over Trump's first trial.
Traditionally, the Supreme Court fulfills the role of presiding over a president's impeachment trial because it's outlined in the Constitution. However, this is the first time a president will be tried after he's left office, so that responsibility will fall on Leahy, according to a Senate source.
While Leahy presiding over the trial is unprecedented and may seem to break from tradition, the Senate source told Newsweek it's because senators preside over the trial if the impeached is "not president of the United States."
The Constitution specifies that when the president is the accused, "the Chief Justice shall preside." Part of the reason for this specification is because there's an obvious conflict of interest with the vice president, who normally serves as president of the Senate, presiding over the impeachment trial when a conviction means they'd take over as president.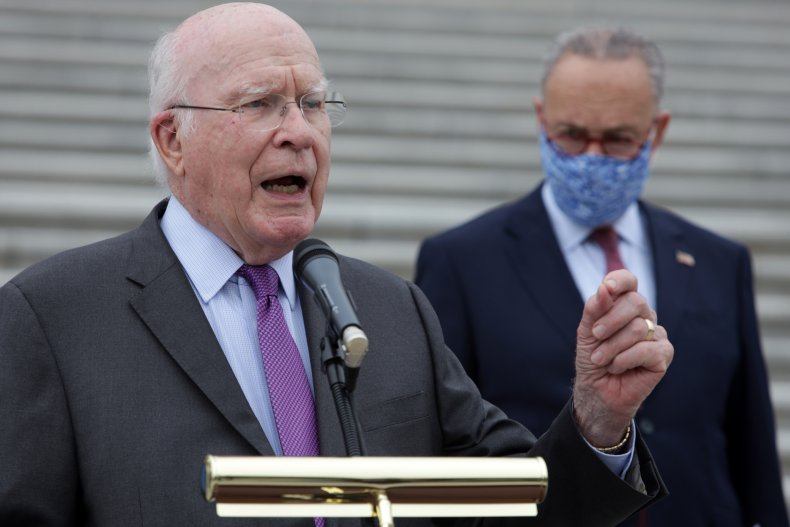 There's been some debate as to whether Roberts should preside over Trump's trial despite him not being in office, but without any precedent, it's been left up to legal interpretation. There doesn't seem to be a consensus among legal scholars as to who should preside over the trial, and the decision was left up to congressional leaders.
Despite them being labeled liberal or conservative and nominated by presidents of a certain party, Supreme Court justices are considered politically neutral entities, making them the most likely to be an independent judge. Senators, however, are not and some have taken issue with the prospect of Leahy, a Democrat, presiding over the trial after casting a vote to convict Trump the first time he was tried.
In a statement, Leahy noted that the president pro tempore has presided over Senate impeachment trials of non-presidents and that he takes his oath to do "impartial justice" "extraordinarily seriously."
"When I preside over the impeachment trial of former President Donald Trump, I will not waver from my constitutional and sworn obligations to administer the trail with fairness, in accordance with the Constitution and the laws," Leahy said.
Others have criticized the trial for being unconstitutional since Trump is no longer in office.
A week before he left office, the House impeached Trump for a historic second time, and on Monday, Speaker Nancy Pelosi is expected to send the article of impeachment to the Senate. Assuming senators are sworn in as members of the "Court of Impeachment" on Tuesday and a summons is issued to Trump, the former president will have until February 2 to respond. The trial is scheduled to begin on February 9.
Senate Minority Leader Mitch McConnell pushed Senate Majority Leader Chuck Schumer to delay the trial to February so the president could prepare. Other Republicans don't think the trial should be taking place at all.
Senators Mike Rounds and Marco Rubio consider it a waste of time, especially given what Congress also has on its plate with regards to the pandemic. Senator Rand Paul has gone as far as calling for a boycott. Paul also argued in an op-ed for The Hill on Sunday that it's not impeachment if Roberts is not presiding, writing the charade will only be "bitter partisanship and political theater."
Trump's trial is one of three items deemed "essential" to Democrats, according to Schumer. He said on Sunday the stakes are "too high to delay any of them," adding that the trial will be fair but will "move at a relatively fast pace."
This article has been updated to include a comment from Senator Patrick Leahy.