Some Republicans Want to Take GOP Back From Trump, Polls Show It'll Be Hard
Representative Adam Kinzinger, an Illinois Republican, launched a new PAC over the weekend to counter former President Donald Trump's faction of the GOP—but polling suggests it will be an uphill battle.
Ahead of the 2020 presidential election, a number of Republican and conservative initiatives—such as the Lincoln Project, Republican Voters Against Trump and Republicans for the Rule of Law—arose to challenge Trump's dominance of the GOP. Although these groups contend they helped deliver moderate Republicans and independent voters for President Joe Biden back in November, Trump still garnered more than 11 million more votes than he did in 2016.
In the wake of the violent January 6 insurrection carried out by a pro-Trump mob of rioters against the U.S. Capitol, Kinzinger and just nine other House Republicans—including House Republican Conference chair Representative Liz Cheney of Wyoming—joined with Democrats to impeach Trump a second time. But these GOP lawmakers are the minority within their party, with polls showing that Trump continues to be highly favored by Republican voters.
Polling conducted from January 22 to 25 by Morning Consult and Politico showed that 81 percent of Republican voters still viewed Trump favorably, despite the Capitol riot and the former president's second impeachment. Moreover, 54 percent of the Republican voters said they strongly held positive views of the former president.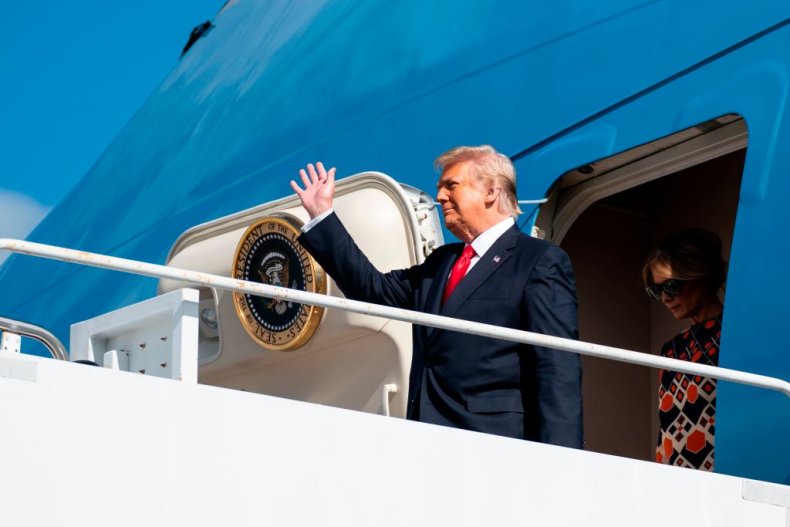 Additionally, less than 20 percent of Republicans said they would support the Senate voting to convict Trump for helping to incite the insurrection. The same poll also showed that 56 percent of Republicans believe Trump should run for office again in 2024. A recent Ipsos KnowledgePanel poll found a slightly higher percentage (57 percent) of Republicans believe Trump should be the 2024 nominee.
Another NBC News poll conducted following the events of January 6 showed that 87 percent of Republicans approve of Trump. Nearly three-quarters (74 percent) continued to believe the former president's false claims that President Joe Biden was not legitimately elected.
Maura Gillespie, communications director for Kinzinger, told Newsweek in an email that the Republican congressman recognizes the "risks in standing up like this, but he's at peace with his choice and ready to face whatever may come his way."
"The movement is about putting principles first, respecting the institution of our democracy, and having integrity. And that means telling the truth to the American people. This movement is a call to action, to restore the values of the GOP, but also to have a place those who've felt disenfranchised by what's happened and what has been perpetuated by the former President and his followers," Gillespie said.
Meanwhile, former Trump administration officials Peter Navarro and Richard Grenell have suggested that the former president does plan to run again in a bid to take back the White House in 2024. Grenell, Trump's former ambassador to Germany, told Newsmax in late January that Trump has told him "a number of times" that "he does want to run again." Navarro, who served as a trade adviser to Trump, predicted Saturday in an interview with Fox News that Trump will win in "a landslide" in 2024.
House Minority Leader Kevin McCarthy, a California Republican, appeared to recognize the reality of Trump's continued dominance last week. After rebuking the former president and blaming him for inciting the violence targeting Congress, McCarthy traveled to Trump's private Mar-a-Lago club in Florida to make amends and gain the former president's assurances of support for GOP candidates in the 2022 midterm elections.
Other Republicans, including Kinzinger and GOP Senators Mitt Romney of Utah, Lisa Murkowski of Alaska and Ben Sasse of Nebraska, are hoping their party can somehow expel the former president's faction from its ranks.
"The problem is until we push back and say, you know, 'This is not a Trump-first party. This is a country-first party,'" Kinzinger told NBC News' Meet the Press on Sunday. "In some cases, you may support Donald Trump in that effort, but in my case, I believe that that's a whole new movement. Until we all kind of stand up and say that, we're going to be kind of chasing our tail here in this situation," he cautioned.
Updated February 2, 2021 at 4:02 p.m. ET: Comment from Kinzinger's communications director has been added.