'Stop Golfing and Concede': Maryland GOP Governor Larry Hogan Spars With Trump
Maryland Governor Larry Hogan, a Republican, called out President Donald Trump on Twitter, urging him to concede the election instead of golfing.
Just over two weeks ago, Fox News, the Associated Press and the other major television networks called the election in favor of President-elect Joe Biden and Vice President-elect Kamala Harris. But Trump has refused to concede, pushing unfounded claims that widespread voter fraud was behind Biden's win. The president and his legal team have not provided evidence to support these allegations.
Trump on Sunday shared a tweet criticizing Hogan after it was reported that the Maryland governor had paid millions for COVID-19 tests from South Korea that did not work properly.
"This RINO will never make the grade. Hogan is just as bad as the flawed tests he paid big money for!" Trump wrote. (RINO is an acronym that stands for "Republican in name only," and Hogan has been publicly critical of the president's response to the ongoing pandemic as well as his refusal to concede).
"If you had done your job, America's governors wouldn't have been forced to fend for themselves to find tests in the middle of a pandemic, as we successfully did in Maryland," Hogan tweeted in response, defending himself and shifting the blame to the president.
"Stop golfing and concede," the Republican governor added.
The president chose to forego participating in a "Pandemic Preparedness" event held by the G-20 Summit this weekend. Although Trump reportedly joined the opening remarks of the virtual event, he left by 10 a.m. on Saturday and headed out to golf, CNN reported.
In remarks to CNN on Sunday, Hogan raised concerns that more Republican leaders have not challenged the president's false claims about the election results.
"We're beginning to look like a banana republic," the GOP governor said. "Frankly I'm embarrassed more people aren't speaking up."
Hogan wrote in his book Still Standing, which was published in July, that he had considered launching a primary challenge against Trump but inevitably ruled out the idea.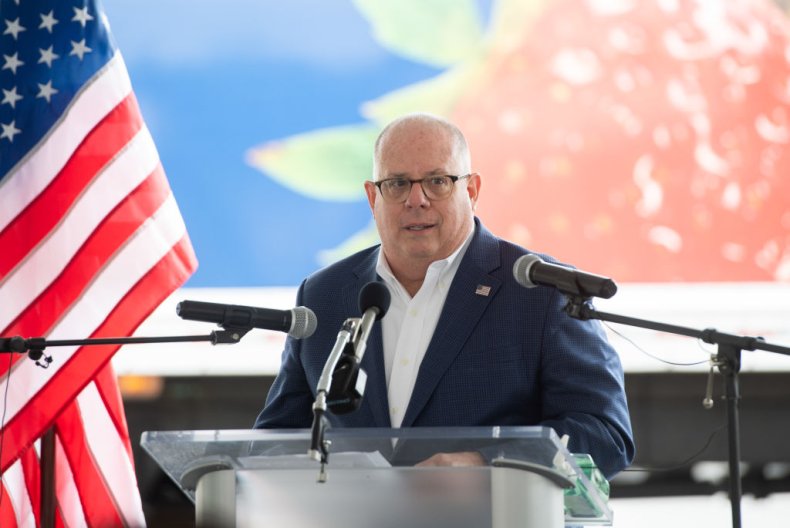 The Republican lawmaker, who some analysts have floated as potential 2024 presidential hopeful, wrote that he told people it would be a "suicide mission" to run against the current president in 2020. "But a short, energetic campaign might be right up my alley. 'I'm pretty good at retail politics,' I said," he wrote.
"I assumed he would go with 'Fat Larry,' an obvious choice as I had admittedly put on some weight since my cancer battle. Or maybe 'Cancer Boy,'" Hogan added, speculating about nicknames Trump might have given him if he had chosen to run. "That would be a good one. But it didn't happen."
Newsweek reached out to the White House for comment, but it did not immediately respond.