North Carolina GOP Calls Richard Burr's Vote to Convict Trump 'Shocking and Disappointing'
The North Carolina Republican Party quickly came out with a statement condemning GOP Senator Richard Burr following his decision to vote "guilty" in former President Donald Trump's Senate impeachment trial on Saturday.
Burr, who does not plan to seek re-election in 2022, surprised his Democratic and Republican colleagues with his conviction vote, as the senator had not previously indicated how he would vote and had voted twice to assert that the Senate trial was unconstitutional. But the North Carolina Republican joined with six other GOP senators and all the 50 members of the Democratic Caucus in voting to convict.
"North Carolina Republicans sent Senator Burr to the United States Senate to uphold the Constitution and his vote today to convict in a trial that he declared unconstitutional is shocking and disappointing," Michael Whatley, the chair of the North Carolina GOP, said in a Saturday statement after the Senate vote was held.
Some North Carolina Republicans quickly called for Burr's censure as well. Representative Dan Bishop, a Republican for North Carolina's 9th District, retweeted a post calling for Burr's censure, saying "second," voicing his approval of the idea.
Mark Walker, a Republican who is running for Burr's seat in 2022, criticized the GOP lawmaker's vote and used the moment to raise awareness about his campaign.
"Wrong vote, Sen. Burr. I am running to replace Richard Burr because North Carolina needs a true conservative champion as their next senator," he tweeted, including a link to his senatorial campaign website.
A spokesperson for the North Carolina GOP told Newsweek in a Sunday email that the party would "put out a statement" when it had made a "final decision" on how to respond to Burr's vote. But the GOP official declined to comment further.
Burr said in a Saturday statement that he believed Trump's Senate trial was unconstitutional because the former president was no longer in office. However, he argued that since the majority of senators had ruled that the trial was constitutional, the legislative body had asserted its jurisdiction and he was required to weigh the case on the merits.
"The Senate is an institution based on precedent, and given that the majority in the Senate voted to proceed with this trial, the question of constitutionality is now established precedent. As an impartial juror, my role is now to determine whether House managers have sufficiently made the case for the article of impeachment against President Trump," the GOP lawmaker explained in a statement following the vote.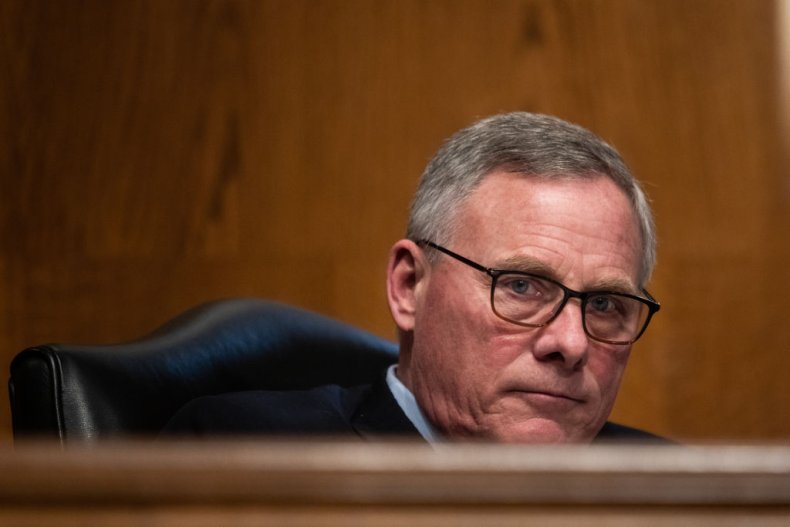 Burr argued that the "evidence" was "compelling that President Trump is guilty of inciting an insurrection against a coequal branch of government and that the charge rises to the level of high Crimes and Misdemeanors."
Even with 57 of 100 Senators voting "guilty," this did not meet the constitutional threshold of a two-thirds majority required for conviction—which would have needed at least 10 more Republicans. In addition to Burr, GOP Senators Susan Collins of Maine, Lisa Murkowski of Alaska, Ben Sasse of Nebraska, Mitt Romney of Utah, Pat Toomey of Pennsylvania and Bill Cassidy of Louisiana voted to convict Trump.