Senator Susan Collins, a Maine Republican, laid out the reason behind her conviction vote for former President Donald Trump on Saturday, saying he created a "dangerous situation" and put his "selfish interests" ahead of the interests of the country.
Seven Republicans voted "guilty" alongside 50 members of the Democratic Caucus in an unsuccessful bid to convict Trump on the House impeachment charge of inciting the January 6 insurrection against the U.S. Capitol. Collins, along with 11 other senators, was serving as a presidential impeachment trial juror for a third time—having been a member of the Senate during the trial of former President Bill Clinton in 1999 and for Trump's first trial in 2020. In both those previous cases, Collins voted to acquit.
During a Senate floor speech on Saturday following the vote, Collins explained her decision to vote "guilty" and outlined the evidence against the former president.
"That attack was not a spontaneous outbreak of violence. Rather, it was the culmination of a steady stream of provocations by President Trump that were aimed at overturning the results of the presidential election," the Maine Republican said.
Collins went on to emphasize the ways that Trump worked to undermine the election results and rile up his followers to "fight" against the reality of President Joe Biden's win.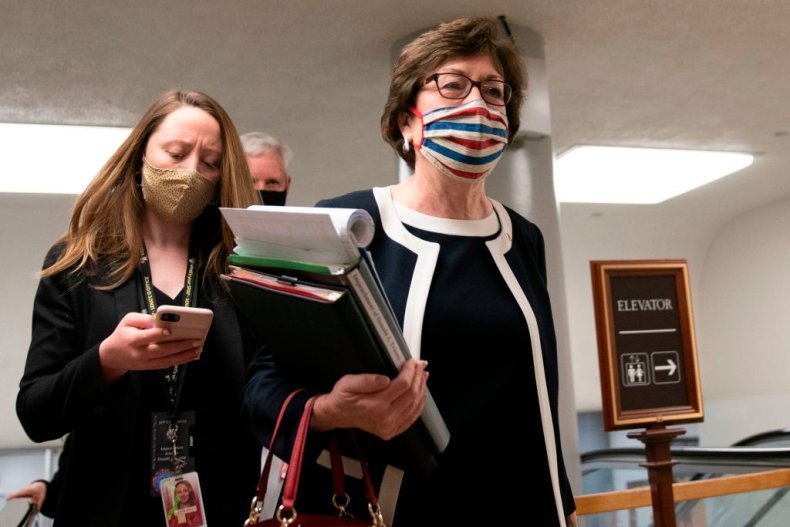 The GOP senator described Trump's actions as "tossing a lit match into a pile of dry leaves," adding that the former president had "stoked discontent with a steady barrage of false claims."
"Instead of preventing a dangerous situation, President Trump created one. And rather than defend the constitutional transfer of power, he incited an insurrection with the purpose of preventing that transfer of power from occurring. Whether by design or by virtue of a reckless disregard for the consequences of his actions, President Trump, subordinating the interests of the country to his own selfish interests, bears significant responsibility for the invasion of the Capitol," Collins said.
Although the conviction vote was the most bipartisan in U.S. history, with a significant majority (57 senators out of 100) voting to convict Trump, this did not meet the high constitutional threshold of a two-thirds majority. In order for the former GOP president to have been convicted, at least 17 Republicans would have had to join with the members of the Democratic Caucus—meaning 10 additional Republicans would have had to turn against Trump. In addition to Collins, GOP Senators Lisa Murkowski of Alaska, Ben Sasse of Nebraska, Pat Toomey of Pennsylvania, Mitt Romney of Utah, Richard Burr of North Carolina, and Bill Cassidy of Louisiana voted to convict Trump.
The vote was notably different then during Trump's first impeachment just a little more than a year ago. In that Senate trial, Senator Mitt Romney, a Utah Republican, was the only GOP senator to vote to convict Trump. The House of Representatives' vote to impeach was also along party lines in the first impeachment, with no Republicans voting with their Democratic colleagues. When the House again voted to impeach Trump a second time on January 13, a week after the insurrection carried out by his supporters, 10 House Republicans voted with Democrats.
In a statement released after the acquittal verdict on Saturday, the former president suggested once again that he plans to remain politically active in the coming months and years.
"Our historic, patriotic and beautiful movement to Make America Great Again has only just begun. In the months ahead I have much to share with you, and I look forward to continuing our incredible journey together to achieve American greatness for all of our people," Trump said. He also dismissed the impeachment trial as "another phase of the greatest witch hunt in the history of our Country."
Newsweek reached out to Collins' press secretary for further comment, but did not immediately receive a response.