Donald Trump Pardons Steve Bannon, Former Adviser and Accused Swindler
On the final morning of his presidency, President Donald Trump has pardoned former White House Chief Strategist Steve Bannon.
The White House sent a note in the early Wednesday morning hours of several people who were granted pardons, and here's what it said about Bannon.
"President Trump granted a full pardon to Stephen Bannon. Prosecutors pursued Mr. Bannon with charges related to fraud stemming from his involvement in a political project. Mr. Bannon has been an important leader in the conservative movement and is known for his political acumen," the email from Trump press secretary read.
In August 2020, Bannon was indicted by a federal grand jury for conspiracy to commit mail fraud and money laundering connected to the We Build the Wall campaign, a $25 million GoFundMe crowdfunding which claimed to be raising funds to help Trump construct a border wall between the U.S. and Mexico. Trump had originally said that the Mexican government would entirely pay for such a wall.
The U.S. Attorney's Office for the Southern District of New York accused Bannon and three other defendants—Brian Kolfage, Andrew Badolato and Timothy Shea—of using the campaign's funds to benefit themselves, including taking personal travel and paying off credit card debts, despite promising donors that they would "not take a penny" of the funds for themselves and that "100 percent" of the funds would go toward the project. Bannon himself was alleged to have used over $1 million.
Bannon and the others pleaded not guilty to the charges. He was released on $5 million bail and was required to surrender his passport and his domestic travel. He was set to face trial in May 2021.
In early November 2020, after Bannon called for the beheadings of FBI Director Christopher Wray and Dr. Anthony Fauci, Bannon's criminal defense lawyers withdrew from his case. Bannon said he was speaking metaphorically when he called for Wray and Fauci's heads to be impaled on pikes as warnings to "federal bureaucrats."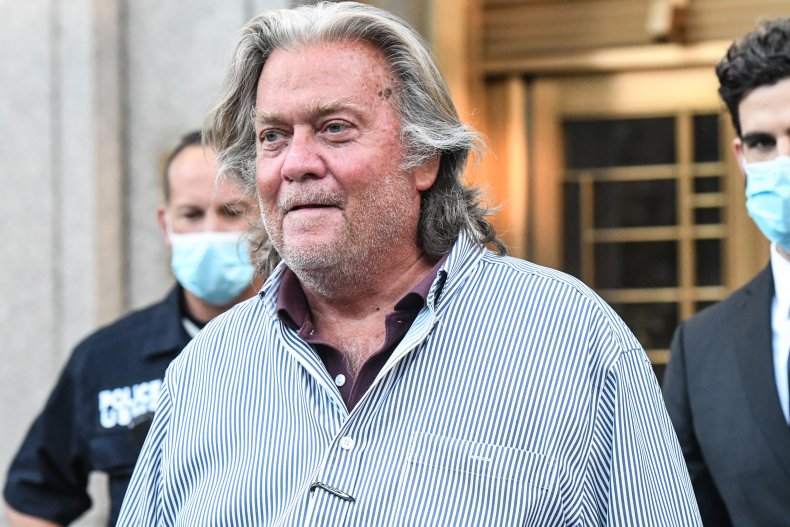 Bannon co-founded the right-wing news site Breitbart and was chief executive officer of Trump's 2016 presidential campaign. He also served as White House chief strategist and senior counselor to the president from January 2017 until August 18, 2017 when Trump fired him.
In January 2018, Trump and Bannon's relationship soured after Bannon was quoted in Michael Wolff's book Fire and Fury: Inside the Trump White House as calling the president's daughter Ivanka Trump "dumb as a brick", called Trump's decades of business dealings a "criminal enterprise" and referred to Trump as "a crooked business guy" and a "scumbag."
Responding to the quotes, Trump released a public statement, saying, "Steve Bannon has nothing to do with me or my Presidency. When he was fired, he not only lost his job, he lost his mind," adding, "Steve had very little to do with our historic victory."
Trump claimed Bannon leaked false stories to the media to make himself appear more influential in the White House than he really was. "It is the only thing he does well," Trump wrote. Trump later referred to Bannon as "Sloppy Steve" on Twitter and claimed that he "cried when he got fired and begged for his job."
After Bannon was arrested in August 2020, Trump said of the crowdfunding campaign, "I don't like that project. I thought it was being done for showboating reasons." One of the campaign's investors said, "It makes me sick that these funds were laundered for personal use."
In the weeks following the November 2020 elections, Bannon and Trump have been speaking regularly for weeks as Bannon advised Trump on his efforts to overturn the election's result through baseless claims of voter fraud, according to Bloomberg News.
As for the border wall, during his 2016 election campaign, Trump called for 1,000 miles of new wall to be built between the U.S. and Mexico. In 2018, Trump dropped that number to 600 to 500, according to Bloomberg News. By August 2020, Trump had built only 30 miles of barriers on the border where none had existed before, according to U.S. Customs and Border Protection. He has also repaired 245 miles of pre-existing primary and secondary barriers along the border.