Muslim Americans Alarmed as Trump Backs GOP Candidate Who Describes Herself as a 'Proud Islamophobe'
Muslim Americans have expressed concern and alarm after Republican candidate Laura Loomer—who has described herself as a "proud Islamophobe" and called Islam a "cancer"— won her primary in Florida, earning praise from President Donald Trump.
Loomer, 27, won the GOP primary for Florida's 21st District, home to Trump's Mar-a-Lago resort, on Tuesday evening. The far-right activist has previously been banned from multiple social media platforms because of her extreme rhetoric. She will now face Democratic Representative Lois Frankel, who is widely expected to win, on November 3.
But even if Loomer's chances of beating Frankel appear remote, Muslim Americans are worried about a Republican Party that appears to be increasingly open to overtly Islamophobic candidates and viewpoints.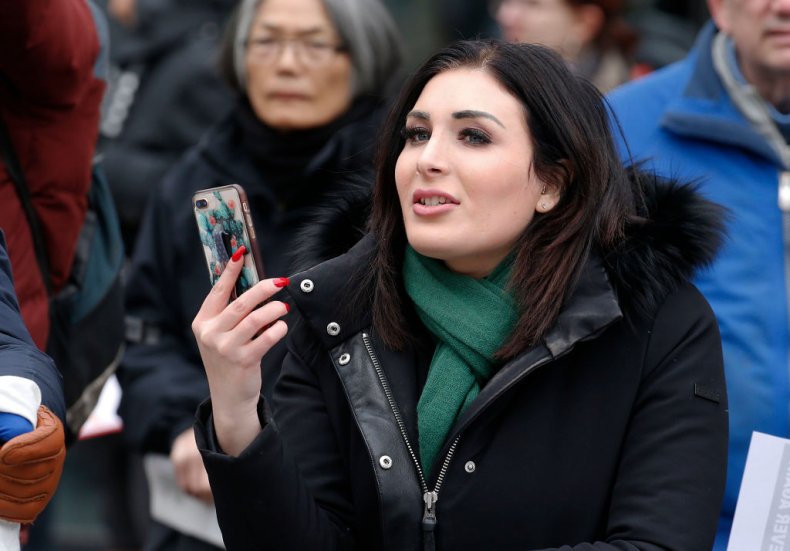 "While CAIR does not comment on individual candidates or campaigns, anti-Muslim bigotry has become as much of a problem in Congress as it is in the White House," Robert McCaw, director of government affairs for the Council on American-Islamic Relations, told Newsweek.
"We have moved long past dog whistles; anti-Muslim bigotry is now being mainstreamed into the DNA of conservative politics," he said in an email. "Should our elected officials fail to address this problem, it could endanger their ability to serve states where American Muslims are building vibrant and civically engaged communities."
Wajahat Ali, a writer and lawyer who contributes to The New York Times' opinion section, slammed Loomer's victory and Trump's support for the candidate.
"The Republican Party belongs to fringe extremists & nuts now. As predicted, Laura Loomer, a notorious anti-Muslim bigot banned from Twitter, won her Florida primary," Ali tweeted on Tuesday.
After Trump congratulated her on Twitter—"Great going Laura. You have a great chance against a Pelosi puppet!"—Ali criticized the president as well.
"Trump supporting anti-Muslim bigot and fringe extremist Laura Loomer. Congrats, Republicans. This is what you've become. Enjoy the tax cuts. Hope it was all worth it," Ali tweeted.
Marine veteran Mansoor Shams posted a Twitter message directed at Loomer's supporters on Wednesday.
"Dear Laura Loomer Supporters: Everyone knows Loomer's entire platform is based on anti-Muslim rhetoric and fear mongering. So as you cast votes it's important for you to know facts. These are just some of the Muslim Americans that have died serving this Nation. Think about that," Shams wrote, sharing a compilation image of Muslim American soldiers who have died in the line of duty.
Jonathan Greenblatt, CEO of the Anti-Defamation League, called Loomer's victory in Florida "dangerous."
"This normalization of hate is dangerous. Laura Loomer—an anti-Muslim and anti-immigrant conspiracy theorist who has been kicked off of almost every major social media platform for promoting her bigotry—celebrated a primary win with other bigots," Greenblatt tweeted. He shared an article about the GOP candidate celebrating with Trump associate Roger Stone.
Newsweek reached out to the White House for comment but did not receive a response in time for publication. On Wednesday, Trump's press secretary, Kayleigh McEnany, addressed a reporter's question about Loomer's anti-Muslim views as well as those of Marjorie Taylor Greene, who won her GOP primary in Georgia earlier this month.
"The president routinely congratulates people who officially get the Republican nomination for Congress, so he does that as a matter of course," McEnany said.
"He hasn't done a deep dive into the statements by these two particular women," she continued. "I don't know if he's even seen that, but he supports the Muslim community. He supports the community of faith more broadly in this country."
In addition to identifying as a "proud Islamophobe," Loomer has referred to Islam as "a cancer on humanity." She added that "Muslims should not be allowed to seek positions of political office in this country," which beyond being overtly Islamophobic is also unconstitutional. The Constitution clearly states in Article VI that "no religious Test shall ever be required as a Qualification to any Office or public Trust under the United States."
For his part, Trump has often said and done things that have been widely viewed as Islamophobic. When he was campaigning for president in December 2015, he famously called for "a total and complete shutdown of Muslims entering the United States until our country's representatives can figure out what is going on."
After he was elected, Trump issued a ban on travelers coming from several predominantly Muslim nations. Although his administration argued that this was for national security reasons and had nothing to do with religion, the executive order has faced significant pushback and criticism. In July, the Democrat-controlled House of Representatives passed the No Ban Act, but it's unclear whether the GOP-controlled Senate will ever consider the legislation.