Republican Adam Kinzinger Backs Subpoenaing Kevin McCarthy in Jan. 6 Probe
Representative Adam Kinzinger, an Illinois Republican, backed the possibility of subpoenaing House Minority Leader Kevin McCarthy as part of the ongoing January 6 select committee probe into the riot at the U.S. Capitol.
Hundreds of supporters of former President Donald Trump violently attacked the Capitol on January 6 after Trump urged them to "fight like hell" to keep him in power. McCarthy initially condemned Trump in the wake of the attack, although he declined to vote in favor of impeachment. He then mended ties with the former president, and has slammed the investigation by the select committee.
Kinzinger, who voted to impeach Trump along with nine other Republican House members, was appointed to the committee by Speaker of the House Nancy Pelosi. Fellow GOP lawmaker Representative Liz Cheney, who backed Trump's impeachment and has repeatedly condemned the former president, was appointed by Pelosi, as well. During a Sunday interview with ABC News' This Week, Kinzinger voiced support for requiring McCarthy to be questioned as part of the probe.
"I would support subpoenas to anybody that can shed light on that, if that's the [Republican] leader," Kinzinger said. "Anybody with parts of that information, with inside knowledge, can probably expect to be talking to the committee," he said.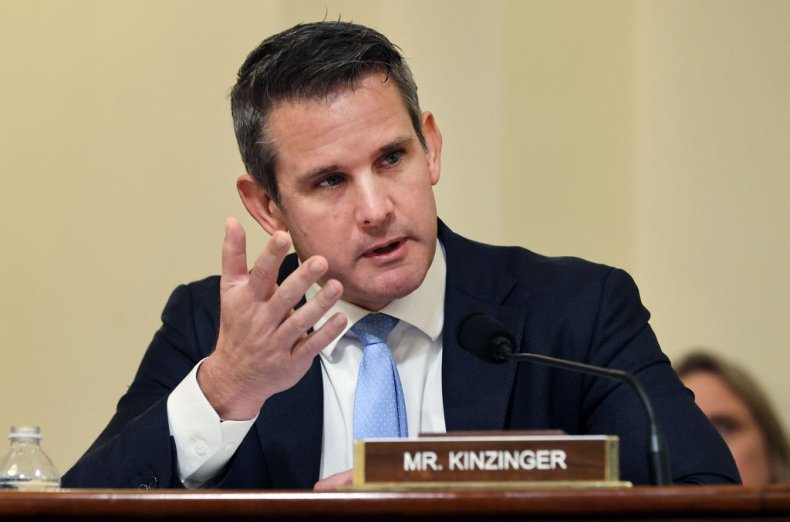 Kinzinger went on to question why fellow Republican lawmakers like McCarthy oppose the investigation. He said that if they believe the attack was not a big deal, then they should not be concerned. However, the congressman suggested that some of his colleagues may be afraid of the information that could come to light.
"If anybody's scared of this investigation I ask you one question: What are you afraid of? I mean, either you're afraid of being discovered, of having some culpability in it or, you know what? If you—if you think it wasn't a big deal, then you should allow this to go forward," Kinzinger said.
McCarthy has slammed Cheney and Kinzinger for participating in the select committee. Meanwhile, the conservative House Freedom Caucus has demanded that the two Republican lawmakers be expelled from the House Republican Conference over their involvement.
"Who is that? Adam and Liz? Aren't they kind of like Pelosi Republicans?" McCarthy told reporters last week.
Representative Herrera Beutler of Washington has said that Trump appeared to defend the rioters in a phone call with McCarthy on January 6. "Well, Kevin, I guess these people are more upset about the election than you are," Trump reportedly said, according to Beutler. The Washington Republican also voted to impeach the then-president.
In the wake of the attack on the Capitol, Cheney, who then served as the chair of the House Republican Conference, was one of the first GOP lawmakers to come out in support of Trump's impeachment.
"There has never been a greater betrayal by a President of the United States of his office and his oath to the Constitution," she said at the time. Cheney was later ousted from her No. 3 leadership position within the House GOP caucus in May due to her condemnation of Trump and fellow Republicans that continue to back the former president.
Those who attacked the U.S. Capitol were largely animated by Trump's repeated false claims that the 2020 election was stolen by now-President Joe Biden and the Democrats. This allegation has already been thoroughly litigated in state and federal courts and has been wholly discredited.
Newsweek reached out to McCarthy's representative for further comment but did not immediately receive a response.