Trump Still Believes He Could Have Been Reinstated After Losing Election
Former President Donald Trump continues to say that he could have been reinstated to office after losing the 2020 election to President Joe Biden.
Trump has repeatedly claimed that he only lost to Biden because the election was "rigged" or "stolen." Despite the former president and his allies constantly saying the election results were fraudulent, no evidence has emerged corroborating the claims.
In an interview published Thursday morning by The Washington Post, Trump again repeated false claims about the 2020 election. He also asserted that he could have been reinstated to the White House—a claim that even some of his allies have previously rejected.
"But I believe when you see massive election fraud, I can't imagine that somebody who won the election based on fraud, that something doesn't happen? How has it not happened? If you are a bank robber, or you're a jewelry store robber, and you go into Tiffany's and you steal their diamonds and get caught, you have to give the diamonds back," Trump told the newspaper, explaining his thinking.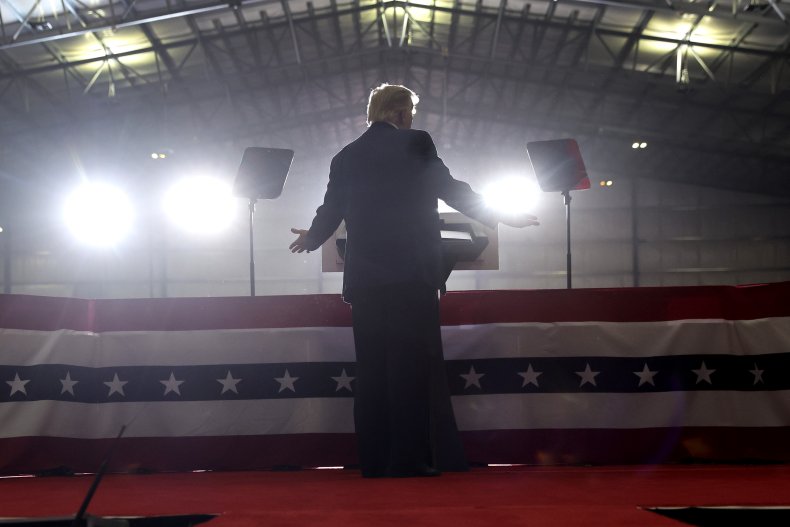 Biden won 306 Electoral College votes compared to Trump's 232. In the popular vote, the president garnered the support of 81,284,666 voters (or 51.3 percent) while the former president received the backing of 74,224,319 voters (or 46.8 percent). Both Biden and Trump received more votes than any previous presidential candidates in U.S. history.
While Trump contends fraud was the reason for the over 7 million more votes that Biden received in the 2020 election, the claim is not supported by evidence. On the contrary, audits and recounts—including in areas where the election was overseen by pro-Trump Republicans—have consistently reaffirmed Biden's victory. Dozens of legal challenges to the election results filed by Trump and his supporters failed in state and federal courts. Even several judges Trump appointed had dismissed the lawsuits.
Although Trump may think he could be reinstated as president, some of his own advisers have rejected the idea.
Jenna Ellis, an attorney who helped lead the charge for Trump's challenge of the 2020 election results, posted on Twitter in May 2021 that "no, President Trump is not going to be 'reinstated.'" She explained the only way to oust Biden would be to impeach and convict him—noting that Trump still wouldn't become president if that happened.
Corey Lewandowski, the first campaign manager of Trump's 2016 run, said last year that the Constitution did not allow for the former president to be reinstated.
"I know of no provision under the Constitution that allows that to occur, nor do I know of any provision under the Constitution that allows an individual that lost an election to come back in if a recount is dubbed inaccurate," Lewandowski told Fox News Sunday in June 2021.
In his new interview with The Post, Trump again hinted that he may seek another term as president in 2024. He said that other Republicans being floated as potential GOP contenders are unlikely to challenge him if he chooses to launch another campaign.
"If I ran, I can't imagine they'd want to run. Some out of loyalty would have had a hard time running. I think that most of those people... is there because of me," he said. "In some cases, because I backed them and endorsed them."
The former president said that his personal health is a consideration, however. Trump would be 78 years old at the time of the 2024 election.
"You always have to talk about health. You look like you're in good health, but tomorrow, you get a letter from a doctor saying come see me again. That's not good when they use the word again," he told Post.
"I don't want to comment on running, but I think a lot of people are going to be very happy by my decision," Trump added.