Donald Trump Strongly Hints at 2024 Run as Multiple Polls Show Him Beating Biden
Former President Donald Trump again strongly suggested that he plans to launch another campaign for the White House in 2024 as multiple recent polls show him beating President Joe Biden.
Biden has seen his poll numbers tank in recent months after he took office in January with an approval rating above 50 percent. As multiple crises have plagued the Biden administration over the past year, latest polls have suggested that Trump would beat the current president if another presidential election were held today.
During a Friday evening interview with Fox News host Laura Ingraham, Trump was asked about his future political plans after he spent a few minutes attacking Biden's policies.
"Mr. President, are you the one to save the country after Biden?" Ingraham asked.
"Well, let me just put it this way," Trump responded. "I love our country and I think a lot of people are going to be very happy," he said.
After the interview, Trump's official spokesperson Liz Harrington posted the remark to Twitter as well.
"On future plans, President Trump says, 'I love our Country and I think a lot of people are going to be very happy.'" Harrington wrote.
During a speech at the Conservative Political Action Conference (CPAC) in February, Trump teased the possibility of challenging Biden in 2024.
"Actually you know they just lost the White House [in 2020], I may even decide to beat them for a third time," the former president said, promoting false claims that the 2020 election was "rigged" in Biden's favor. He has since made multiple similar statements over the past year.
Several high profile Trump allies—including former White House strategist Steve Bannon and former adviser Jason Miller—have repeatedly said they believe Trump will run again in 2024.
"I think ultimately in 2024 President Trump does run again. At least that is my hope," Miller told Fox Business in early October.
In September, Harrington suggested to Newsweek that Trump is open to running again in the next presidential election. "President Trump cares deeply about the country and is keeping all of his options open," she said in an email.
During a February speech to Republicans in Boston, Bannon predicted Trump would be back in charge after the 2024 election.
"He'll come back to us. We'll have a sweeping victory in 2022, and he'll lead us in 2024,"said the close ally of the former president said, per The Boston Herald.
Meanwhile, several recent polls have indicated Trump narrowly or even significantly favored by voters compared to Biden. Survey results released Thursday by Redfield & Wilton Strategies showed that 44 percent of Americans would vote for Trump while just 39 percent would support Biden—a lead of 5 percentage points in favor of the former president.
Notably, the poll also showed Trump pulling ahead. When the same survey was conducted back in September, just 42 percent of respondents backed Trump—tied with the 42 percent behind Biden.
Another poll released earlier in November by Emerson College showed Trump narrowly ahead of Biden. Trump was supported by 45 percent of registered voters while Biden was backed by just 43 percent—a lead of 2 percent for the former president.
A recent survey conducted by USA Today and Suffolk University showed that more Americans oppose Biden seeking another White House term than are against Trump running again in 2024. Nearly two-thirds (64 percent) of respondents said they opposed Biden seeking another term. Only 58 percent said they were against Trump doing so.
However, both Trump's and Biden's favorability remain low overall. FiveThirtyEight's average of recent polls indicated Biden just narrowly ahead when it comes to his favorability with the public. While about 42.5 percent of Americans approve of Biden, about 41.5 percent view Trump favorably.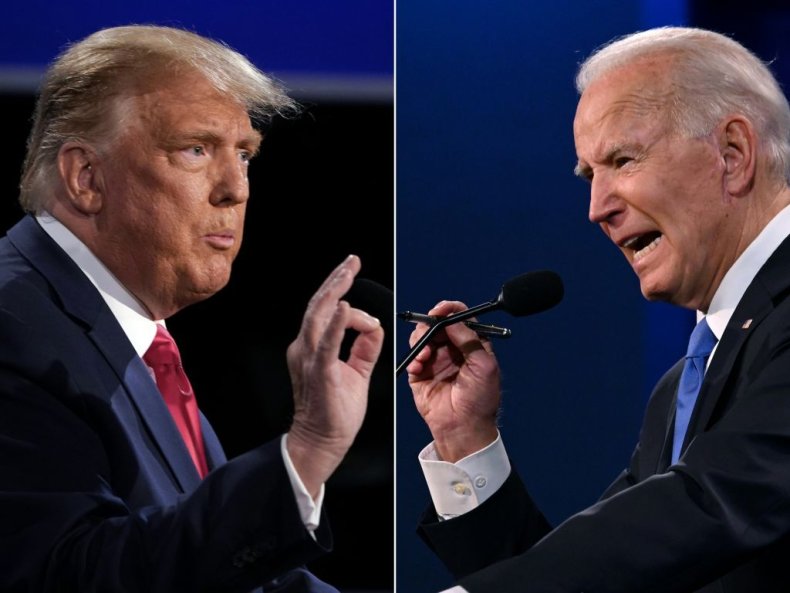 As Biden's approval rating has plummeted in recent months, some have already begun speculating that he could step aside and not seek re-election in 2024. Furthermore, many have expressed concerns about Biden's health as he will be 81 years old by the time of the next presidential election.
While some have suggested Vice President Kamala Harris could run if Biden were to step aside, her favorability is even worse than Biden's. The latest polling average compiled by FiveThirtyEight revealed that just about 37.9 percent of Americans approve of Harris—some 4.6 points below Biden and 3.6 points below Trump.
Newsweek reached out to Trump's spokesperson for further comment but did not immediately receive a response.