Trump Will 'Ultimately' Run in 2024 but Not Against Biden, Former Adviser Predicts
Jason Miller, a former top adviser to Donald Trump, predicted again on Friday that the former president will run for the White House in 2024—but he doesn't expect him to do so against President Joe Biden.
Trump has been teasing the possibility of another presidential run in 2024 for most of the year. Miller and other associates of the former president have repeatedly said publicly that they expect him to seek office in the next presidential election. During an interview with Fox Business on Friday, Miller shared his perspective on Trump's plans.
"I think ultimately in 2024 President Trump does run again. At least that is my hope," Miller said. "But I don't think it will be against Joe Biden. I think it will be a [Vice President] Kamala Harris or maybe a [California Governor] Gavin Newsom," he predicted.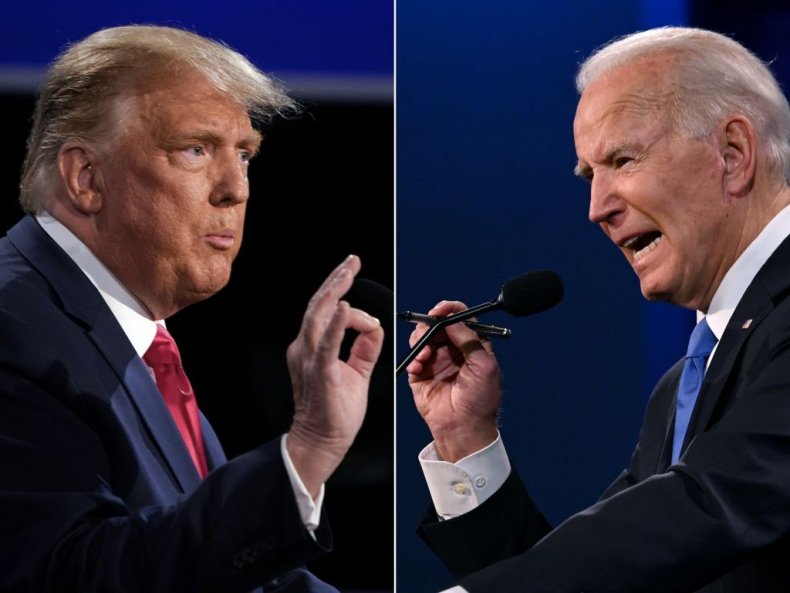 Biden, 78, has previously said that he plans to seek reelection. "My plan is to run for reelection. That's my expectation," the president told reporters in late March.
During that same press conference, Biden was asked about the possibility of a rematch with Trump. He responded by saying he didn't have any predictions on what the state of the Republican Party would be in a few years.
"Oh, come on. I don't even think about—I have no idea. I have no idea if there will be a Republican Party. Do you?" Biden said. He also noted that he would "fully expect" Harris to run as his vice president in the next election.
Many Biden critics have raised concerns about his age, while some have suggested that they believe his mental health is declining. Those claims have not been corroborated or supported by any evidence. Trump, 75, also regularly faces accusations of declining mental and physical health from his critics.
Miller, who now works as the CEO of social media platform Gettr, said in early September that it was "pretty clear" Trump would run for another term in the White House, during an interview with Cheddar News. He predicted then that the chances of the former president announcing a 2024 campaign are "somewhere between 99 and 100 percent."
"I had a good conversation with him last night, and I'm gonna go see him in another couple days here," Miller added. "He has not said the magical words to me, but if you talk to him for a few minutes, it's pretty clear that he's running."
Trump spokesperson Liz Harrington suggested to Newsweek at the time that Trump is keeping a potential 2024 run as a possibility. "President Trump cares deeply about the country and is keeping all of his options open," she said.
In August, Trump was asked directly on Newsmax about his 2024 plans. He responded by saying that "a lot of people are going to be very happy."
Polling data released Thursday by Redfield and Wilton Strategies showed Biden only narrowly beating Trump in a hypothetical 2024 matchup. Biden was backed by just 43 percent of likely voters, while Trump was supported by 41 percent.
An Emerson College poll released last month showed Trump narrowly winning against Biden. The former president was supported by 47 percent of respondents, compared with 46 percent backing the current president.
Newsweek reached out to Trump's press office for comment but did not hear back before publication.