'Pretty Clear' Trump Running in 2024, Ex-Adviser Says After Conversation With Ex-President
Jason Miller, a former senior adviser to Donald Trump, said that it's "pretty clear" the former president will run again in 2024, putting the chances somewhere between "99 and 100 percent."
Miller stopped serving as an official adviser to Trump in June after he became the CEO of Gettr, a new conservative social media platform. However, he has maintained regular communication with the ex-president while angling to get Trump to launch a presence on Gettr.
During an interview with Cheddar News on Thursday, Miller was asked, "What's the likelihood President Trump runs again in 2024."
Miller quickly responded, saying, "I would say somewhere between 99 and 100 percent." He added that he thinks Trump is "definitely running in 2024."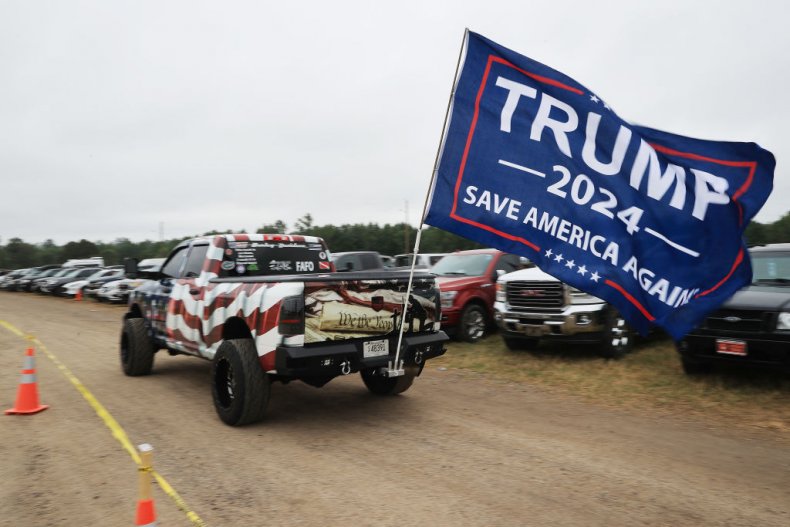 "I had a good conversation with him last night, and I'm gonna go see him in another couple days here," Miller continued. "He has not said the magical words to me, but if you talk to him for a few minutes, it's pretty clear that he's running."
Reached by Newsweek for comment on Friday, Trump spokesperson Liz Harrington did not say whether the former president plans to run in 2024.
"President Trump cares deeply about the country and is keeping all of his options open," Harrington said, adding that he "predicted" that President Joe Biden would be "disastrous."
"President Trump's top priority is restoring honest and fair elections, and he is fighting hard to elect America First candidates in upcoming primaries and midterms," Harrington said.
Trump and his allies continue to baselessly claim that the 2020 election was "rigged" or "stolen" in favor of Biden.
Miller addressed the same question about Trump's 2024 plans during an episode last month of The New York Times' Sway podcast hosted by Kara Swisher.
"Just hearing the way that he's talking very much sounds like someone who is more likely to run than not," Miller told Fisher. "But unfortunately, he didn't give me any kind of secret wink or nod. I don't think we're going to hear anything from him formally until after the midterms. But to me, he sounds like someone who's running."
Trump has consistently teased an announcement about running in 2024 but has stopped short of publicly confirming his plans. During a speech at the Conservative Political Action Conference back in February, the former president suggested it was a possibility.
Trump falsely claimed that Biden and the Democrats lost the White House in the 2020 race. "Actually, you know they just lost the White House. I may even decide to beat them for a third time," he said.
During an August interview with right-wing news network Newsmax, Trump was asked directly about his 2024 plans. He did not give a straightforward answer but said that "a lot of people are going to be very happy."
A Quinnipiac University poll released in early August suggested that a 2024 Trump run would be supported by a substantial majority of Republican voters. Nearly three-quarters (73 percent) of GOP respondents said another Trump presidential run would be good for the country. However, 95 percent of Democrats said it would be "bad," as did 60 percent of independents.