Biden Has Higher Approval than Trump at Same Point in WH Tenure Despite Rapid Drop
Although President Joe Biden has seen his approval rating decline by double digits since the outset of his presidency, his numbers still remain higher than where former President Donald Trump stood with the American public at the same period during his White House tenure.
When Biden took office, polls showed his approval rating hovering substantially above 50 percent. Comparatively, Trump's polling results at the beginning of his tenure in 2017 often showed him with just above 40 percent approval. However, Biden's numbers have declined rapidly over the course of 2021 as a number of crises have plagued his presidency.
The latest polling average compiled by FiveThirtyEight shows 42.7 percent of Americans approve of the job Biden is doing on his 299th day in office. An average of 51.6 percent disapprove. While this marks a substantial decline from the average of 53 percent approval he enjoyed when he took office, it still puts him several points above Trump.
On day 299 of Trump's term as president, an average of 38.1 percent of Americans approved of the job he was doing. That means Biden remains about 4.6 percentage points more popular than the former president at the same point in his presidency.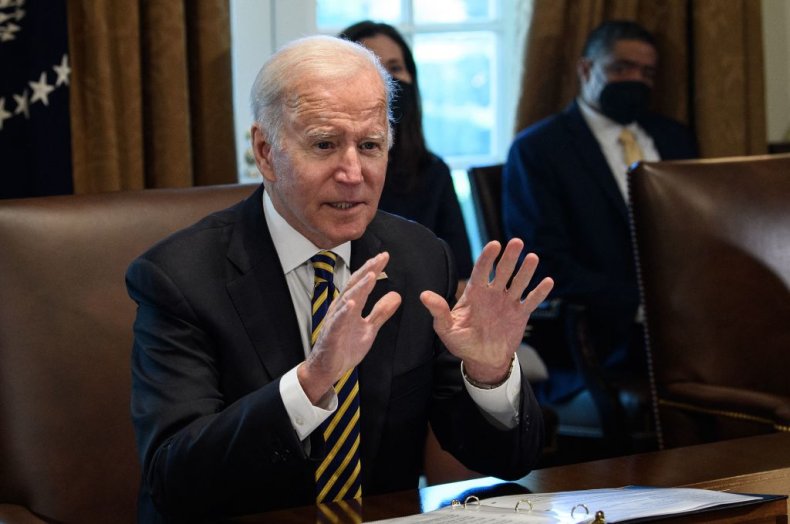 Polling has consistently shown over the past several months that Biden and Democrats are seeing a rapid decline in popularity with the American people. Survey data from The Washington Post and ABC News, published on Sunday, showed Biden's approval rating has dropped to 41 percent, compared to a disapproval rating of 53 percent. That marked a significant drop (11 points) from April, when 52 percent of Americans gave the president positive remarks.
The poll signaled bad news for Democrats overall. While more than half of respondents (51 percent) said they planned to vote for Republican congressional candidates in the 2022 midterm election next year, just 41 percent said they'd support Democrats.
Some recent polls have suggested Trump would defeat Biden in a 2024 rematch. Emerson College released polling results earlier this month showing that 45 percent of registered voters said they'd back Trump if the 2024 election happened that day, compared to just 43 percent who said the same of Biden—a lead of 2 points for the former president.
The results of another survey published this month by USA Today and Suffolk University showed more Americans opposing Biden seeking another term than Trump doing so. Nearly two-thirds (64 percent) of respondents said they do not want the Democratic president to run for a second White House term. Comparatively, just 58 percent said they opposed Trump running for the presidency again.
Biden's approval rating is substantially below all of his and Trump's other recent predecessors, according to FiveThirtyEight's data. At the same points in their tenures, Barack Obama enjoyed an approval rating of about 51.7 percent, while George W. Bush had a high approval rating of 85.4 percent in the wake of the September 11, 2001 terrorist attacks. Bill Clinton was backed by an average 46.9 percent of Americans at this point in his White House tenure, and former President George H.W. Bush had an approval rating of about 69.8 percent.