Donald Trump Beats Joe Biden in Latest 2024 Election Poll
Although former President Donald Trump has not formally announced plans to run for reelection in 2024, new polling suggests he is well-positioned for a rematch against President Joe Biden and could even come out as the winner.
The poll released Friday by Emerson College shows Trump narrowly beating Biden in a hypothetical matchup. While neither Trump nor Biden is backed by the majority of voters, the former president is currently 2 points ahead of the current president.
Trump is supported by 45 percent of registered voters while Biden is backed by just 43 percent, the latest Emerson survey data shows. Meanwhile, 11 percent of registered voters said they want to vote for "someone else," and just 1 percent said they remain "undecided."
Emerson's new poll was conducted from November 3 to 4 with a margin of error of plus or minus 3 percentage points.
Notably, the gap between Trump and Biden has widened a bit since Emerson carried out a similar poll in early September. That previous survey showed Trump leading Biden by just 1 percentage point. However, both the Republican and Democrat were supported by a larger number of registered voters at the time.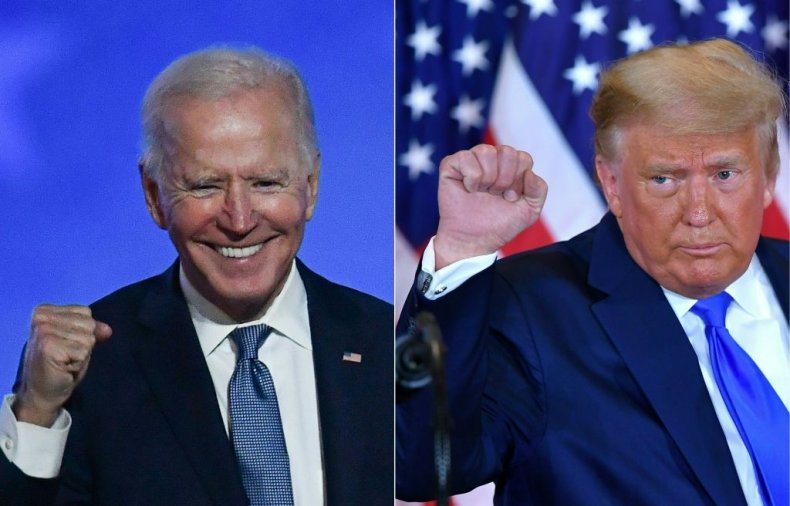 Trump was backed by 47 percent compared to 46 percent who supported Biden. As of this month, Trump's support has declined by 2 points while Biden's has dropped by 3 points.
Emerson's polling also shows that Biden's approval rating continues to dip while his disapproval rating surges upward. In September, 46 percent of registered voters approved of Biden while 47 percent disapproved. Now at the outset of November, just 41 percent said they approve of the president while half (50 percent) chimed in their disapproval.
Biden's approval has declined the most among Black voters. In February, nearly three-quarters (72 percent) backed the president. The new polling data shows a decline of 20 points among Black voters—to just 52 percent.
Recent polling by other organizations has consistently shown Biden's approval rating underwater. FiveThirtyEight's average of surveys shows about 50.4 percent of voters disapprove of the president and just 42.9 percent approve.
Although Trump has not officially announced plans to run in 2024, the former president and his allies have repeatedly hinted at the possibility. Jason Miller, a former top Trump adviser, said in October that he believes the former president will "ultimately" announce another presidential run.
"I think ultimately in 2024 President Trump does run again. At least that is my hope," Miller said in an interview with Fox Business. "But I don't think it will be against Joe Biden. I think it will be a [Vice President] Kamala Harris or maybe a [California Governor] Gavin Newsom," he predicted.
In September, Trump's spokesperson Liz Harrington told Newsweek that the former president is keeping his options open when she was asked about a 2024 bid.
"President Trump cares deeply about the country and is keeping all of his options open," she said.
In August, Trump was asked directly on Newsmax about another presidential run. He replied by saying simply that "a lot of people are going to be very happy."