More Americans Oppose Biden Than Trump Running in 2024: Poll
President Joe Biden's popularity continues to decline, with more Americans opposed to the Democratic commander-in-chief seeking another term in 2024 than his predecessor Donald Trump running again.
USA Today and Suffolk University released new polling data on Sunday, showing Biden's approval rating sinking to a new low. It also revealed that Republicans are currently favored over Democrats ahead of the 2022 midterms.
When asked if they wanted Biden to run again in the 2024 presidential election, 64 percent of respondents expressed their opposition to him doing so. That included 28 percent of Democrats.
The majority of Americans also expressed opposition to Trump seeking another term in 2024, but at a lower level than those against Biden. Some 58 percent said they were against Trump running again in the next presidential election. Notably, that only included 24 percent of Republicans—suggesting that Trump remains more popular with GOP voters than Biden does with Democratic voters.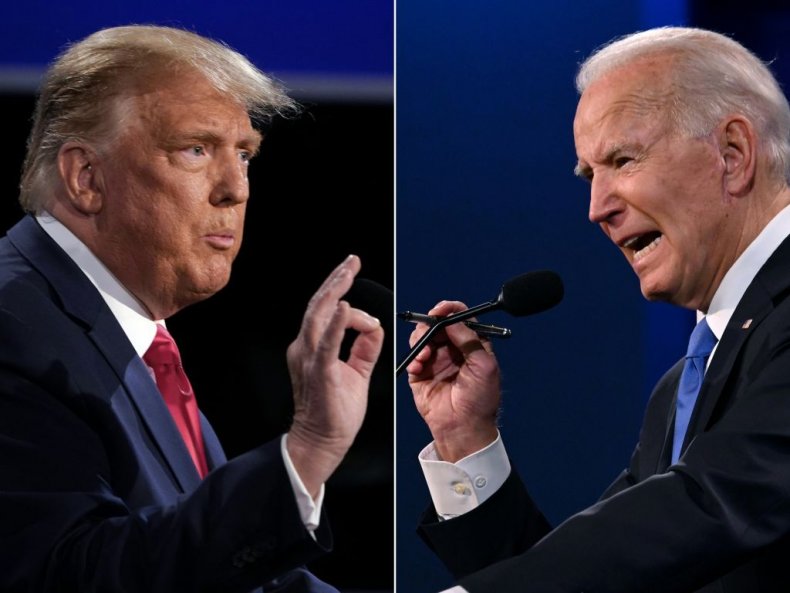 Nearly half of voters (46 percent) said Biden has done a worse job than they expected. And the president's approval rating sunk to a new low, coming in at just 38 percent. Meanwhile, 46 percent of Americans said they plan to vote for a Republican congressional representative in the 2022 midterms, while only 38 percent said they plan to back a Democrat.
The survey was conducted from November 3 to 5 and has a margin of error of 3.1 percentage points.
Recent polling data has consistently shown Biden's approval sinking with the American public. The president has faced multiple crises—including the COVID-19 pandemic, the influx of migrants crossing the southern border and the bungled withdrawal from Afghanistan—drawing concern and frustration from the American public.
A separate poll released by Emerson College on Friday showed Trump beating Biden in hypothetical 2024 matchup. Although neither potential presidential candidate was backed by a majority of respondents, Trump was 2 points ahead with 45 percent backing the former president compared to 43 percent who said they support Biden. The Emerson survey had Biden's approval slightly higher than the USA Today/Suffolk poll, at 41 percent.
Currently FiveThirtyEight's polling average shows that about 51.1 percent of voters disapprove of Biden while approximately 42.6 percent approve. An Ipsos poll conducted from November 3 to 4 is the most favorable to Biden, with 48 percent of respondents saying they approve of the president compared to 47 percent who say they disapprove.
Trump has not formally announced a plan to run again in 2024, although he has repeatedly teased the possibility. Many of his close associates and GOP allies have publicly said they expect him to run again. Biden said in March that it's his "expectation" that he will seek another term in 2024.