Trump Jr. Texts to Meadows Suggest 'Coordinated Activity': Ex-FBI Agent
Former FBI agent Peter Strzok on Saturday suggested that Donald Trump Jr. received help when he texted former White House chief of staff Mark Meadows strategies to overturn the 2020 election results.
Strzok said during his interview on The Katie Phang Show on MSNBC that the January 6, 2021 investigation should look into the person who may have helped Trump Jr. come up with those texts along to Meadows.
The former FBI agent said that he thinks investigators, whether in Congress or the Department of Justice, should question the former president's son about who he was talking to, adding that Trump Jr. didn't come up with these "ideas" on his own.
"The question is where did they come from? Is this part of a coordinated activity? It certainly appears to be what played out when January 6th came around," Strzok said.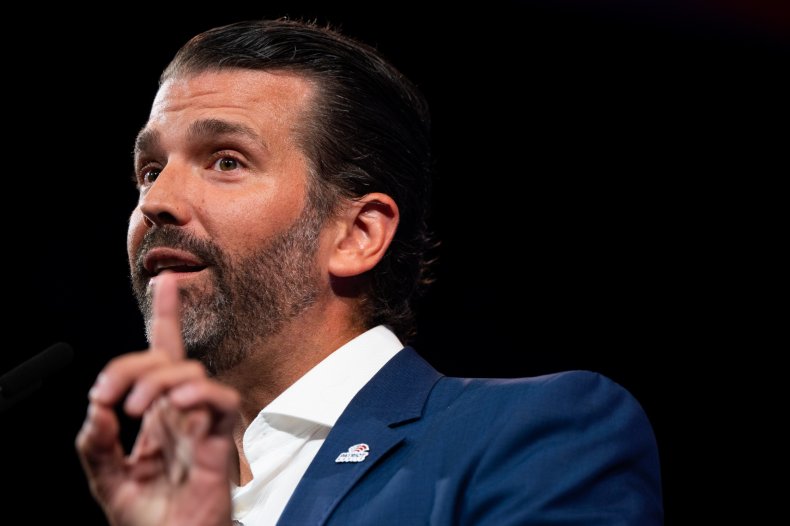 When asked whether it is necessary to interview Trump Jr. and if there is enough evidence to reach an indictment, Strzok said that there are some things that can't be rushed and that it's important for prosecutors and investigators to build evidence.
The former FBI agent said that to build the case "you have to collect emails" and "you have to analyze emails," noting that "the hardest part of any crime in my experience is demonstrating intent."
"You can have the other elements of the crime satisfied, but what you need to be able to show is that somebody knew that what they were doing was wrong and in many cases, for really complex things like this, you have to have somebody on the inside," he added.
New text messages obtained by the January 6 House committee recently revealed that Trump Jr. texted Meadows a plan to keep his father in office by preventing the certification of election results in swing states through lawsuits and by demanding recounts. Then after raising doubt on the election's legitimacy, GOP-controlled legislatures could bring together pro-Trump slates for the Electoral College, CNN reported on Friday.
"It's very simple," the former president's son texted Meadows on November 5, 2020. "We have multiple paths We control them all."
Trump Jr.'s attorney Alan S. Futerfas told CNN that the message was most likely forwarded. "After the election, Don received numerous messages from supporters and others. Given the date, this message likely originated from someone else and was forwarded," he said.
However, Trump critics and some legal experts jumped on the reporting, arguing it was more evidence of a "coup" attempt.
In his texts, Trump Jr. suggested that if neither Biden or his father had enough electoral votes, then the House would vote by state delegation to choose the winner. "Republicans control 28 states Democrats 22 states," he texted. "Once again Trump wins."
The texts prompted legal experts to call for his prosecution for trying to overturn the election results.
"This was an attempted putsch," Richard Painter, a law professor and former chief ethics lawyer for former President George W. Bush, said on Twitter. "He belongs in the slammer!"
Newsweek reached out to the Trump Organization for comments.