Representative Marjorie Taylor Greene, a Georgia Republican, claimed during a weekend event that the supporters of former President Donald Trump who violently attacked the U.S. Capitol on January 6 are being treated worse than "terrorists" detained at the military's Guantanamo Bay detention camp.
Greene, a staunchly pro-Trump freshman congresswoman, made the remarks during a speech at a breakfast event held by Georgia's Cobb County GOP on Saturday. The Republican lawmaker has drawn substantial controversy since taking office due to her regular promotion of conspiracy theories and misinformation.
"The way they have targeted the people who were there on January 6th is unbelievable," Greene said at the event, according to a video of her remarks.
The congresswoman said she did not like the violence that took place in the pro-Trump riot, but argued those arrested have been mistreated.
"To hold them like political prisoners in the Washington D.C. federal prison and other prisons in this country is wrong," Greene said.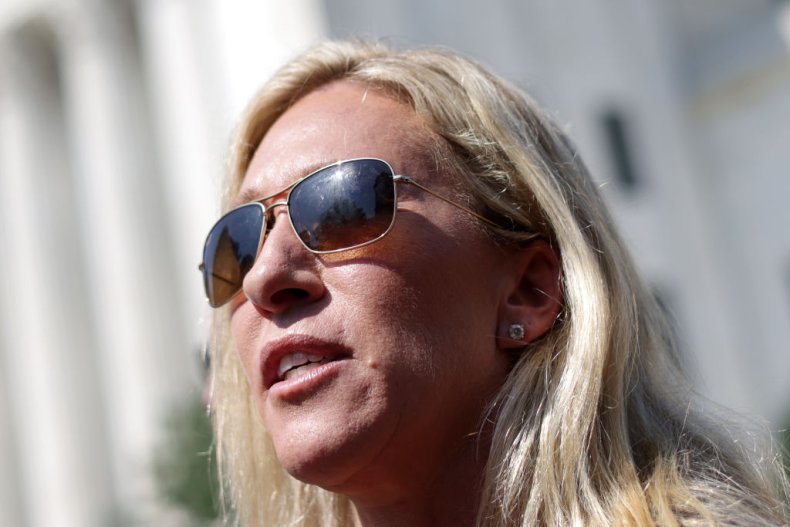 "They are treating those people worse than they treat the terrorists at Gitmo [short for Guantanamo]," the GOP representative asserted. "They are treating those people worse than they treat illegal aliens being held in detention centers—and I have toured detention centers and I know what they look like."
More than 570 people have been arrested and charged in connection to the Capitol riot. The vast majority of these individuals have been released as they await their trials. As of late May, The Guardian reported that at least 70 percent had been released, which it noted was substantially higher than the typical rate of 25 percent for defendants in criminal cases.
Some of the Capitol rioters deemed to be dangerous have been held without bond, and some have also been held in solitary confinement. This generally means that they are kept in cells alone for 23 hours a day. In 2020, a United Nations special rapporteur assessed that prolonged solitary confinement as practiced in U.S. prisons amounts to "psychological torture."
There have been no reports of water boarding or other forms of torture that the U.S. previously used at Guantanamo Bay, which is located in Cuba. Most of the prisoners held at the Guantanamo Bay detention camp, which was established in 2001, were held indefinitely without a trial.
At its peak, the prison held about 780 detainees—who allegedly were involved in terrorism against the U.S. The vast majority of these prisoners have been transferred, while several have died. More than 30 are still held at Guantanamo Bay.
The Capitol riot of January 6 took place directly after Trump urged supporters at a nearby rally to "fight like hell" and to "march" to the Capitol in a bid to keep him in power. The pro-Trump attackers were largely animated by the then-president's false claims that the 2020 election was "rigged" or "stolen" in favor of President Joe Biden.
Trump continues to baselessly claim that the 2020 election was rife with widespread voter fraud. This extraordinary allegation has already been thoroughly litigated in state and federal courts and wholly discredited. Even judges appointed by Trump and other Republicans have rejected the allegations in court.
Newsweek reached out to the Justice Department for comment, but did not immediately receive a response.