These 11 Republicans Voted to Remove Marjorie Taylor Greene from Committees
Eleven Republican House members have voted in favor of removing Republican Georgia Representative Marjorie Taylor Greene from her committee seats due to her past social media endorsements of several extremist conspiracy theories. With their support, the House voted 230 to 199 in favor of Greene's removal from the committees.
Ten of the Republicans who voted against Greene included John Katko, Chris Jacobs and Nicole Malliotakis of New York; Young Kim of California; Carlos A. Giménez of Florida; Maria Elvira Salazar of Florida; Chris Smith of New Jersey; Fred Upton of Michigan; Brian Fitzpatrick of Pennsylvania and Adam Kinzinger of Illinois. Kinzinger, in particular, has become a vocal critic of Greene, accusing her rhetoric of inspiring anti-government insurrectionists.
While House Democrats clamored for Greene to be removed from her assignments to the House Committee on Education and Labor and the House Budget Committee, stating that the influential seats legitimize her extremist views, it was initially unclear how many Republicans would side with the Democrats.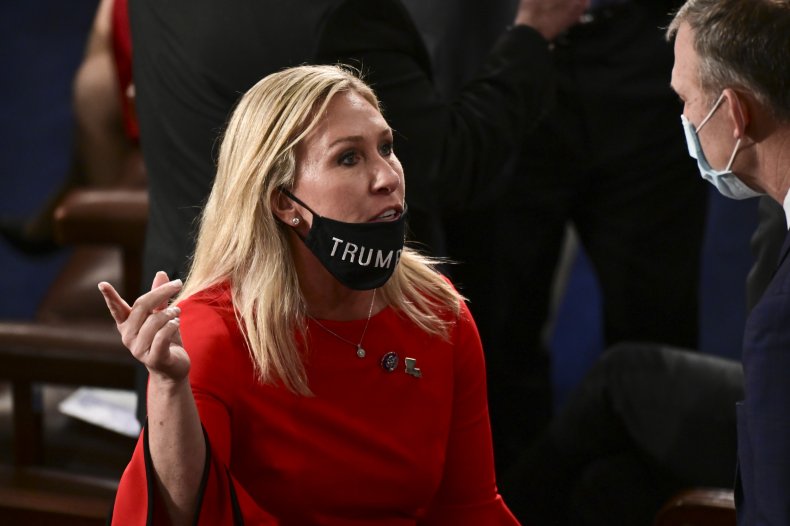 In Greene's past social media comments, she has advocated for violence against House Speaker Nancy Pelosi and former President Barack Obama, said that an airplane never hit the Pentagon during the September 11 terrorist attacks, accused former Secretary of State Hillary Clinton of slicing off a child's face and wearing it and many other conspiracy theories.
On Wednesday, Republican Minority House Leader Kevin McCarthy said that Greene had specifically denounced her past comments in support of QAnon, her belief that all school shootings were staged events meant to increase firearm regulations and her belief that wealthy Jews used a space laser to start the 2018 West Coast wildfires.
Wearing a face mask that said "FREE SPEECH," Greene echoed McCarthy's statement in a Thursday House floor speech she made before the vote. She said that in 2017, her personal upsets and distrust in government had caused her to "stumble" onto QAnon, the conspiracy theory that Democratic and Hollywood elites run a Satanic and cannibalistic international child sex-trafficking ring.
"The problem with that though is I was allowed to believe things that weren't true, and I would ask questions about them and talk about them, and that is absolutely what I regret," she said.
Greene said that she believes the September 11 terrorist attacks "absolutely happened" and that "school shootings are absolutely real and every child that is lost, those families mourn it."
"These were words of the past, and these things do not represent me," Greene claimed. "They do not represent my district, and they do not represent my values."
In the past, Greene said the Democrats and the "Fake News Media" were "coming after" by bringing up her past social media posts because she's "a threat to their goal of Socialism" and represents "the people, not the politicians." She has also said that Democrats want to "destroy Republicans, your jobs, our economy, your children's education and lives, steal our freedoms, and erase God's creation."
In his own floor speech on Thursday, Democratic Massachusetts Representative Jim McGovern shrugged off McCarthy's claim that removing Greene from committees for her past speech would set a troubling new precedent of holding elected officials accountable for statements they made before assuming office.
McGovern said that Greene's conduct and her attempts to fundraise off the controversy were sufficient enough to boot her from the committees.
"A member of this House is calling for assassinations—that's the new precedent," he said. "If that's the standard that we remove people from committees, I'm fine with that."
Newsweek contacted Greene for comment.