Marjorie Taylor Greene Makes Final Stand to Keep Committee Seats By Separating From QAnon, Conspiracies
Speaking hours before a vote on her removal from two committee posts in the House of Representatives, Marjorie Taylor Greene (R-Ga.) denounced QAnon and several conspiracy theories she appeared to support on social media.
"These were words of the past and these things do not represent me," Greene said in remarks from the floor while donning a 'Free Speech' mask. "They do not represent my district and they do not represent my values."
House Democrats will hold a vote on Thursday to strip Greene of her seats on the two top committees— education and labor, as well as budget—for a laundry list of incendiary remarks, which range from spreading conspiracies that school shootings were staged events to allegedly indicating support for executing prominent Democratic politicians.
Before she was elected to Congress, Greene appeared to endorse online conspiracy theories about the 2012 shooting at Sandy Hook Elementary School in Newtown, Connecticut, and the 2018 shooting at Marjory Stoneman Douglas High School in Parkland, Florida. The two shootings left 43 people dead.
Greene had also liked social media posts supporting the conspiracy theory known as QAnon—a broad movement that believes former President Donald Trump is working to expose an elite cabal of child sexual abusers. In one post, Greene liked a comment that said "a bullet to the head would be quicker" to remove House Speaker Nancy Pelosi.
Greene said Thursday that she turned to QAnon in 2018 because she "didn't trust our government," but "the problem with that is though is that I was allowed to believe things that weren't true."
"That is absolutely what I regret because if it weren't for the Facebook posts and comments that I liked in 2018, I wouldn't be standing her today and you couldn't point a finger and accuse me of anything wrong," she said.
The congresswoman went on to say that when she started finding disinformation in QAnon posts later in 2018, she "stopped believing it." She also stated she never said the word "QAnon" in her campaign or during her time in Congress.
Greene also clarified her stance on the conspiracy theories, stating that school shootings are "absolutely real" and that she didn't believe that the 9/11 terrorist attacks were "fake."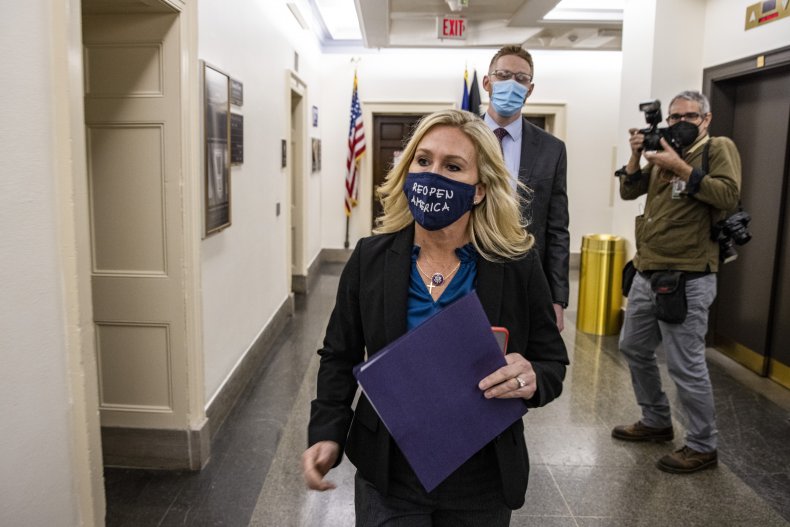 Thursday's vote to remove Greene from her committee assignments comes after Republican leadership denied to take action against the freshman congresswoman. House Majority Leader Steny Hoyer delivered an ultimatum to Minority Leader Kevin McCarthy on Monday to strip Greene of the posts within 72 hours or Democrats would hold their own vote on the issue.
On Wednesday night, McCarthy issued a statement denouncing Greene's past statements but argued removing her from committees was a "partisan power grab" by Democrats. McCarthy later told reporters that he offered to remove Greene from her committees and put her on the small business panel instead. Hoyer declined the offer, he said, stating that Greene shouldn't have the privilege of being on any committees.
Several Republicans have argued that Greene should not face punishment for her remarks because she made them before she was elected. Many members have also criticized Democrats for setting a new precedent for the majority party to boot a member of the minority party from appointments.
Representative Jim McGovern (D-Mass.) said from the floor Thursday that setting a new precedent was acceptable in this case because Greene's conduct—including her attempts to fundraise off the controversy—were so egregious.
"A member of this House is calling for assassinations—that's the new precedent," he said. "If that's the standard that we remove people from committees, I'm fine with that."