Kevin McCarthy, Other GOP Reps Voice Support to Keep Marjorie Taylor Greene On Committees
One day ahead of congressional lawmakers' expected floor vote to determine Rep. Marjorie Taylor Greene's committee assignments, top Republicans, including House Minority Leader Kevin McCarthy, spoke out in defense of the freshman congresswoman's previously determined roles.
"Past comments from and endorsed by Marjorie Taylor Greene on school shootings, political violence, and anti-Semitic conspiracy theories do not represent the values or beliefs of the House Republican Conference. I condemn those comments unequivocally," said McCarthy in a statement released Wednesday afternoon, as members of the House Committee on Rules met to discuss the upcoming floor vote, scheduled for Thursday.
"I condemned them in the past. I continue to condemn them today. This House condemned QAnon last Congress and continues to do so today," the Minority Leader's statement continued, although it went on to oppose Democrats' push to reverse Greene's assignments.
After the Republican caucus designated Greene a member of both the House Committee on Education and Labor as well as the House Budget Committee, numerous Democratic representatives echoed the resulting public outrage in a formal resolution calling for her removal. Greene, who was elected to represent Georgia's 14th congressional district in the U.S. House last November, has faced substantial criticism for her beliefs, which she readily shared online prior to joining the federal legislature.
Greene's rhetoric surrounding the January 6 riot at the U.S. Capitol complex garnered additional backlash, with many calling for her resignation. The conservative Republican positioned herself as a staunch proponent of former president Donald Trump throughout her congressional campaign, and furthered baseless claims about election fraud despite no evidence to substantiate those allegations.
Subsequent reviews of her social media activity over the past several years showed Greene advocating for sedition and seemingly endorsed comments that suggested prominent Democratic figures, such as House Speaker Nancy Pelosi, should be killed.
Her conduct on social media came alongside more forthright comments that promoted QAnon and other conspiracy theories related to the September 11 attack, in addition to deadly mass shootings that took place at Marjory Stoneman Douglas High School and Sandy Hook Elementary School. Greene has also made openly anti-Semitic and Islamophobic comments, without acknowledging fault or apologizing for the behavior.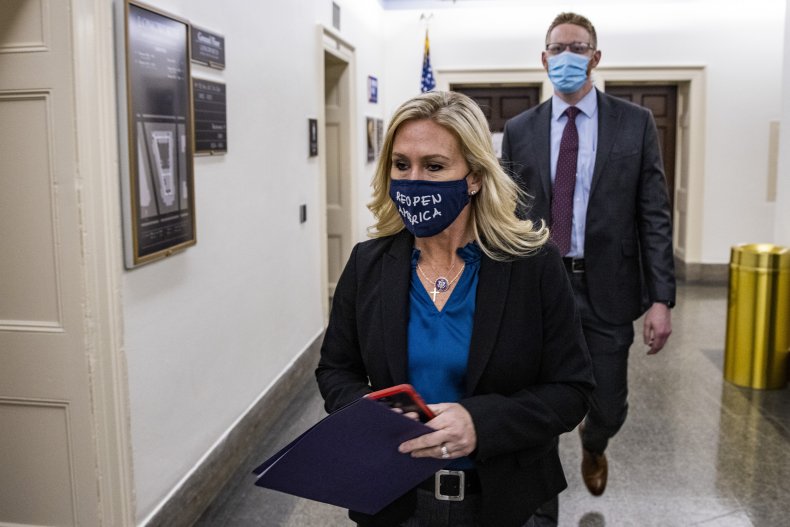 Congressional lawmakers have noted that Greene's introduction to House committees, particularly the committee on education and labor, is inappropriate in light of this history. However, while Republican House members have taken care to distance themselves from Greene's beliefs and previous actions, some still insisted Wednesday that she maintain her committee placements.
"I understand that Marjorie's comments have caused deep wounds to many and as a result, I offered Majority Leader Hoyer a path to lower the temperature and address these concerns. Instead of coming together to do that, the Democrats are choosing to raise the temperature by taking the unprecedented step to further their partisan power grab regarding the committee assignments of the other party," McCarthy added in Wednesday's statement. "In the end, this resolution continues to distract Congress, especially given the limited time that Speaker Pelosi and the Democrat leadership want the House to debate and work, on what it needs to focus on: getting Americans back to work, getting kids back to school, and providing vaccines to all Americans who need it."
His perspective regarding Greene was similar to those presented by GOP members of the Rules Committee during their most recent meeting. Arguments from members such as Rep. Michelle Fischbach, of Minnesota, did not rest in approval of Greene's previous actions but rather the "unprecedented" nature of the resolution to reassign her. Democrats conversely argued that exceptional steps are necessary given the equally unprecedented scope of Greene's offenses, which lawmakers said work to undermine the House's integrity.
Newsweek reached out to McCarthy's office for further comment but did not receive a reply in time for publication.