At least 29 students from Sacramento, California, remain in Afghanistan following the official withdrawal of U.S. troops from the country, the San Juan Unified School District told Newsweek.
According to the Sacramento-area school district, those 29 students come from 19 families, and have not not returned to school campuses for the 2021-2022 school year.
The Sacramento school district is home to over 1,400 Afghan refugee students and previously believed that up to 150 students were stranded in Afghanistan, according to an earlier news report from Sacramento Bee.
"We stand ready to support these students and families in whatever way that we can, and are working closely with state elected officials to provide them information as we receive it from our families. San Juan Unified stands with our Afghan community and all those whose loved ones are currently in Afghanistan. We sincerely hope for their speedy and safe return back to the U.S. and back to our school communities," a representative of the school district told Newsweek.
Congressman Ami Bera, a Democrat representing Sacramento, told Fox News on Tuesday that his office and the school district are working diligently to bring the students home. However, Bera said President Joe Biden's administration has not yet given an update on how this will happen.
"Our office has been in close contact with the San Juan Unified School District, and have urgently flagged this with the Department of Defense and State Department. We have not received an update from DOD or State," Bera spokesperson Travis Horne told the news outlet.
The report comes after the U.S. officially withdrew troops from Afghanistan on Monday, ending a two-decade-long war, and leaving the nation under the control of the Taliban. The withdrawal came ahead of Biden's August 31 deadline to end America's longest war.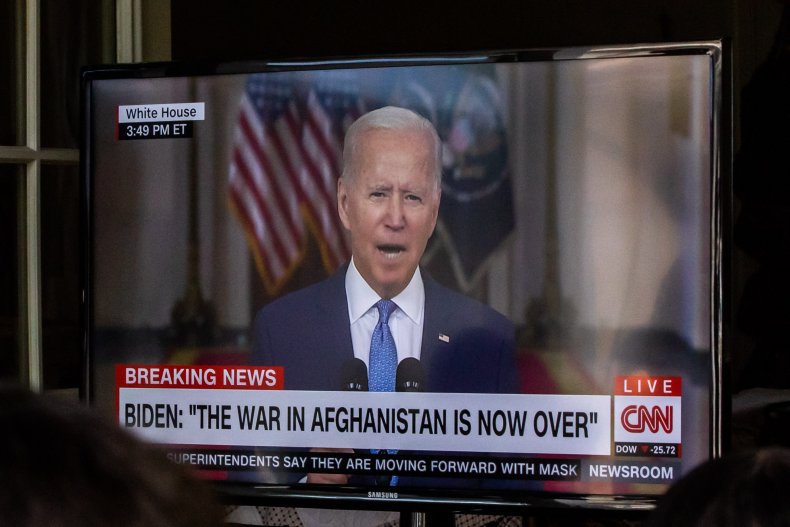 Over the past two weeks, the U.S. military rushed to evacuate over 122,000 American citizens, Afghan allies and refugees, after the country's military first fell to the Taliban on August 15. Biden's administration has since received sharp criticism over chaotic scenes at the Kabul airport and fears of what the Taliban's hardline Islamic rule will look like.
In the final days of evacuations, 13 U.S. service members and over 170 Afghans were killed when an Islamic State-affiliated terrorist group (ISIS-K) attacked the Kabul airport.
Now, as many as 200 Americans who were unable to evacuate in time still remain in the country, despite a promise from the federal government that no Americans would be left behind. Earlier this week, reports found that dozens of students in San Diego were trapped in Afghanistan after their families took summer trips to the embattled nation.
On Tuesday, Biden vehemently defended his decision to pull troops from Afghanistan. The administration has repeatedly asserted that under agreements with the Taliban, it is expected that Americans and Afghans who wish to leave the country will be free to do so.
"I was not going to extend this forever war, and I was not going to extend a forever exit," he said during a Tuesday address from the White House. "We succeeded in what we set out to do in Afghanistan over a decade ago. It was time to end this war."
Updated 08/31/2021, 6:15 p.m. ET: This story has been updated with a statement from San Juan Unified School District and to reflect that 29 of its students remain in Afghanistan.