Defense Officials Release Names of the 13 U.S. Service Members Who Died in Kabul Attack
The U.S. Department of Defense released the names of the 13 service members who were killed during an attack near the Kabul airport on Thursday.
They include 11 members of the U.S Marine Corps, one member of the Army and one member of the Navy.
"They died Aug. 26, 2021, as the result of an enemy attack while supporting non-combatant evacuation operations in Kabul, Afghanistan. The incident is under investigation," the Department of Defense said in its statement Saturday disclosing the identities of those killed.
The service members who died in the attack are:
Marine Corps Staff Sgt. Darin T. Hoover, 31, of Salt Lake City, Utah
Marine Corps Sgt. Johanny Rosariopichardo, 25, of Lawrence, Massachusetts
Marine Corps Sgt. Nicole L. Gee, 23, of Sacramento, California
Marine Corps Cpl. Hunter Lopez, 22, of Indio, California
Marine Corps Cpl. Daegan W. Page, 23, of Omaha, Nebraska
Marine Corps Cpl. Humberto A. Sanchez, 22, of Logansport, Indiana
Marine Corps Lance Cpl. David L. Espinoza, 20, of Rio Bravo, Texas
Marine Corps Lance Cpl. Jared M. Schmitz, 20, of St. Charles, Missouri
Marine Corps Lance Cpl. Rylee J. McCollum, 20, of Jackson, Wyoming
Marine Corps Lance Cpl. Dylan R. Merola, 20, of Rancho Cucamonga, California
Marine Corps Lance Cpl. Kareem M. Nikoui, 20, of Norco, California
Navy Hospitalman Maxton W. Soviak, 22, of Berlin Heights, Ohio
Army Staff Sgt. Ryan C. Knauss, 23, of Corryton, Tennessee
Officials have said the attacks also killed at least 170 people.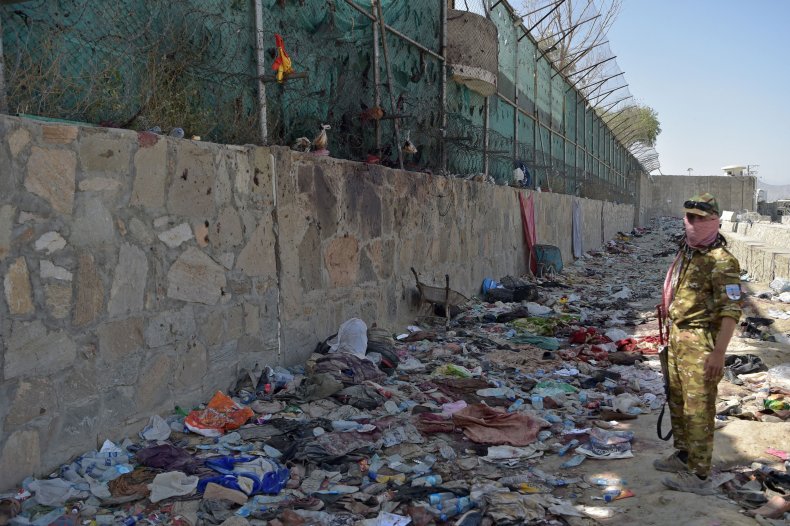 While the Department of Defense hadn't officially released the names of those killed in Afghanistan until Saturday, some family members of the victims had started to publicly identify them
Roice McCollum, the sister of Marine Corps Lance Cpl. Rylee McCollum, spoke to the Casper Star Tribune on Friday about her brother's death.
"He wanted to be a Marine his whole life and carried around his rifle in his diapers and cowboy boots," she told the newspaper.
"Rylee will always be a hero, not just for the ultimate sacrifice he made for our country, but for the way he impacted every life around him for the better. Making us stronger, kinder, teaching us to love deeper," she added.
Steve Nikoui, the father of Marine Corps Lance Cpl. Kareem M. Nikoui, was interviewed by The Daily Beast on Friday.
"He really loved that [Marine Corps] family. He was devoted—he was going to make a career out of this, and he wanted to go. No hesitation for him to be called to duty," Steve Nikoui said of his son.
He also criticized President Joe Biden's handling of the situation in Afghanistan.
"They sent my son over there as a paper pusher and then had the Taliban outside providing security," Nikoui said.
"I blame my own military leaders... Biden turned his back on him. That's it."
Another of the Marines who was killed in the attack, Sergeant Nicole Gee, posted a photo of herself in uniform while holding a baby in Afghanistan with the caption, "I love my job," days before she died. Stars and Stripes reported on Saturday that a friend of the Marine wrote on Facebook that Gee's "last breath was taken doing what she loved—helping people."