More than $240,000 has been collected in online donations after 19 people were killed in New York City's deadliest fire in decades.
Investigators determined a malfunctioning electric space heater started Sunday's blaze in a 19-story apartment building in the Fordham Heights neighborhood of the Bronx borough, killing 19 people.
Nine children were among the dead, and 30 people remained hospitalized on Sunday evening, Mayor Eric Adams said at a news conference.
"On Sunday, January 9 our community witnessed a tragedy in the Fordham Heights section of the Bronx," Salim Drammeh wrote on a GoFundMe page set up on Sunday night on behalf of the nonprofit Gambian Youth Organization.
By early Monday, the page had amassed at least $245,000 in donations.
"A 5-alarm fire destroyed the homes of many of our the Gambian Youth Organization (GYO) community members at 333 East 183rd Street. At the moment, at least 19 people have been pronounced dead, including young children, and dozens others have sustained life-threatening injuries.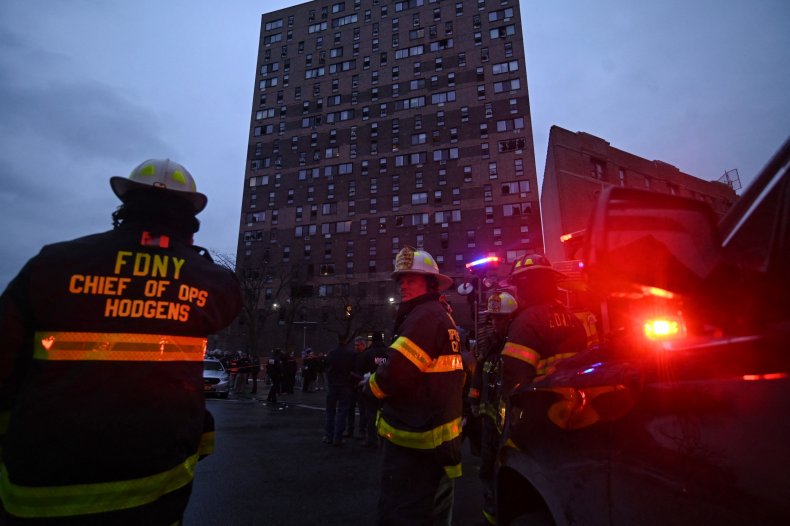 "We ask that you help us support the victims of this tragedy. All proceeds will be distributed to the families by the Gambian Youth Organization (GYO)."
Drammeh has been contacted for additional comment.
At a news conference on Sunday night, Adams said the city would provide support for the victims, many of them Muslim immigrants from Gambia.
He urged injured and displaced victims to seek help, assuring them that the information of anyone who may be undocumented would not be passed to federal immigration authorities. "We're going to be here for this community to help them navigate through this," Adams said.
Displaced residents will be placed in hotels until it is decided it is safe for them to return to their homes, said Christina Farrell, first deputy commissioner of the New York City Emergency Management Department.
"If people are ultimately not able to go back into their apartments we will work with [the Department of Housing Preservation and Development], with the state and other resources to get people the long-term housing that they need," she added.
At the conference, New York Gov. Kathy Hochul said she would establish a compensation fund to help victims with housing costs and burials in her budget proposal next week.
"We will not forget you, we will not abandon you. We are here for you," she said at the news conference.
"Tonight is the night of tragedy and pain. And tomorrow, we begin to rebuild. We rebuild their lives and give them hope… we'll take care of them because that's what we do here in the state of New York. Yes, we are here for the Bronx. And we're here for anyone who needs us."
Sunday's fire was the city's deadliest since 1990, when 87 people died in an arson attack at the Happy Land social club, also in the Bronx.
The borough was also where a deadly apartment building fire in 2017 killed 13 people and a fire in 2007, which was also started by a space heater, killed nine.