The 25 Best Sitcoms of the 2000s
TV from the '00s is making a comeback. We've seen this with the craze surrounding HBO Max's long-awaited Friends reunion; with Hulu announcing its How I Met Your Mother sequel, the not very originally titled How I Met Your Father; and with Peacock debuting extended cuts of episodes of The Office on its streaming platform. It seems, two decades later, we aren't quite ready to give up the stories that dominated our screens way back when.
In honor of the renewed interest in these timeless shows, we've rounded up some of the era's best sitcoms. Stacker compiled data on all sitcoms from 2000–2009 and ranked them according to IMDb user rating, with ties broken by votes. To qualify, the show had to have at least 2,500 votes. While not all the shows on our list are U.S. productions, only English-language shows were considered.
From well-known favorites like The Big Bang Theory to more obscure titles like Extras, reading through this list is sure to spark some intense nostalgia. The good news? Many of these shows are still available on streaming platforms like Netflix and Hulu, meaning a binge-watch is just a click or two away.
You may also like: 100 best 'Seinfeld' episodes of all time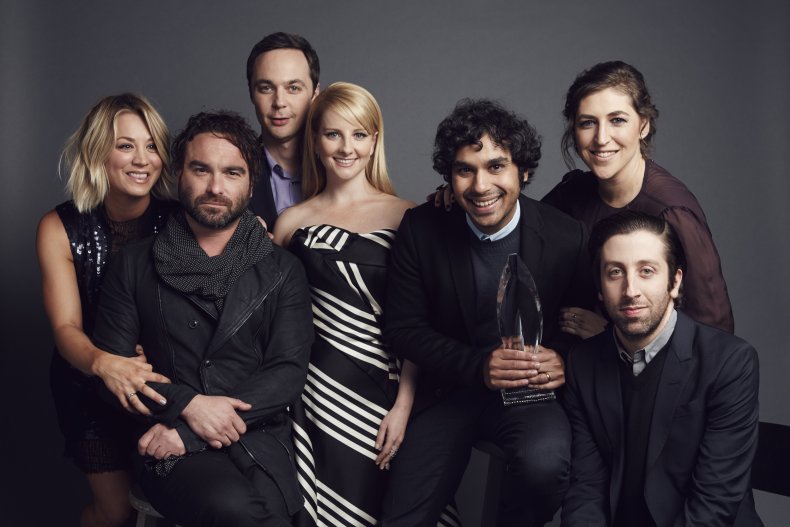 25. 'The Big Bang Theory'
- IMDb user rating: 8.1
- Years on the air: 2007–2019
A group of socially awkward scientists and their classically beautiful neighbor are the focus of CBS' 12-season comedy The Big Bang Theory. Created by Chuck Lorre and Bill Prady, who also served as the head writers, the series was nominated for 52 Emmy Awards over the course of its run. As of 2021, it remains the longest-running multicamera comedy in TV history and is the only show to have lent its name to a UCLA scholarship, as well as a bee and jellyfish species.
24. 'Better Off Ted'
- IMDb user rating: 8.2
- Years on the air: 2009–2010
Better Off Ted is a satirical workplace comedy that follows a manager at a soulless science company who desperately tries to keep his underlings in line. The show won critical praise for its crisp writing, witty humor, and timely storylines, but never managed to attract a big enough audience to keep it on-air. The show was canceled after just two seasons, and Jay Harrington, Portia de Rossi, Andrea Anders, et al. moved on to other projects.
23. 'Party Down'
- IMDb user rating: 8.2
- Years on the air: 2009–2010
Another show that only got two seasons before being canceled, Party Down follows a group of actors who move to L.A. hoping for a big break, but wind up working as caterers. As with Better Off Ted, the series did well with critics, but low Nielsen ratings as well as the loss of Adam Scott to Parks and Recreation and Jane Lynch to Glee meant that it didn't stay on the air for very long. However, in 2021, it was announced that the Starz series would be getting a revival with the original creators leading the development.
22. 'The League'
- IMDb user rating: 8.2
- Years on the air: 2009–2015
The League, a semi-improvisational comedy about an old group of friends who create their own fantasy football league, is vulgar, hilarious, and chock-full of well-known guest stars like Seth Rogen and Snoop Dogg. Over seven seasons, the series developed a devoted fanbase, whose regular use of its made-up catchphrases like "shiva blast" and "forever unclean" cemented them as a part of our shared cultural lexicon.
21. '30 Rock'
- IMDb user rating: 8.2
- Years on the air: 2006–2013
Tina Fey is the mastermind behind 30 Rock, a satirical comedy that's loosely based on her experiences writing for Saturday Night Live. In the series, Fey plays Liz Lemon, the head writer for an NBC sketch show who is tasked with turning another late-night comedy around, reigning in its unpredictable star, and pleasing the difficult studio heads. A hit with audiences and critics alike, the Writers Guild of America West not only featured 30 Rock on its "101 Best Written TV Series" list (at No. 21) but it was also nominated for a whopping 103 Emmy Awards over the course of its run.
You may also like: 100 Best Comedy Films of All Time, According to Critics
20. 'Extras'
- IMDb user rating: 8.3
- Years on the air: 2005–2007
Shot in a more traditional style than Ricky Gervais' other big hit, The Office, Extras follows a down-on-his-luck actor who's desperately trying to elevate his career from background actor to bona fide star. The show, which was a co-production of the BBC and HBO, was praised for its freshness during its first season but was said to have lost a bit of its mojo during the second.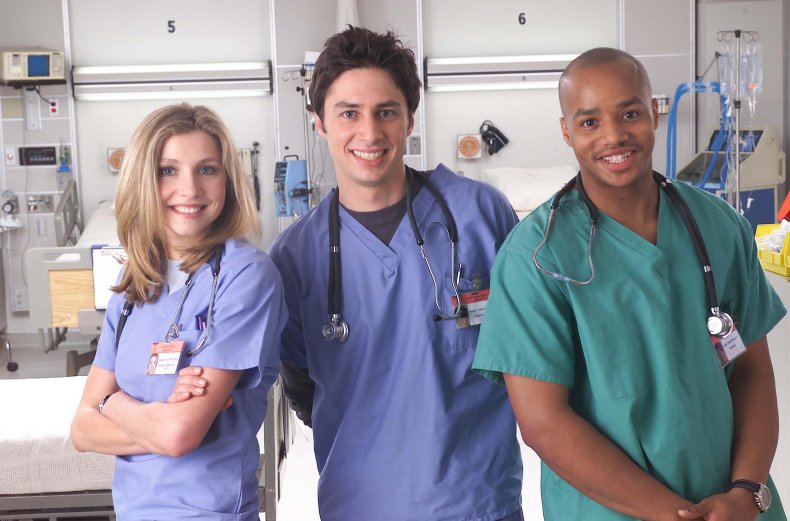 19. 'Scrubs'
- IMDb user rating: 8.3
- Years on the air: 2001–2010
Scrubs, for the uninitiated, is like a comedic version of Grey's Anatomy in that it follows a group of would-be doctors and nurses as they climb up the ranks at Sacred Heart Hospital. Die-hard fans of the series only claim the first eight seasons—which featured core cast members Zach Braff, Donald Faison, Sarah Chalke, Neil Flynn, Ken Jenkins, John C. McGinley, and Judy Reyes—while the ninth season, which features an entirely different setting, storyline, and largely different cast, is merely an afterthought.
18. 'How I Met Your Mother'
- IMDb user rating: 8.3
- Years on the air: 2005–2014
Neil Patrick Harris, Josh Radnor, Alyson Hannigan, Cobie Smulders, and Jason Segel led the cast of How I Met Your Mother, a sitcom about a group of friends living in New York City. The show's framing device—an older Ted telling his two kids the meandering story of how he met their mother—made the series a standout from the crowd and earned it a handful of Emmy nominations.
17. 'The Boondocks'
- IMDb user rating: 8.4
- Years on the air: 2005–2014
The Boondocks is a sitcom adaptation of a comic strip by Aaron McGruder about a Black family living in an upper-crust white suburb. Equal parts side-splittingly funny and harshly critical of modern-day culture, the show only got four seasons over its 11-year run because of McGruder's slow production pace. It was his refusal to move faster that eventually led to the property's creator to split ways with Adult Swim before the final season began.
16. 'The Inbetweeners'
- IMDb user rating: 8.4
- Years on the air: 2008–2010
A British sitcom about four teenage boys trapped in suburbia, The Inbetweeners is all about making the best of boredom and the friendships that define our lives. Often compared to Skins, the show has been overlooked by many international viewers, which is unfortunate because, as one reviewer put it, the show's "portrayal of dull suburbia is closer [than 'Skins'] to the drab teen years most of us spent, rather than the decadent time we wished we spent."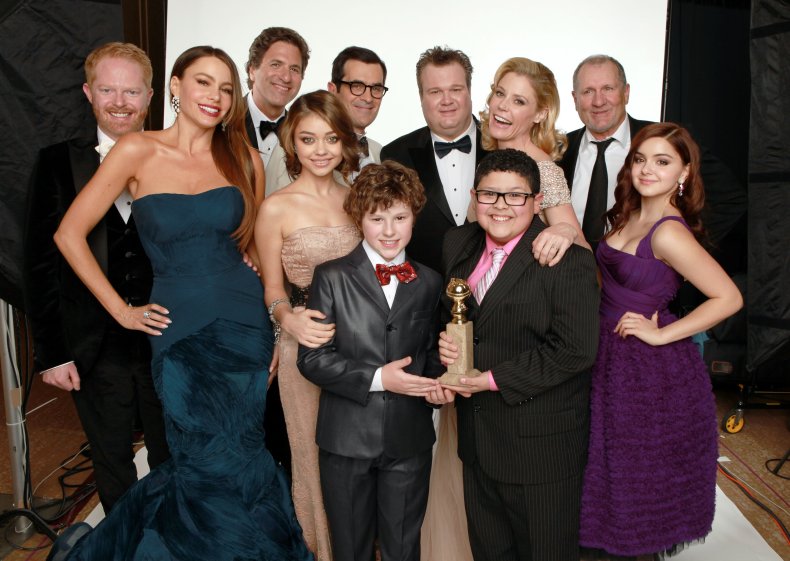 15. 'Modern Family'
- IMDb user rating: 8.4
- Years on the air: 2009–2020
Although Modern Family finished in 2020, it never lost that early '00s feel that so defined its first season. The show follows the Dunphy family, a group related as much by love as they are by blood, who remain united despite their many, many differences. Over the course of its 11 mockumentary-style seasons, the series took home 22 Emmy awards, including five for Outstanding Comedy Series, and has remained ABC's longest-running comedy series.
14. 'Coupling'
- IMDb user rating: 8.5
- Years on the air: 2000–2004
Often compared to '90s sitcoms like Friends and Seinfeld, Coupling is a BBC series about the dating and sex lives of six friends. The show was loosely based on the relationship between the series' writer, Steven Moffat, and his wife, producer Sue Vertue—or rather what it would have been if they had met a decade earlier. It was so popular that American and Greek adaptations existed briefly, although neither were as successful as the original.
13. 'Black Books'
- IMDb user rating: 8.5
- Years on the air: 2000–2004
Bernard Black, owner and proprietor of the Black Books bookshop, is more interested in reading his wares and drinking wine than he is in serving customers. His prickly nature leads to difficulties maintaining relationships with his sole friend, Fran, who owns the shop next door, and his new employee, Manny. The trio's misadventures are the focus of the British sitcom Black Books, which won two BAFTAs for Best Situation Comedy over its three-season run.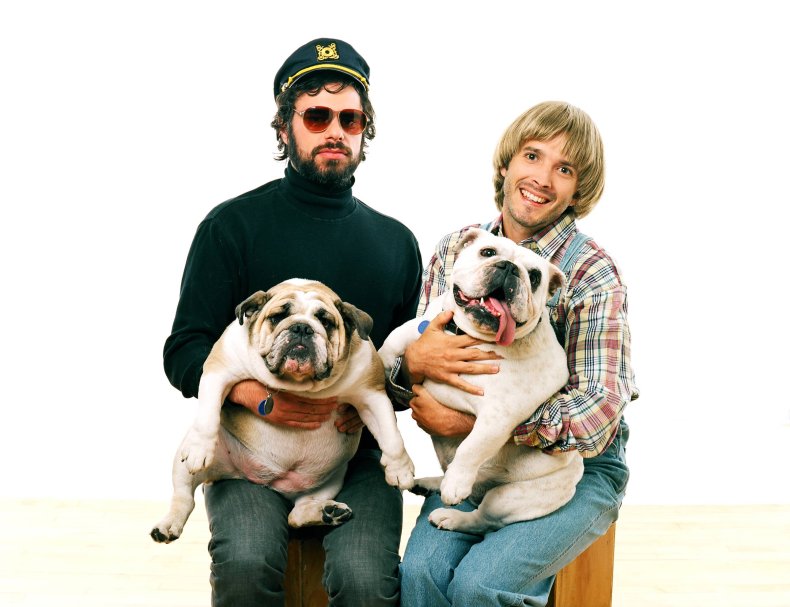 12. 'Flight of the Conchords'
- IMDb user rating: 8.5
- Years on the air: 2007–2009
Flight of the Conchords is one of those twisty sitcoms that blends fiction with fact to such a degree that it becomes hard to separate the two. The HBO series follows fictionalized versions of the two members of the real-life New Zealand band Flight of the Conchords as they move to NYC and seek fame on this side of the pond. Each episode of the show features one or more of the band's songs, which are often used as a vehicle to move the plot along.
11. 'The Office'
- IMDb user rating: 8.5
- Years on the air: 2001–2003
Although the American version of The Office far surpassed its progenitor in popularity, the original BBC series still has a devoted circle of fans. As Ricky Gervais and Stephen Merchant's first collaboration, the show popularized the mockumentary style that we see in so many of the other series on this list. And despite lasting only two seasons, it still managed to win an impressive number of awards.
You may also like: 50 Movies We All Love to Hate
10. 'The IT Crowd'
- IMDb user rating: 8.5
- Years on the air: 2006–2013
Hot on the heels of the success of The Office came The IT Crowd, another series about the comical trivialities of a mundane workplace—this time at the fictional Reynholm Industries. Chris O'Dowd, Richard Ayoade, Katherine Parkinson, and Matt Berry starred in the British comedy, and it was their performances that earned the show its critical acclaim and cult following.
9. 'Community'
- IMDb user rating: 8.5
- Years on the air: 2009–2015
Community creator Dan Harmon based this NBC show—about a lawyer who enrolls in a community college after it's uncovered that he faked his bachelor's degree—on his own experiences of attending community college. The all-star cast, which includes Joel McHale, Donald Glover, and Ken Jeong, often shared the screen with notable guest stars like Betty White and Jack Black. Die-hard fans of the show, of which there are many, are still holding out hope that a feature-length film based on Community will make its way to theaters.
8. 'Peep Show'
- IMDb user rating: 8.6
- Years on the air: 2003–2015
The longest-running British sitcom on our list is Peep Show, a series about Mark and Jez, two twentysomething roommates who have little in common except for the chaos that dominates their lives. The series focuses on that ordinary pain many of us feel, the kind that stems from compromise and a failure to learn from our mistakes, but in a more comedic than depressing way. Unsurprisingly, given its themes, it didn't earn tons of viewers in its initial run but has since established itself as a cult classic.
7. 'Archer'
- IMDb user rating: 8.6
- Years on the air: 2009–present
Animated sitcom Archer is about an international spy named Sterling Archer, the missions he's sent on, and the various relationships he has to navigate in his line of work, including one with his domineering boss of a mother and another with his fellow agent ex-girlfriend. Created by Adam Reed for FX, the show is known for its meta-comedy, fast-paced dialogue, and frequent pop culture references.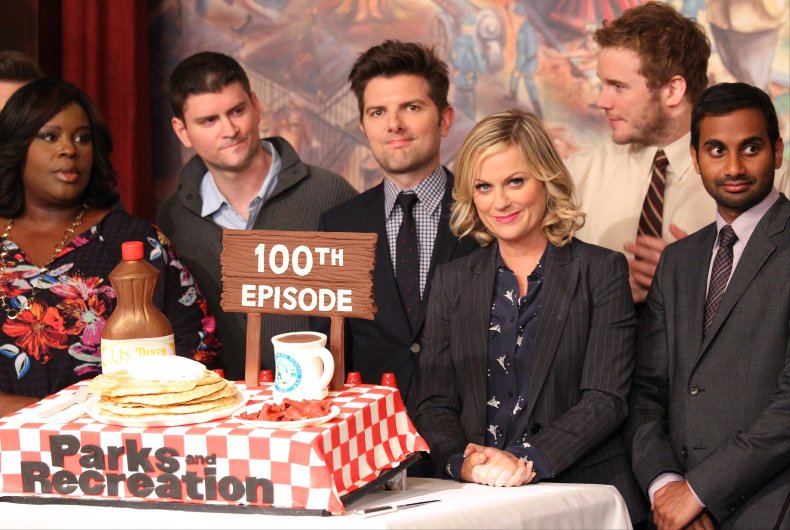 6. 'Parks and Recreation'
- IMDb user rating: 8.6
- Years on the air: 2009–2020
Parks and Recreation and the American version of The Office are often compared to one another, and for good reason. Both are mockumentary workplace comedies created by Greg Daniels that place an emphasis on awkward humor, while still managing to remain endearing and easy to watch. In this particular series, the action is centered around the employees of the parks department in the fictional city of Pawnee, Indiana. While the show wrapped in 2015, the cast reunited twice in 2020 for specials benefitting COVID-19 relief funds and the Democratic Party.
5. 'The Thick of It'
- IMDb user rating: 8.7
- Years on the air: 2005–2012
Often described as a 21st-century answer to Yes Minister, The Thick of It is a BBC comedy about the inner workings of the British government. Created by Armando Iannucci (the mastermind behind Veep), the show spawned an Oscar-nominated film, In the Loop, introduced us to the word "omnishambles," and consistently ranks as one of the best sitcoms to ever come out of Britain.
4. 'Curb Your Enthusiasm'
- IMDb user rating: 8.7
- Years on the air: 2000–present
Larry David, co-creator of Seinfeld, acts as writer, producer, and star of Curb Your Enthusiasm, another series about the humor we find in the minutiae of everyday life. As with Seinfeld, many of the show's characters are fictionalized versions of themselves or of people in David's personal life. As of 2021, the series, which is largely improvised by the actors with only a general plot established ahead of time, won two of the 47 Emmy Awards for which it has been nominated.
3. 'Arrested Development'
- IMDb user rating: 8.7
- Years on the air: 2003–2019
Arrested Development, a show about the formerly wealthy and currently dysfunctional Bluth family, has had two lives: One as a scarcely watched series on Fox and another as a top-streamed favorite on Netflix. The sitcom, which stars Jason Bateman, Portia de Rossi, Will Arnett, Jessica Walter, and Ron Howard (as narrator), underperformed on live TV but gained such a massive following after its cancellation that Netflix revived it for two seasons half a decade later. Its unique style is credited with inspiring other successful series like 30 Rock and Community.
2. 'It's Always Sunny in Philadelphia'
- IMDb user rating: 8.8
- Years on the air: 2005–present
Paddy's Pub, an Irish bar in South Philly, serves as the background for much of the action on It's Always Sunny in Philadelphia. The FX original trails a group of narcissistic best friends (played by Danny DeVito, Kaitlin Olson, Glenn Howerton, Rob McElhenney, and Charlie Day) who often find themselves in wild situations. The show's style of comedy can best be described as vulgar and slapstick and includes lots of physical gags.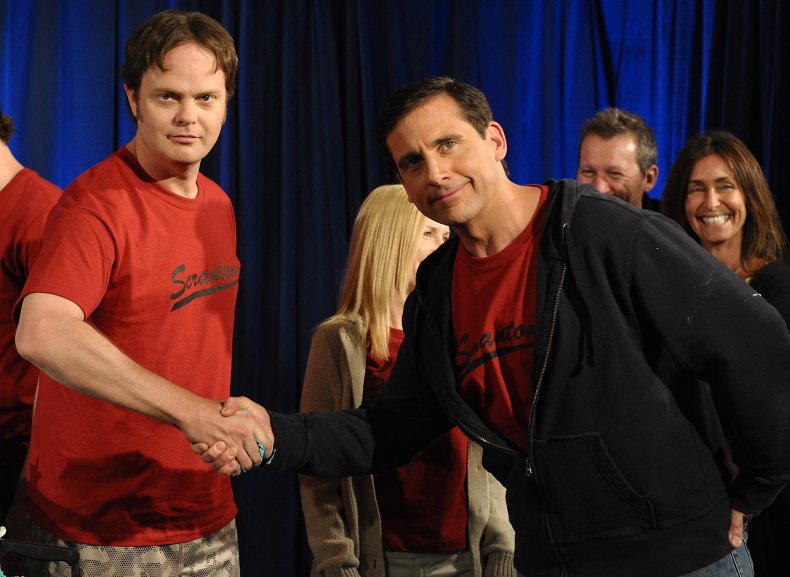 1. 'The Office'
- IMDb user rating: 8.9
- Years on the air: 2005–2013
Finally, we have The Office, the highest-rated sitcom to come out of the '00s. Based on the BBC original, the American version is set at a mid-sized paper company called Dunder Mifflin in Scranton, Pennsylvania. Adapted for U.S. audiences by Greg Daniels, the award-winning series' ensemble cast includes big names like Steve Carell, John Krasinski, Mindy Kaling, and Ed Helms. The show was so popular that Rolling Stone included the mockumentary style series on its "100 Greatest TV Shows of All Time" list and it even earned the accolade of being the most-streamed show (by far) of 2020.
You may also like: 50 Best 30-minute Shows You Can Watch Right Now