25-Year-Old Killed at Palestinian Protest, 46 Wounded by Gunshots in West Bank
A Palestinian protester was shot and killed Tuesday during a large West Bank demonstration. The Israeli military said that protesters opened fire at its troops and that two soldiers were shot in the leg.
The Palestinian Health Ministry identified the killed man as 25-year-old Muhammad Hamid. Forty-six others were wounded, including 16 with bullet wounds, and four are in serious condition, the ministry said.
Palestinian protesters, who are rarely armed, often clash with Israeli soldiers in the occupied West Bank.
For more reporting from the Associated Press, see below: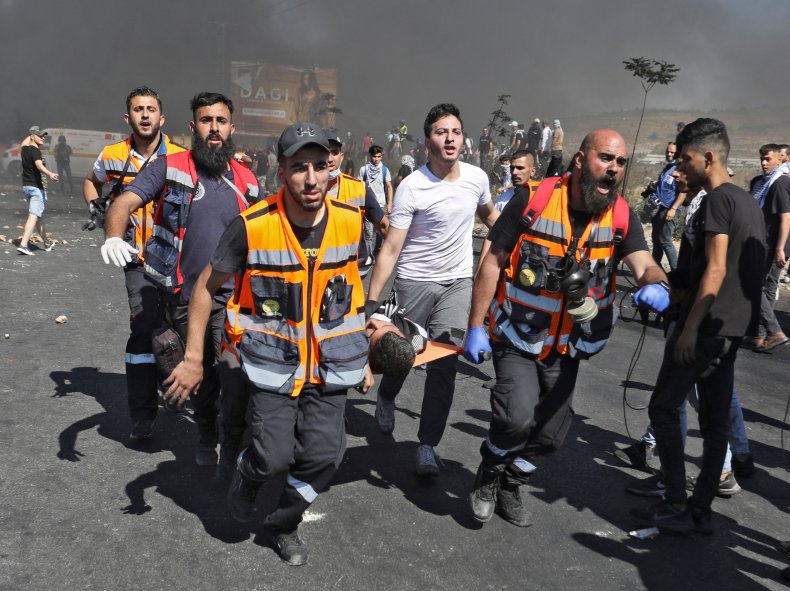 Hundreds of protesters had gathered on the outskirts of Ramallah, where the Palestinian Authority is headquartered, to protest against Israel's actions in Gaza and Jerusalem. They burned tires and hurled stones at the Israeli troops, who fired tear gas at them.
At one point, seven shots rang out, but it was unclear where they came from. Israeli soldiers on a hillside opposite the protest could be seen taking cover behind mounds of sandbags.
Tensions are soaring over the latest Gaza war, as well as recent clashes in Jerusalem and cities across Israel. A general strike on Tuesday was observed by Palestinians in Israel and the occupied territories.
Egyptian President Abdel Fattah el-Sissi has announced the allocation of $500 million for reconstruction efforts in the Gaza Strip.
El-Sissi's office said in a Facebook post Tuesday that Egyptian firms would contribute in the re-building efforts.
Egypt, which is leading mediation efforts to reach a cease-fire, has sent some two dozen trucks carrying humanitarian aid and medical supplies to Gaza through the Raffah crossing point.
It has also received wounded people from the latest round of violence to be treated in Egyptian hospitals.
U.S. Secretary of State Antony Blinken says Israel has given the United States information about its bombing of a Gaza building housing The Associated Press and other media outlets.
Israel had claimed that Hamas had a military intelligence office in the Gaza building which it leveled in a weekend airstrike. But Israel has not publicly provided any evidence backing up that claim. Prime Minister Benjamin Netanyahu said Israel would share any evidence of Hamas' presence in the targeted building through intelligence channels.
Blinken said from Iceland on Tuesday that "we have received some further information through intelligence channels." He declined to characterize the material, saying "that's not something I can comment on."
Press freedom groups condemned the attack, which leveled the building and marked a new chapter in the already rocky relationship between the Israeli military and the international media.
Associated Press President Gary Pruitt has called for an independent investigation into the attack.
Israeli police say two Thai workers inside Israel have been killed in a strike launched from the Gaza Strip.
Another seven people were wounded in that attack Tuesday afternoon that hit a packaging plant in southern Israel, authorities said.
Militants from Gaza have launched thousands of rockets at civilian targets in Israel since last week. Israel has responded with airstrikes against what it says are militant targets in Gaza.