More than a quarter of Republicans believe that "true American patriots" may need to resort to violence to save the United States, new polling shows.
The Public Religion Research Institute (PRRI) released polling data on Thursday from a survey conducted in March. The survey examined the prevalence of belief in the baseless QAnon conspiracy theory—which claims that former President Donald Trump is fighting against a cabal of Satan-worshipping pedophile Democrats and Hollywood elites—as well as the views of Americans about the direction the country is headed.
Overall, the survey found that 15 percent of Americans agree with the statement: "Because things have gotten so far off track, true American patriots may have to resort to violence in order to save our country." When it comes to Republicans, however, 28 percent said they agreed with the statement compared to just 7 percent of Democrats and 13 percent of independent voters.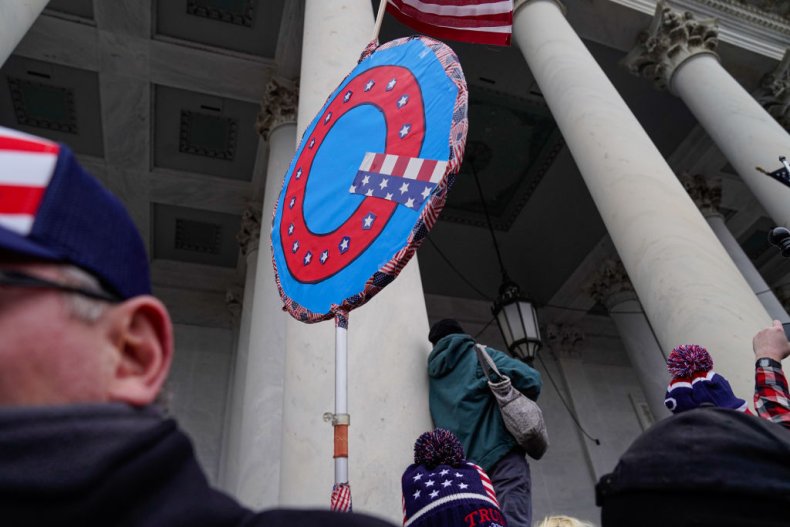 Furthermore, the polling data showed that 20 percent of Americans agreed with the statement that: "There is a storm coming soon that will sweep away the elites in power and restore the rightful leaders." Again, 28 percent of Republicans said they agreed with that assessment. Meanwhile, 18 percent of independents voiced their agreement as did 14 percent of Democrats.
Notably, just under a quarter (23 percent) of Republicans said they believed the country and its institutions are run by Satan-worshipping pedophiles who control a child sex-trafficking operation. Among independents, 14 percent said they believed in this central tenet of the QAnon conspiracy theory as did 8 percent of Democrats. The poll's margin of error was plus or minus 1.5 percent with a 95 percent level of confidence.
Earlier this year in February, a poll conducted by the American Enterprise Institute showed that a sizable portion of Republican voters said they would be open to supporting political violence. That survey found that 39 percent of GOP voters agreed with the statement: "If elected leaders will not protect America, the people must do it themselves, even if it requires violent actions."
The results of the two polls came after former President Donald Trump's supporters attacked the U.S. Capitol on January 6 in an ultimately unsuccessful effort to overturn President Joe Biden's election victory. The mob of hundreds of Trump supporters—some of whom openly threatened the lives of Vice President Mike Pence and other lawmakers—were incited by Trump's groundless claims that the 2020 election was "rigged" or "stolen" by Democrats. Many in the mob wore clothing or carried banners that espoused a belief in QAnon.