2nd Columbus Statue Removed in NJ City Amid Rising Protest Against Explorer
A second statue of Christopher Columbus was removed in Newark, New Jersey, as statues of the European explorer have been targeted by anti-racism demonstrators across the country.
The city of Newark officially took down a statue of Columbus located in Washington Park on Thursday night, citing an effort to remove symbols of oppression. But NJ.com reported on Saturday that another statue of the controversial historical figure outside of Newark's St. Francis Xavier Church in Columbus Plaza on Bloomfield Avenue had been removed as well.
A city spokesperson told NJ.com that the city had not removed the Columbus Plaza statue. But a video posted on social media by a passerby showed the Columbus statue being removed with a crane and loaded on a truck. A police vehicle can also be seen nearby.
The Newark police department referred Newsweek to the city for comment on the statue's removal. The city's press office did not respond to Newsweek's request for comment by the time of publication.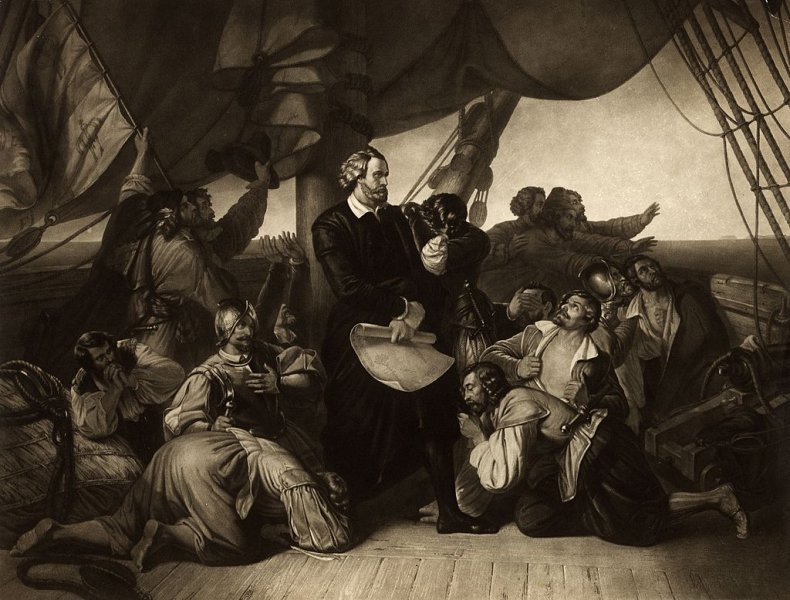 Newark Mayor Ras Baraka said on Friday that the removal of the first Columbus statue was a statement against oppression. Some Italian-Americans have been highly critical of efforts to remove statues of the explorer, who has historically been credited with "discovering" the Americas. Columbus has long been referred to as an Italian explorer, but some historians dispute this and say there is scant evidence to suggest he was Italian.
"The removal of this statue should not be perceived as an insult to the Italian-American community," Baraka said in a press release. "It is a statement against the barbarism, enslavement, and oppression that this explorer represents."
Many Native Americans and activists have long called for removing honorary statues of Columbus from public spaces, as well as changing Columbus Day to Indigenous People's Day. The European explorer has been linked to leading the genocide, rape and enslavement of natives after he landed in the Caribbean. He also worked as an African slave trader for the Portuguese before being sponsored by the Spanish to carry out his legendary expedition westward.
In some cities, statues of the former slave trader have been vandalized by anti-racism demonstrators. In New York City, many have called for the renaming of the iconic Columbus Circle and the removal of the monument to him there. But New York Governor Andrew Cuomo, who is Italian-American, has dismissed the possibility.
"The Christopher Columbus statue in some way represents the Italian-American legacy in this country, and the Italian-American contribution in this country," Cuomo said on June 11.
Cliff Matias, cultural director of the Redhawk Native American Arts Council, criticized Cuomo's remarks about the statue.
"We're talking about a criminal who through these fables in American history has been made out to be this discoverer, " Matias told Newsweek at the time. "When you talk about discovery, then you're ignoring the fact that millions of people ... lived in the Caribbean before Columbus even arrived."