Thousands Call for Renaming New York's Columbus Circle as Governor Cuomo Rejects the Idea
Thousands have called for renaming New York City's iconic Columbus Circle and removing the monument there, as statues of Christopher Columbus have been torn down and vandalized by anti-racism demonstrators in several cities across the country.
A petition on Change.org has garnered thousands of signatures, requesting that New York's City Council and Mayor Bill de Blasio rename Columbus Circle in midtown Manhattan and remove the statue there, as well as any others of Columbus in the city, from public view.
Native Americans and many other activists have long criticized the celebration of Columbus within U.S. society. Although Columbus has long been credited with "discovering" the Americas, Native Americans point out that the European explorer was responsible for the massacre, rape and enslavement of untold numbers of indigenous peoples in the Caribbean, where he first landed.
Many have also pointed out that Columbus was actually an African slave trader before launching his expedition to the Americas. Historians have called into question Columbus' claim to discovering the Americas as well, pointing out that there were millions of people already here and that other Europeans, and possibly the Chinese, are believed to have landed in the so-called "New World" earlier.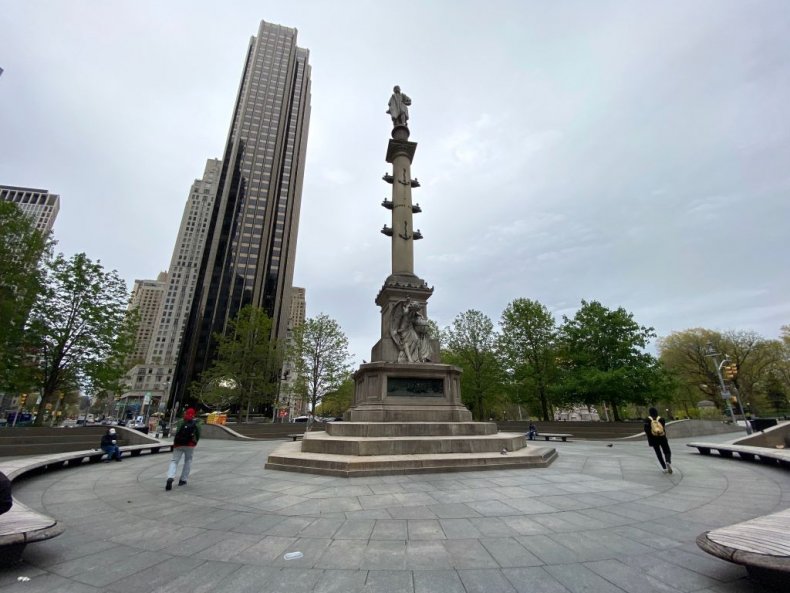 Gabe Friedman, the New York City resident who launched the Change.org petition, told Newsweek that "Columbus raped and murdered thousands of indigenous people, so if seeing his statue beheaded or taken down upsets you, I encourage you to read the real history of Columbus and ask yourself if that's who you feel we should be idolizing."
"The Lenape Indians were the original indigenous people in New York before the Dutch arrived in the 1600's," Friedman said. "I'd love to see it [Columbus Circle] renamed after them, or after Seneca Village, an African immigrant village that was torn down to create Central Park."
A spokesperson for de Blasio's administration referred Newsweek to a previous decision not to rename the statue, which was made in 2018. An official announcement about that decision said the city "will keep the monument in place and take additive measures to continue the public discourse, including placing new historical markers in or around Columbus Circle explaining the history of Columbus and of the monument itself, and commissioning a new monument, at a location in the city not yet determined, recognizing Indigenous peoples."
New York's Governor Andrew Cuomo rejected the idea on Thursday during his daily press conference.
"The Christopher Columbus statue in some way represents the Italian-American legacy in this country, and the Italian-American contribution in this country," Cuomo, who is Italian American, said.
The governor said he understands that many have negative sentiments toward the slave trader, and that some of Columbus' actions should not be supported. But he argued that its symbolism to Italian Americans is important, saying "for that reason I support it."
Newsweek reached out to Cuomo's office for further comment.
Cliff Matias, cultural director of the Redhawk Native American Arts Council, criticized Cuomo's remarks about the statue. He told Newsweek that his organization has long been calling for renaming Columbus Circle and removing the monument.
"You know, we get into the history of Columbus of the murder, the genocide," Matias said, pointing out he was actually sent back to Europe "in chains."
"We're talking about a criminal who through these fables in American history has been made out to be this discoverer, " he said. "When you talk about discovery, then you're ignoring the fact that millions of people ... lived in the Caribbean before Columbus even arrived."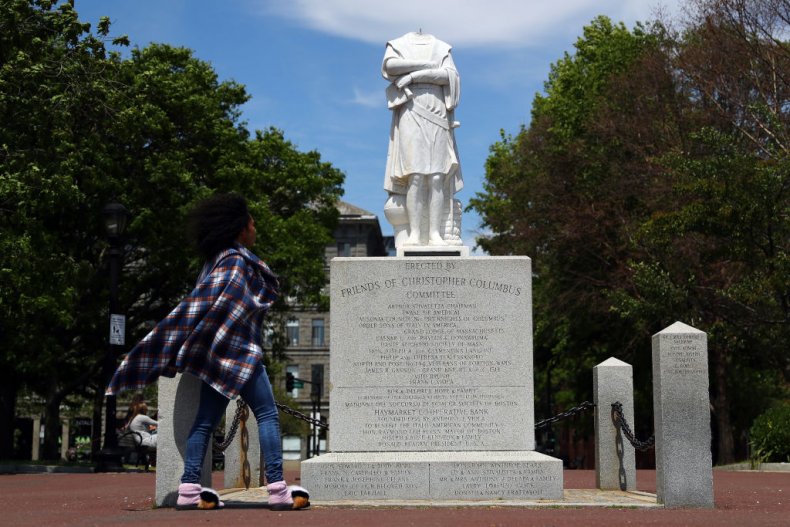 Matias questioned why Italian Americans would want someone like Columbus to stand as a symbol of their heritage, pointing out that there are "a whole host" of Italian Americans who have made great contributions to the country.
"Italian Americans have contributed a lot to America and I think it would be in their best interest and benefit them most, and educate their young people, by picking an Italian American who gave something to this country," he said. "Because the fact of the matter is, Columbus never landed–he never stepped foot in the United States."
"Columbus is certainly not one who I would be proud to be representative of my people," Matias said. He noted that many historians are even skeptical about Columbus' purported Italian heritage, as there is little historical evidence to back this belief. As an explorer to the Americas, Columbus sailed for the Spanish, and previously was a slave trader under the Portuguese flag.
Meanwhile, New York's local ABC affiliate WABC-TV reported on Thursday that the New York Police Department is on guard at Columbus Circle, as protests continue across the city in the wake of the death of George Floyd. Already, Columbus statues have been torn down by protesters in St. Paul, Minnesota and Richmond, Virginia. In Boston, a statue of the explorer was decapitated and has since been at least temporarily removed by city officials.